DPS seizes 262 pounds of fentanyl pills across Arizona, 8 suspects arrested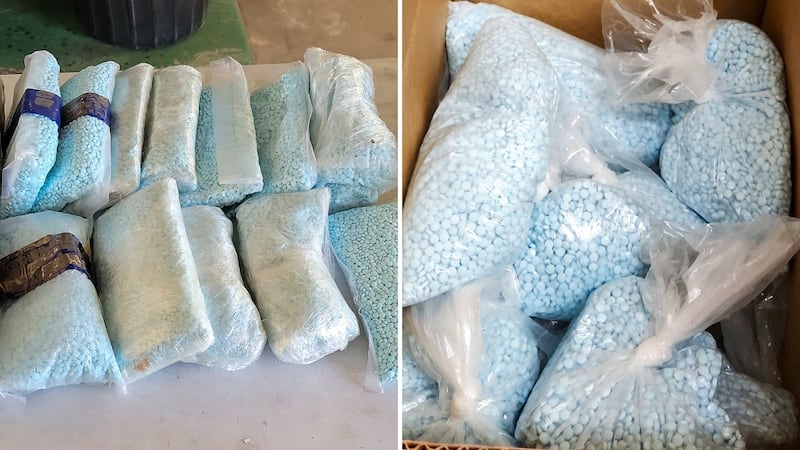 Published: Nov. 20, 2023 at 10:46 PM CST
PHOENIX (3TV/CBS 5) - Hundreds of pounds of fentanyl pills are off Arizona streets after being seized by Department of Public Safety troopers during multiple traffic stops this month.
According to DPS, around 1.18 million fentanyl pills, which is about 262.02 pounds, were confiscated from Nov. 7 through Nov. 14 in the state. In addition, eight suspects were also arrested on drug-related charges.
On Nov. 7, DPS conducted a traffic stop near Fountain Hills and discovered 53 pounds of fentanyl pills were hidden in the car's spare tire. The driver and passenger were arrested and booked into Maricopa County jail.
The next day, a DPS trooper stopped a driver in the Wellton area, east of Yuma, and a drug-detection dog sniffed out drugs in the car, which led troopers to find 104.52 pounds of fentanyl pills hidden in boxes. Two more suspects were arrested on drug-related charges for the pills.
On Nov. 10, a DPS trooper noticed criminal activity during a traffic stop in Joseph City, west of Holbrook. With the help of a canine, troopers uncovered 25 pounds of fentanyl pills that were stashed in a backpack and arrested two suspects. Finally, on Nov. 14, a trooper found 79.5 pounds of fentanyl pills inside a spare tire during a traffic stop in Eloy. DPS says the driver and passenger of the car were booked on drug-related charges.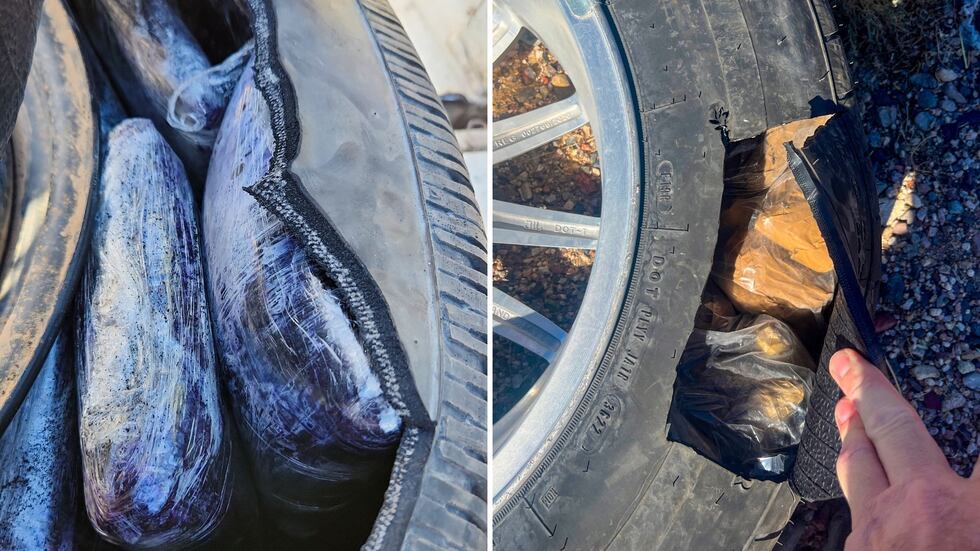 Investigators believe the pills were headed for Albuquerque, Phoenix and Chicago. DPS also says some of the pills tested positive for xylazine. This powerful sedative places users at a higher risk of deadly drug poisoning, according to the U.S. Drug Enforcement Administration (DEA).
"Thank you to Department of Public Safety troopers for keeping our communities safe from the deadly fentanyl epidemic," said Gov. Katie Hobbs on the fentanyl seizure. "Through vigilance and hard work, DPS prevented hundreds of pounds of fentanyl pills from being released into the streets and have potentially saved countless lives. I will continue to relentlessly fight the fentanyl crisis, stopping the flow of drugs throughout our state, and holding drug traffickers accountable for spreading poison in our communities."
DPS advises families to talk to loved ones about the dangers of fentanyl and taking unknown pills. They say lab testing from the Drug Enforcement Administration now shows that around seven out of every ten fentanyl-laced fake prescription pills contain a potentially deadly dose of the opiate. To learn more about the dangers of fentanyl, click here.
See a spelling or grammatical error in our story? Please click here to report it.
Do you have a photo or video of a breaking news story? Send it to us here with a brief description.
Copyright 2023 KTVK/KPHO. All rights reserved.