03.31.16 Waco Pets Bring Out the Best in People, especially Seniors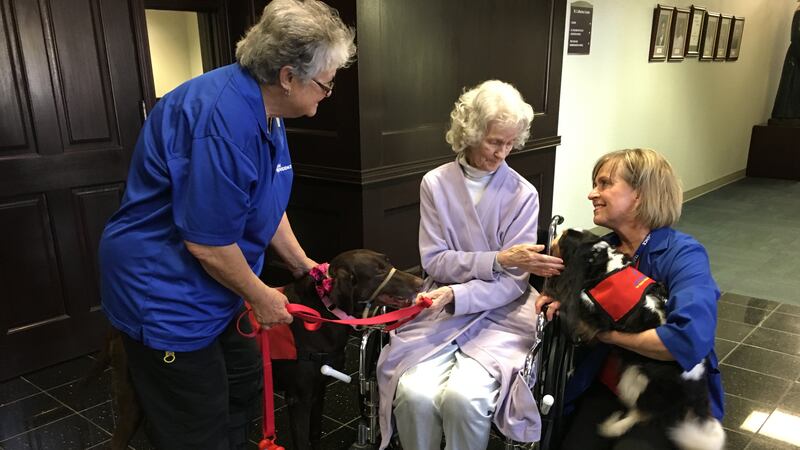 Published: Mar. 31, 2016 at 6:38 PM CDT
Providence Park and Angel Paws are partners in bringing joy and happiness to residents in independent living, assisted living, long-term and subacute care. With a focus on the mind, body and spirit, Providence Park in Waco, Texas, has a longstanding tradition of welcoming specially trained dogs to visit regularly with residents.
"Volunteers from Angel Paws bring pets to Providence Park on a daily basis to visit with residents," said Sandy Wittliff, president of Angel Paws in Waco, an affiliate of Pet Partners. "Although sometimes it is just one pet with one volunteer, other times a group of volunteers bring several dogs and everyone has a really great time."
Examples of Pets and People Benefits
The visits from Angel Paws are an important part of life at Providence Park, where active aging involves social and emotional well-being in addition to physical health and activity.
"The dogs from Angel Paws bring smiles to the faces of residents who remember the joy and satisfaction of living with companion animals. Even residents who may otherwise have a hard time expressing themselves appear to have a positive response to the warmth and touch of petting a soft, cuddly dog. And the dogs seem to sense which people need a little special love and attention," said Karen Chirhart, manager of social services at Providence Park.
Studies have proven that an animal in the life of an older adult can be very beneficial. Physical and psychological benefits range from reducing loneliness, depression and anxiety to increasing self-esteem, lowering blood pressure and stimulating a good mood.
The Angel Paws volunteers also focus on ways to involve residents with dogs. A good example is when dogs are brought to the physical therapy area, where residents willingly use their stiff muscles to pet the animals or push themselves to go a little farther down the hallway while walking a dog on a leash.
Clowning Around is Part of the Fun
"We get to know many of the residents as well as we know our pets, and this can result in some very special interactions, such as the time we dressed up several of our dogs in clown costumes to cheer up a resident who had been a career clown with Barnum & Bailey circus," said Wittliff. "The resident, who had lost his ability to speak, was overcome with tears of joy. In another situation, a resident established a special bond with a dog that gave him something to look forward to each day."
Angel Paws mission is "to help motivate people to heal physically, cognitively, emotionally and spiritually, fostering an improved sense of well-being from receiving animal-assisted therapy. Our focus is on the wholeness of each person we serve. Our goal is to promote the human-animal bond … and for our animals to bring amazing love and kindness to human life, promoting a natural healing for all."
The Pet Therapy program at Providence Park is a perfect example. "Having pets visit our residents enriches our sense of community on many levels and enhances the overall quality of life at Providence Park," said Chirhart
About Providence Park
A member of Ascension Senior Living, Providence Park is Waco's premier community for independent living, assisted living, long-term, and sub-acute care. Providence Park is part of the Providence Healthcare Network continuum of care, offering seniors a true spirit of community and superior care in a Christian environment. Through the mission and values of Providence, we strive to enhance the lives of those entrusted to our care.
About Ascension Senior Living
Ascension Senior Living is one of the largest not-for-profit senior living providers in the country. We provide compassionate, personalized care and support to meet the physical, mental and spiritual needs of seniors. With more than 30 facilities in 11 states and the District of Columbia, our communities are continually developing and adopting new best practices in care that enhance the experiences of our approximately 10,000 residents, program participants and patients.