'All you could see was a ball of fire,' witness to1968 crash recalls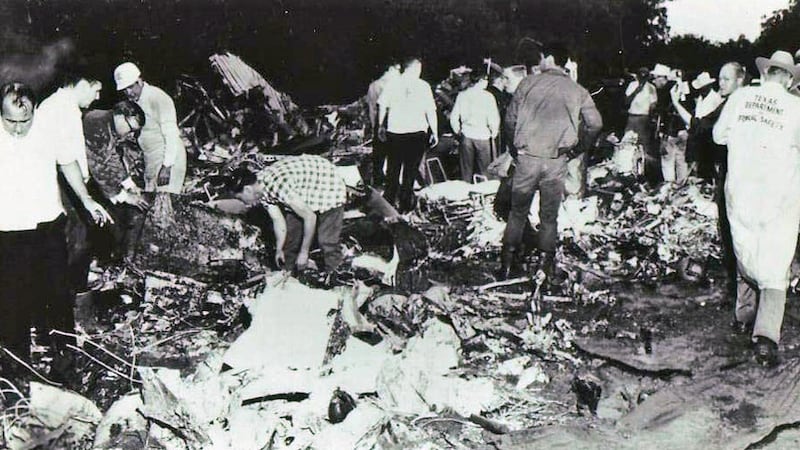 Published: May. 2, 2018 at 7:28 PM CDT
Fifty years-ago Thursday 85 people perished when Braniff Flight 352 exploded in midair and fell onto fields near Dawson, in southwestern Navarro County, an incident which for years remained the deadliest airliner crash in Texas.
"It was the dead bodies," J.D. Chastain, of Waco, said in a recent interview.
Chastain, now 92, was the chief of the crime lab at the Texas Department of Public Safety back then and it fell to him and his team of scientists to collect and identify each body or body part that was recovered from the crash scene over the next several days.
"There were dead, burned bodies all over the place. It was hard, dirty work," he said.
It was stormy that springtime day in Central Texas, but it was a Friday and just about 15-minutes before quitting time in the little farming town between Waco and Corsicana.
There wasn't much going on down on the ground, but a few thousand feet above everyone's head, 85 people were about to die a fiery, gruesome death and in a flash, things in Dawson would change forever.
Braniff International Airlines Flight 352 originated at Houston Hobby Airport.
The Lockheed L-188 Electra was under command of Capt. John Ralph Phillips, and was bound for Dallas Love Field on a 41-minute flight with 80 passengers and five crew on board, when at 4:48 p.m. while flying over Navarro County, it exploded, broke apart and fell 6,750 feet to earth in flames, 1 mile east of Dawson.
"All you could see was a ball of fire," Doug Lenox, 24-years-old that spring, recalled in a story from the May 3rd, 2008 Corsicana Daily Sun.
None aboard survived.
Cloyce Floyd, a Navarro County farmer then who later became postmaster in Dawson, said he was driving along that afternoon in the rain when he saw an "orange flash."
"It was just like the sun breaking through a summer storm. Then I saw what either was a wing or the fuselage between the flash and me.
"It was on my side of the fireball -- I believe it was the main part of the plane, but I don't know," he told the Abilene Reporter-News in a story published May 5, 1968.
Volunteer firefighters from several surrounding departments, regular folks, state troopers and sheriff's deputies, about 100 of them altogether, scoured the debris field right after the crash, but found no one alive.
No one on the ground was injured.
It took days to recover all the remains.
The only body that was found intact was in a casket being transported in the plane's hold for funeral.
"The odor of death seems to linger"
Adolph Kurtz, 74, of Waco, was working for the Texas Coffin Company when the crash happened and he recalls even today the brutal reality he was thrust into.
"I'd just gotten off work that day and was at home when about 7 o'clock (p.m.) the phone rang and it was the boss," Kurtz said recently.
"He said, 'I need you to come in. Plane crash,'" Kurtz recalled.
Kurtz was 24-years-old at the time, newly married and had a good job making $30 a week, but what he was about to experience was almost more than a young man should have to.
"The odor of death seems to linger," Kurtz said as he remembered that day.
That first day lasted 48 hours and Kurtz, along with Fred Eubanks, another Texas Coffin Company employee, would make that trip to Dawson every day for the next seven days in a row, carrying coffins in which the victims were first laid to rest.
"I didn't think about how sad it was right then," Kurtz said, "We were busy and had an important job that needed to be done and everybody worked hard to (care for) the bodies with love and respect."
"That's the way we did things like that back then. We were the only ones available to do it."
That issue wore on Chastain, as well, his wife Maryann said.
"He talks about that a lot, that family members would show up wanting to see their relatives and he'd talk them out of it because the force of the crash so distorted their bodies and faces they were unrecognizable."
"These two brothers showed up at the site and wanted to see (a family member who was killed), but I tried to talk them out of it," Chastain remembered.
"One of them decided I was right and didn't go, but the other one said he'd told his mother he would see for sure, so he did.
"I just remember when he lifted up that blanket and saw that body he screamed out, turned around and ran away," Chastain said.
The site of the actual crash was 1 mile east of Dawson down a county road in the middle of a cultivated field, Kurtz said, and large portions of the plane fell onto an old wooden barn that also burned.
Of course, it had been raining and the caliche road was muddy and slick, but that didn't compare to driving out into a plowed field where trucks got stuck and the rescuers were mired in knee-deep mud … and it was dark.
"Driving out there was so bad they actually built a gravel road into the field.
"They (searchers) were looking for bags or boxes, anything they could put body parts in," Kurtz said.
Then when those body parts got to the Dawson High School Gym, the makeshift morgue, Chastain and his team of experts would carefully examine each piece and try to match it to the rest of that individual.
"We used dental records, skin marks, medical records, anything we could find," Chastain said.
Then each body was identified, wheeled out of the gym and across the parking lot to the funeral home where each was autopsied and sent for transportation to the family, Kurtz said.
But in the end there were unrecognizable human remains that never were properly identified and "they buried those pieces along the fence line at the Dawson Cemetery," Kurtz said.
The gym's morgue is where Kurtz worked and he experienced things there that still are burned into his mind.
For one, the smell.
It was May, warming up every day, and the morgue in the gym wasn't air conditioned.
Some residents at the time complained of a foul odor that seemed to engulf the town for days.
Kurtz said once a body was placed in a casket, workers poured lime inside to slow decomposition while those caskets awaited transport home.
Starting the following Sunday Kurtz got to come back to Waco to stay overnight.
"I'd get home after dark, take a shower and change clothes, have supper and sleep for a few hours, then head back," he said.
Day after day, Kurtz said, it went on for a week.
Flight 352, was a regularly scheduled domestic passenger flight between Houston, and Memphis, Tenn., with intermediate stops at Dallas, Tulsa, Okla., Fort Smith, Ark., and Little Rock, the NTSB data manifest says.
Counted among the dead were several physicians and their wives who were returning to Dallas after attending a medical convention in Houston, several federal employees, executives from Mobil, Continental and General American Oil, five other Braniff employees who were not members of the flight crew, six or so soldiers and airmen, the office manager for the Great National Life Insurance Company of Fort Worth and state Rep. Joseph E. Lockridge, among the first black candidates to be elected to the Texas House of Representatives since Reconstruction.
The aircraft also carried a coffin that contained remains and was being flown home for burial, although there still is contention about who was inside.
Some reports say it was the body of a serviceman killed in Vietnam, others have claimed it was their grandmother en route to Oklahoma for burial.
Apparently because that individual was not killed as a result of the crash itself, it was never listed by name on the manifest of victims.
Official report blames pilot, turbulence
The official NTSB report details the agency's investigation, set out the probable cause of the incident and lays blame.
In condensed form the report says N9707C left Houston Hobby Airport at 4:11 p.m. on a normal flight path to Dallas and was approaching an area of severe thunderstorms "astride" their intended airway.
The flight crew requested permission to reduce altitude from 20,000 to 15,000 feet at 4:36 p.m. and asked to deviate from their flight path to the west to avoid the worst of the storm.
Air traffic control advised the crew other aircraft were deviating to the east of the storm, but Flight 352's crew insisted their radar showed clearer air to the west.
Air Traffic Control gave permission at 4:39 p.m. and cleared Flight 352 to descend to 14,000 feet, then later, at the flight crews' request approved descent to 5,000 feet.
"Approximately 1 minute later the crew asked the controller if he had any reports of hail in the area in which they were flying," the report said.
Then at 4:47 p.m. Air Traffic Control told Flight 352 another Braniff aircraft had just deviated 180-degrees to turn to the east of the thunderstorm and at the same time gave Flight 352 permission to execute a 180-degree turn, in either direction.
Half-a-minute later the flight crew acknowledged that transmission and nothing was heard from them afterward.
The turn required an extremely sharp maneuver that resulted in a steep bank, more than 90-degrees and a 40-degree down-pitch on the nose, flight data recorder investigation showed.
That same data record showed as the crew was trying to recover from the steep turn they reached a peak acceleration of 4.3 Gs, which NTSB investigators said created great stress on the airframe and ultimately led to the in-flight break-up due to structural stress.
According to witnesses and other information gathered at the crash site, the airplane exploded and crashed at 4:48 p.m.
"Witnesses observed what appeared to be an explosion (and) the wreckage of the aircraft was found scattered along a Line sky (sic) and saw the aircraft fall to the ground in flames," the NTSB report says.
"Pilots flying in the area of the accident, and ground witnesses reported (a significant) amount of thunderstorm activity in the area where the accident occurred, with numerous reports of lightning, hail, turbulence, and high winds."
The report concludes: "Probable Cause: The stressing of the aircraft structure beyond its ultimate strength during an attempted recovery from an unusual attitude induced by turbulence associated with a thunderstorm. The operation in the turbulence resulted from a decision to penetrate an area of known severe weather."
The part about the "decision to penetrate an area of known severe weather" refers to an error in judgement by the pilot, therefore the cause of the crash was pilot error, NTSB said.
Capt. John Ralph Phillips was not an inexperienced pilot, having signed on with Braniff in 1951 and who had overall flight time of more 10,866.56 hours, 1,388 of them in the same airplane that crashed that day.
A report issued after the NTSB conclusion said Phillips was known by his fellow pilots and one who "does things by the book."
Interestingly, Phillips was assigned to the flight at the last minute, as was one of the hostesses.
Was the plane carrying explosives?
But there are those who have an alternate view of the cause and have, over the years, gathered a significant amount of data to support their contention.
On the website WattsMedia.com a sub-menu offers a look at what others say might have caused the airplane to explode.
Part of a report they issued says: "At 4:37pm, two explosions took place destroying the right side, and right wing of 352.
"The inboard right flap actuator and inboard flap separated from the wing and fell on a nearby farm.
"Both items later tested positive for C-4 residue," the WattsMedia report says.
C-4 was a widely used military-grade explosive that could be easily shaped, almost like Play-Doh.
The report continues: "The explosions killed everyone on-board instantly.
"Witnesses on the ground, and the pilot (and probably passengers) of (trailing Braniff flight) 154 saw the main explosion, and the subsequent crash.
The NTSB report confirmed Braniff Flight 154 was trailing Flight 352 several miles behind and 1,000 feet below, and they confirmed the pilot witnessed the explosion on Flight 352.
"It was not raining at the time, although 'mist' was in the air from the previous thunderstorm now east of Corsicana," the report says.
"Likely Cause: Cargo Explosion due to "volatile" substances not disclosed to the air crew."
The contention by the later researchers is that the military loaded an amount of C-4 into the cargo bay of the aircraft for transport to Fort Worth and did not disclose the fact to the air crew.
Dallas' WFAA meteorologist Dale Milford was called as a witness in the civil trials that surrounded the tragedy because some said weather wasn't a direct factor in the explosion, either, the website says.
Milford, himself an experienced pilot, testified in Dallas federal district Judge Sarah T. Hughes' court that on that date in the place in question he found "no evidence at all" of a thunderstorm at the time of the crash.
Cause aside, those on the ground, those who witnessed the explosion and those who went there to assist, were shocked at what they saw and at once the townsfolk rolled up their sleeves and stood ready to help.
After all Dawson, established in 1847, the second-oldest town in Navarro County, 6 miles northeast of Hubbard, in Hill County, and 20 miles southwest of Corsicana, the county seat, was a very small farming town with barely a volunteer fire department at all, let alone one experienced in high death toll aircraft accidents.
Recovery took a village, or two.
Churches stayed open, the garden club ladies made sandwiches for the soldiers who were working to recover bodies, then evidence, from the crash site, folks brought food and drinks for law enforcement officers who were assigned to secure the area, firefighters worked in recovery as well, along with investigators from the federal and state government and the volunteers.
Townspeople brought hot coffee and cold drinks, even the sheets from their beds and everyone, even the most modest citizens, lent a hand.
An earlier Texas crash was eerily similar
Flight 352 is the one most remembered, but just a few years earlier, on the same flight path, in the same kind of airplane flown by the same airline, 34 passengers and crew died in an eerily similar crash near Buffalo.
Braniff Flight 542, also a Lockheed L-188, tail number N9705C disintegrated in mid-air on Sept. 29, 1959, some 3.8 miles southeast of Buffalo with no survivors just 23 minutes into its 41-minute flight from Houston to Dallas.
"It was very similar, Buffalo was to Dawson," Chastain said.
He and his crew worked the Buffalo crash, as well.
Agents from the FBI showed up in Buffalo to take charge of the scene and Chastain had a run-in with them.
He ran them off, saying this was his crime scene and he didn't need their help.
Later, at Dawson, Chastain's wife said, "When the FBI showed up there the agent in charge said 'If Chastain is there, just turn around and come home,'".
The feds did show up in Dawson and Chastain sent them packing again.
He would later write: "We were already there several hours before the FBI team arrived; I personally asked them to leave from experience with them before at a Braniff crash at Buffalo, Texas on (Sept. 29, 1959)."
Tracking down a cause in the Flight 542 disaster proved extremely difficult for several reasons: the NTSB didn't exist yet and it happened before the days of cockpit voice recorders so there wasn't much to go on.
A report filed by the investigating agency, the Civil Aeronautics Board was based on interviews with several witnesses, evidence recovered from the debris field and forensic examination allowed the CAB to "conclude that the initial failure of the aircraft had begun in the left wing."
Investigators said the wing failed and was destroyed by "cycles of reverse bending" or "flutter", but no one could say what caused the "flutter" in the first place.
"That was what made them so similar, that a wing fell off in flight and everybody on both planes died," Chastain said.
The initial investigation stalled but a few months later following the crash of Northwest Airlines Flight 710 on March 17, 1960, another Electra L-188 that disintegrated in flight over Tell City, Indiana killing 63 passengers and crew, scientists identified a new phenomenon they named "harmonic coupling" within the wings of aircraft that causes the "flutter" and that ultimately was labeled as the cause for both incidents.
An interesting side note to the Buffalo crash, "A large quantity of diamonds was found at the scene of the wreck and were placed under guard at the Citizens State Bank, in Buffalo," after searchers recovered hands full of the gems, placed them on a blanket and turned them over to authorities, a newspaper article written at the time said.
Chastain, now frail and in failing health, came by his attitude honestly, having graduated from the state Highway Patrol School in 1948, and heading straight to the lab he would later direct.
He went to state police school after he graduated from Howard Payne University, in Brownwood, with a degree in chemistry.
He went to Howard Payne after enlisting as what he calls a "screamin' seaman" in the U.S. Navy during World War II.
After college he completed officer candidate school and embarked on a 33-year career in the Navy, after which he retired at the rank of Captain.
He retired from state service as Chief of Identification and Criminal Records at the Texas Department of Public Safety, in Austin, with 30-years' service.
The deadliest airline crash on record in Texas is the Aug. 2, 1985 crash of Delta Air Line Flight 191, which crashed on landing at Dallas-Fort Worth Airport, leaving 137 dead and 28 injured.
The Lockheed L-1011 TriStar encountered a microburst while on approach to land, struck the ground about 1 mile short of the runway struck a car near the airport, and then collided with two water tanks and disintegrated.
NTSB concluded the crash resulted from the flight crew's decision to fly through a thunderstorm, the lack of procedures or training to avoid or escape microbursts, and the lack of hazard information on wind shear.
DR. L. E. ADIN, Dallas.
WILLIAM F. ALEXANDER, JR., Dallas.
T. K. CAMBRE, Dallas.
T. CLARK, Dallas.
EDWARD L. DAVID, Dallas.
JAMES E. BOELL, Dallas.
L. R. CORDET, Dallas.
DR. JOE BARNETT, Dallas.
KARNEY BRENT, Dallas.
WAYNE COLLINS, Dallas.
MOLLY DeWARE, Dallas.
V. C. HAYES, Dallas.
CHARLES HARSHAW, Dallas.
L. I. MASQUEHER, Dallas.
JOHN ROBERTS, Dallas, Braniff employe.
BOB SPENCER, Dallas.
R. O. WHIDDEN, Dallas.
MRS. WILLEY WRIGHT, Dallas.
R. P. GRAVESMILL, Dallas.
J. C. GRANT, Dallas.
J. N. SHEPPERD, Dallas.
J. D. HABERSTOCK, Dallas.
JOE E. LOCKRIDGE, Dallas.
LARRY MYHR, Dallas.
PAUL R. ELLIS, Dallas.
MISS JACKIE SCHNELL, Dallas.
W. R. WILCOX, Dallas.
J. D. THOMPSON, Fort Worth.
W. W. MECKER, Forth Worth.
GEORGE G. ELLWOOD, Fort Worth.
W. McPHERSON, Irving.
T. L. MAXWELL, JR., Irving, Tex.
L. D. MESSERSMITH, Irving.
W. S. TUCKER, Richardson, Tex.
A. N. McDOWELL, Richardson, Tex.
LOU ELLEN CURRIER, Garland, Tex.
E. C. McDUFF, Hurst, Tex.
JOHN KUBITZ, San Antonio.
HOWARD DINWIDDIE, Houston.
MISS D. O'NEAL, Houston.
EVERETT W. CORL, Houston.
HENRY S. HOLLIS, Houston.
MRS. B. ANTICH, Houston.
JACKIE D. HURLEY, Rosenburg, Tex.
MRS. J. CHERRY, Edna, Tex.
MRS. ELAINE BROWN, Galveston, Tex.
ROBERT A. WHITBURN, Galveston.
CLYDE RAY WILLIAMS, Wichita Falls, Tex.
DR. KNOX PITTARD, Anson, Tex.
MRS. KNOX PITTARD, Anson.
W. R TROTTER, Tulsa, Okla.
BOB R. NEAL, Tulsa, Okla.
MRS. T. McBEE, Poteau, Okla.
J. T. LLEWELLYN, Denver, Colo.
K. CORNELLA, Middletown, Ohio.
R. MAXWELL, Middletown, Ohio.
H. W. McCORMICK, Midland, Mich.
FRED HERRMAN, New York City.
ED L. PITTS, no address.
W. BURTON, no address.
MISS L. HAWKINS, no address.
MISS N. HAWKINS, no address.
FRED RYSER III, no address.
W. W. REAGAN, no address.
JOHN R. FORD, no town given.
JOHN W. ROGERS, no town.
MRS. C. MURRAY, no address.
L. B. YOCHIM, no town.
H. H. McGAUGHY, no address.
Editor's note: The Braniff Airways Foundation and the City of Dawson hosted a ceremony Thursday at the site of the disaster to mark the 50th anniversary of the crash