Anonymous donor makes local hospice patient's dream come true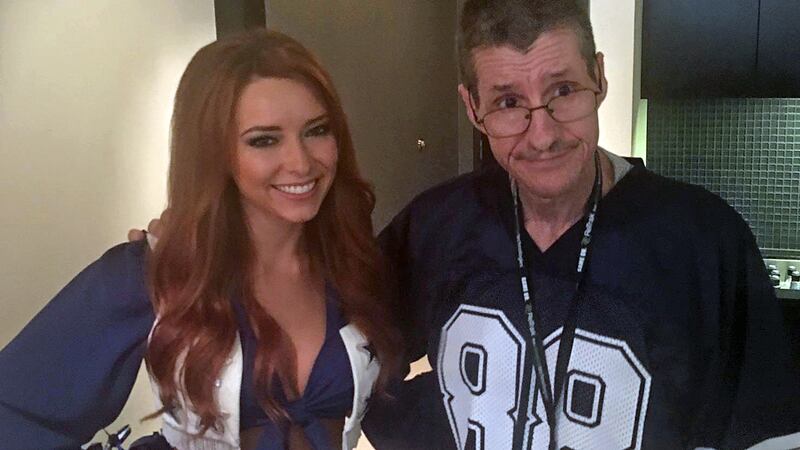 Published: Sep. 26, 2016 at 5:09 PM CDT
An anonymous donor provided tickets, a suite, and free food and drinks for a Waco hospice patient whose dream was to see his beloved Dallas Cowboys in action.
Rob Routly, 54, has Huntington's disease, a fatal genetic disorder that causes the progressive breakdown of nerve cells in the brain for which there's no known cure.
The disease has affected his speech, but not his stockpile of knowledge about the Cowboys.
He can rattle off past scores and can name the players, their numbers, and even their injuries.
"He's always loved the Cowboys since he was a little boy, even when he didn't live in Dallas or even Texas," Rob's mother, Mary Routly, said.
Growing up in Michigan, with his two younger brothers rooting for other teams, he always stayed loyal to the blue star, she said.
"It's just ironic that we ended up in Texas later on, and being a Cowboys fan for real now living in Texas," Mary Routly said.
So when Routly he told Jacque Harris, his nurse at SouthernCare Hospice in Waco, that he would love to go to a Cowboy's game, she went to work to make it happen.
"We want to fit every exciting possible thing in, in the time that we have," said Harris.
Harris turned to Facebook, and almost instantly, the anonymous donor responded, providing the tickets, suite and refreshments not only for Routly, but also his entire care team.
Rob was ecstatic when he found out he was going to the big game, Harris said.
They took a limo Sunday to AT&T Stadium for the Cowboys game against the Chicago Bears, and Harris said the experience with the Cowboys' number one fan was unforgettable.
"I hope this ranks up there as one of the good memories," Harris said.
They watched from a suite right next to the team's cheerleaders as the Cowboys beat the Bears 31-17 to end an eight-game home losing streak.
"I don't think he'll ever forget it, I really don't," Mary Routly said.
"I think he'll think about it every day, I really do," she said.