Waco: Chapel speaker did not pray to 'Mother Mystery,' Baylor says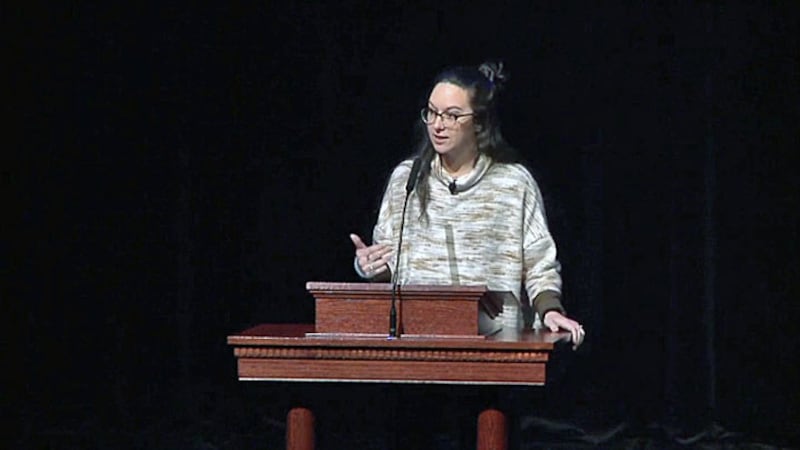 Published: Feb. 13, 2020 at 5:50 PM CST
Kaitlin Curtice, a storyteller and poet whose speech about Native American rights during a Chapel program last week at Baylor raised the hackles of conservative students and alumni did not offer a prayer to "Mother Mystery," as several students claimed, the university said Monday after reviewing tapes of all three Chapel sessions at which Curtice spoke.
We have reviewed the video of all three Chapel sessions, and I can confirm there was not a prayer to a "Mother Mystery," Assistant Vice President of Media and Public Relations Lori Fogelman said in an email Monday.
The Baylor chapter of the Young Conservatives of Texas first raised the issue after Curtice spoke last Wednesday.
"There's a lot of people really mad. A lot of alumni are pretty mad. I mean, she didn't pray to God and that's what's most offensive," said Jake Neidert with the Baylor Young Conservatives of Texas.
"She began prayer in the service in the name of Mother Mystery and I looked up, you know, and looked around and there's 12-hundred freshmen bowing their heads to this thing that's not God," Neidert said last week.
The student said Curtice's speech was filled with strange comments.
"She said that she went to Lake Michigan and dipped a leaf of tobacco in the water and Mother Earth spoke to her audibly and I'm just like, 'what is this?'"
Waco pastor and former Baylor Regent Ramiro Peña, says he heard from students and believes Baylor made a mistake inviting Curtice to speak.
"I am very confident Baylor, as a Christian university, wants to do the right thing in agreement with its Christian foundation and principles."
Curtice, who describes herself as a citizen of the Potawatomi Citizen Band Nation and "a writer, speaker, mama, partner and avid coffee drinker" is a mother of two, the author of the book "Native," due out on May 5, in which "she shows how reconnecting with her Native American roots both informs and challenges her Christian faith."
She did not respond to requests for comment last Thursday.
Baylor responded with a letter to parents who inquired about the speech by saying it approved the speaker ahead of time, but sometimes, speakers deviate from what the university approved.
"Every Chapel speaker works with us ahead of time on what message they will be sharing, but on occasion, a speaker may veer away from our understanding of the message they planned to convey. When this happens, we address the matter with our Chapel students and invite them to come talk to us after Chapel," the school said in a message to parents.
The university requires two semesters of chapel attendance for entering freshmen and transfer students classified as either freshmen or sophomores.