Ex-BU Title IX coordinator rejects confidentiality agreement, quits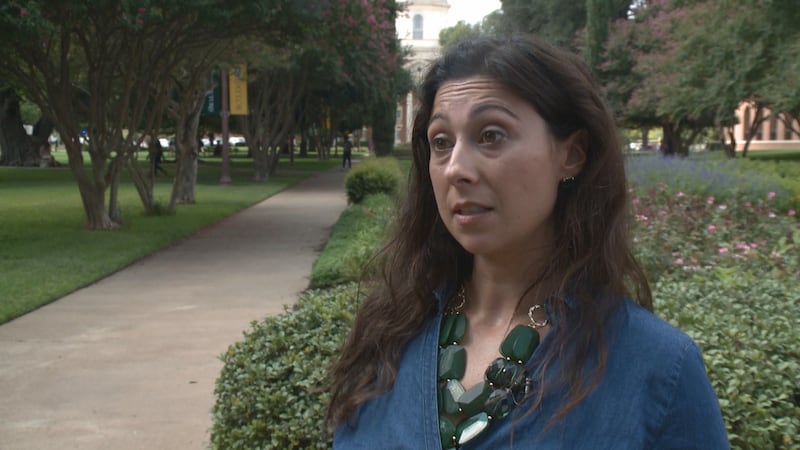 Published: Oct. 4, 2016 at 1:24 AM CDT
Baylor University's former Title IX coordinator agreed to a settlement offer during a daylong mediation of a retaliation complaint she filed with the school's Human Resources Department, but then quit after refusing an additional amount of money to sign a confidentiality agreement, according to a source with direct knowledge of the negotiations.
In the complaint against the university, Patty Crawford alleged she was subjected to retaliatory actions by Senior Vice President and Chief Operating Officer Reagan Ramsower, the source said.
The complaint alleged Ramsowner took away her authority to handle Title IX complaints and accused her of "doing her job too well," the source said.
The mediation session stretched late into the night Monday, another source with direct knowledge of the meeting said Tuesday.
The school offered her a $1.5 million settlement, the source said, but Crawford balked at signing the confidentiality agreement for an additional $50,000, the source said.
Crawford's attorney countered the school's offer with a request for a total of $2 million, which school officials rejected, the source said.
After their refusal, Crawford told Baylor she planned to speak publicly about her frustration with the administration and the board of regents about the handling of the sexual assault investigation.
The lawyer, Rogge Dunn, who also represents fired athletic department staffer Tom Hill, declined to comment Tuesday.
Crawford did not respond to calls and texts Tuesday, but KWTX learned she flew to New York Tuesday morning.
CBS later confirmed that she'll appear along with Dunn Wednesday morning on "CBS This Morning" "to discuss her resignation and the scandal that has rocked the university."
In an email to students, faculty and staff late Tuesday afternoon, interim Baylor President David Garland said Crawford's resignation doesn't affect the school's efforts to ensure that it "has the processes, policies, personnel, organization and training in place to provide education to prevent acts of sexual violence and to respond appropriately and with compassion to those who suffer from such acts."
"Despite this recent personnel change, the (Title IX) office continues to have a capable, professional team to do its work," he wrote.
"We recognize our responsibility is to seek to prevent sexual assault and to respond with professional care for those who have been affected by it. I want you to be assured that our commitment remains resolute as we strive to cultivate a Christian community of care and respect for others."
The university issued a press release just before midnight Monday announcing that Crawford was resigning in the wake of the sexual assault scandal that engulfed the school's football program because she "was disappointed in her role in implementing the recommendations that resulted from the Pepper Hamilton investigation."
The school expressed gratitude for Crawford's "leadership in establishing fair and equitable Title IX processes that are also supportive of the needs of survivors."
"We will always seek to continuously improve and are confident that the very capable Title IX staff will continue the important work of educating, supporting and responding to the needs of those impacted by interpersonal violence," the press release said.
Pepper Hamilton, the law firm the school hired to review its handling of sexual assault complaints, delivered a scathing report to university regents in May that led to the firing of head football coach Art Briles, the reassignment of Chancellor and President Ken Starr and the suspension of athletic director Ian McCaw.
Starr and McCaw both later resigned.
A report of the findings of the review by Pepper Hamilton summarizes over 13 pages the inadequacies it found at Baylor with respect to inattention and misconduct by university administrators and leadership in the athletic department regarding Title IX issues.
Last month KWTX obtained a secretly recorded audio tape of a meeting between Crawford and members of the athletic staff in late July in which Crawford expressed frustration with the administration.
She told the group she had begun to refuse to share names of those involved in Title IX investigations with Baylor administrators, fearful that the officials might take action before those involved in the investigations receive due process.
"That's what we talked about this week, I said this has to be very clear that at this point, no one is going to know, other than our office, who these people are, what their names are, where this is going", Crawford says.
"Because there have been occasions where I've been called on my cellphone on a Sunday morning by a board member wanting names."
Crawford also told the group she felt like the football team had been unfairly targeted, noting just two football players have been convicted of sexual assault during Briles' tenure at Baylor.
"A very small percentage of our cases have anything to do with athletics", Crawford said in the meeting, of which KWTX obtained a recording.
"And I've made that very clear to our leadership. This is not an athletics issue in the sense of violence and all these things, this is a human issue."
Crawford came to Baylor in November 2014 as the school's Title IX Coordinator.
Prior to Baylor, Crawford served as the Chief of Staff to the Chancellor of Indiana University East, as well as the Deputy Title IX Coordinator, Chief Diversity Officer, and Affirmative Action Officer for Indiana University.
Title IX, which is part of a more than 40-year-old law aimed at ensuring equal rights for those participating in educational programs that receive federal financial assistance, applies to all facets of a school's environment.
It has been interpreted to mean that sexual harassment of students including sexual violence interferes with the right to receive an education free from discrimination, and requires schools to take immediate action to end harassment and sexual violence.
---
WACO, Texas (KWTX)—Former Baylor Title IX Coordinator Patty Crawford appears to have been the first of those swept up in the school's sexual assault scandal not to agree to sign a confidentiality agreement.
Former football coach Art Briles and former Chancellor and President Ken Starr both signed agreements not to disparage the university as part of their settlements with Baylor.
And Tom Hill, who worked for Baylor for 28 years and was the athletic department's director of facilities when he was fired on May 31, also signed a confidentiality agreement as part of the settlement he reached with the school last month.
He was represented by Rogge Dunn, the same attorney who's now representing Crawford. (Julie Hays)
---