Briles brings BU-heavy staff to small-town Texas for coaching comeback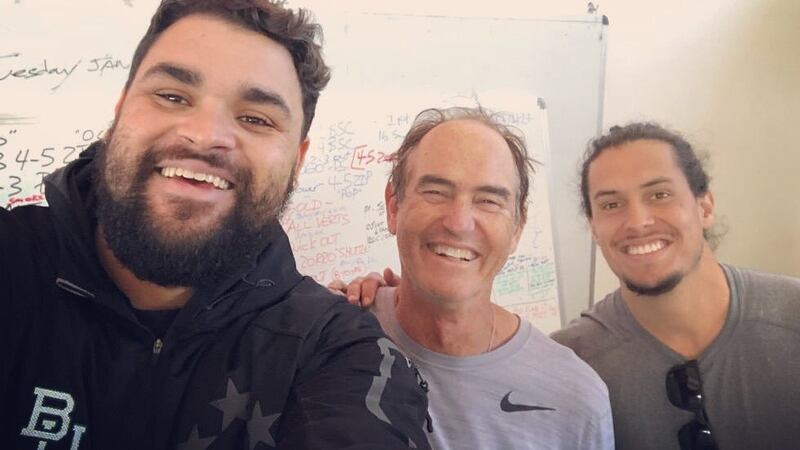 Published: Aug. 7, 2019 at 12:15 AM CDT
Imagine coaching high school alongside your former college coach.
That's what a handful of ex-Baylor football players are doing in Mount Vernon under Art Briles.
Monday kicked-off the first week of football practice for Mt. Vernon High School and it's brand new coaching staff.
"When I was a little kid it was a dream that I had, I'd never would have though it would've came true, especially not being with Coach Briles," said Patrick Colbert, an O-Line/D-Line Coach at Mt. Vernon ISD.
Colbert, 26, who played for Briles as a lineman from 2011-2015, graduated from Baylor University with a degree in kinesiology but never thought he'd be a teacher.
"It's definitely different, it's my first year in the classroom, so we'll see what happens," said Colbert.
The football coaching staff must also agree to teach for MVISD; five of them are former Baylor football players.
"Yeah we got some players here, yeah some guys, good guys," said Briles. "I had three of them in Italy with me, they (MVISD) had 12 openings, all the coaches left, and so we got to hire a bunch of good people, and we'll try to make something good happen for Mt. Vernon."
After several "almosts" in America and Canada, Briles took a coaching job in Italy last year where he took his team to the SuperBowl Italiano.
He says he had to turn down 'several' offers in Texas in February of this year because of the Italian job, but in May, a friend from Waco, Leigh Anne Ramsay, who had moved to Mt. Vernon post-Baylor scandal, texted Briles about a coaching opportunity in the small town.
"I'm a football coach, that's what I've always done so that's what I do," said Briles. "This right here is just as important as any job I've ever had."
In May, the Mt. Vernon school district announced it was hiring Briles as it's head football coach and athletic director; a two-year contract with a salary of $82,000. (Briles will not have to teach academics).
During an interview in May, McCullough admitted to being surprised that Briles--who once proudly coached at a college of more than 15,000 students--would take a job at a high school with fewer than 500 students, but was happy he did.
From a stadium seating 45,000 to 3,000, from Bears to Tigers, from green to purple: it's a big change.
"When I first talked to him, I said 'Coach, I hate to tell you this, but we're purple like TCU, he said 'that's ok, I'm wearing purple in Italy and I can do it,'" laughed Jason McCullough, Superintendent of MVISD.
The district has been getting backlash about hiring Briles who hasn't coached any students since May of 2016 when he was fired amid the Baylor sexual assault scandal.
However, McCullough has vehemently defended the district's decision, saying more information has come out since then and everyone deserves a second chance.
After Monday's practice, the former Superintendent of China Spring ISD told KWTX he'd been looking forward to this all summer, and said the student-athletes had already taken to the new coaches well.
"That one-on-one, and that experience that they're able to bring and share with them of what they've learned on the college level, has been really good," said McCullough. "I think our kids have really enjoyed it."
Mt. Vernon might be 200 miles away, but Briles brought a lot of Waco with him; besides Colbert (who left a job in Texas to coach with Briles in Italy), the other former Baylor players on MVISD's coaching staff include Davion Hall, Jayson Clements, Brad Willard, and Lynx Hawthorne (who also played for Briles in Italy).
Gatesville's former head football coach Kyle Cooper also joined Briles' staff.
"He had to think highly of us to bring us here, you know, and so that's all love coming from us," said Colbert. "I'll do anything for him."
To prepare for the media frenzy at Monday's open practice, the first and last before the Mt. Vernon HS football season starts, Colbert said attorneys came to talk to the coaching staff ahead of time.
He said he believes the controversy will soon die down.
"Everything is going to smooth over and we'll be fine," said Colbert.
He said he's just ready to win games again, and he's hoping having some of his fellow, former Bears beside him will help the Mt. Vernon Tigers claw their way to the top.
"(Monday's) Practice wasn't great, but they're getting better and got good work in," said Colbert.
His message to Tiger fans: "Come out, be loud, and be supportive."
He said he got his positivity from Briles, and although he's a Tiger now, Colbert says he'll always be a Bear at heart.
"Sic 'em Bears!" he yelled.