1 child, 2 adults still hospitalized following bus crash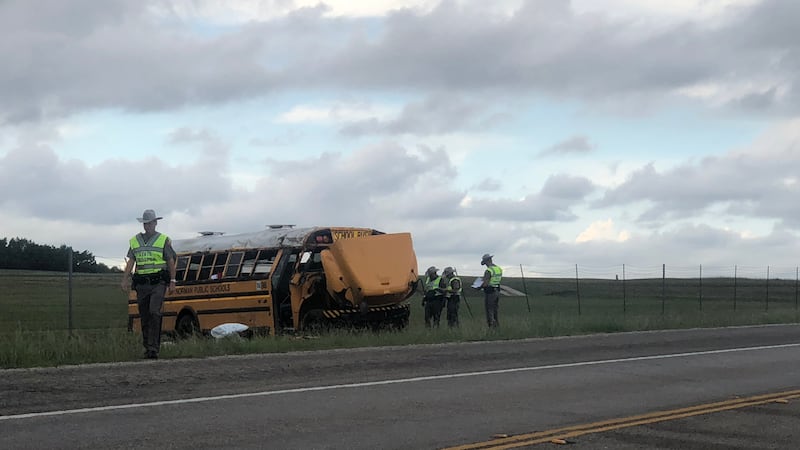 Published: Sep. 29, 2018 at 4:32 PM CDT
One child and two adults remained hospitalized Monday after dozens of children were injured during a school bus rollover accident.
The girl is at McLane Children's Hospital and the adults are at Baylor Scott and White Hospital in Temple.
Norman Public Schools also said Monday additional counselors were at their schools to help the students and staff.
District spokeswoman Alesha M. Leemaster confirmed that, despite state law not requiring seat belts, the buses the children were traveling in were equipped with them.
Oklahoma State Senator Rob Standridge (R-Norman) whose constituents were involved in the Cleveland Elementary bus crash near Lampasas said in a statement Sunday:
"Please pray with us for the children and families from Cleveland Elementary involved in Saturday's bus crash in Texas. We are extremely thankful there were no fatalities and we will do all we can to support the victims who suffered serious injuries. I invite any families who need help to please contact my office for assistance. We also want to thank the entire community of Lampasas, TX — from the first responders on the scene to the citizens who came out to comfort our children — we sincerely appreciate your heroism and hospitality."
The Department of Public Safety investigated after a bus carrying
dozens of people crashed Saturday afternoon along Highway 281 north of Lampasas.
The crash was reported just after 3:15 p.m. near the airport.
DPS Trooper Michael Tatum said there were 24 children, ages 10- and 11-years-old, on the bus at the time along with two teachers, a principal, and the driver.
The bus was carrying all girls.
Tatum said the bus was traveling southbound on Highway 281 en route to Sea World in San Antonio.
The driver lost control of the bus and the bus rolled over.
Several of the students sustained head injuries, according to Tatum.
All of the children were taken to area hospitals including the Metroplex Hospital, Rollins Brook Community Hospital, Baylor Scott and White Hospital, Darnall Army Hospital, and McLane Children's Hospital.
Erin Riley, spokeswoman for Metroplex Hospital in Killeen, confirmed six victims were taken to its emergency room for treatment but none of the injuries were critical.
She also said the hospital was prepared to receive up to four more patients.
A second bus traveling with the group, and carrying the boys, was taken to Lampasas Middle School.
No one was injured on that bus.
Highway 281 remained closed for several hours as DPS continued to conduct its investigation.
Lampasas fire, police and sheriff's office all responded.