Thousands respond to viral appeal to attend service for Air Force veteran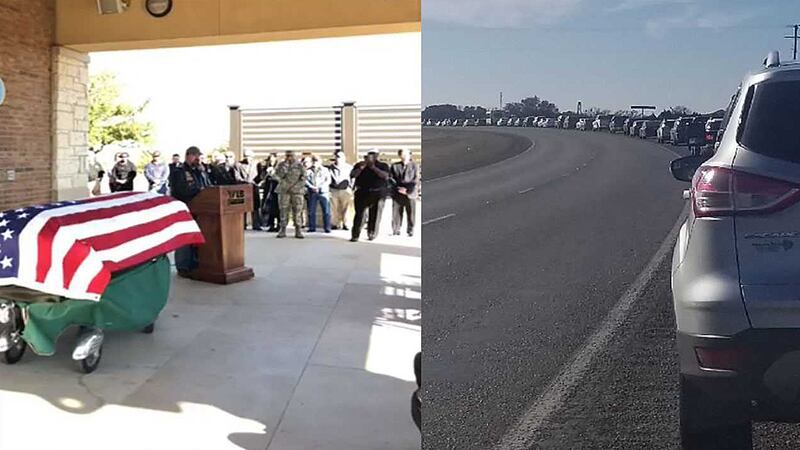 Published: Jan. 27, 2019 at 9:08 PM CST
Thousands of people streamed into the Central Texas State Veterans Cemetery Monday in Killeen to pay their final respects to Air Force veteran Joseph Walker, although it's unlikely any of them knew him.
"We are overwhelmed at all this love and support, officials said in a post on the cemetery's Facebook page Monday.
The Texas Veterans Land Board announced the service last week after officials were unable to locate any family members.
But a post about the service on the cemetery's Facebook page went viral over the weekend.
"We have the distinct honor to provide a full military burial for unaccompanied United States Air Force veteran Joseph Walker," the post said.
"We do not leave veterans behind us."
The response on social media was quick; thousands of people around the nation shared the story.
"This is absolutely the biggest and we want to thank the media. It's the media that pushes it out real, real far because I was receiving calls from people all the way from Oregon," said Douglas Gault, the chief on-site representative of the Texas State Veterans Cemetery program.
A KWTX reporter at the scene said the line to get into the cemetery was miles long and initial reports indicate some 5,000 to 6,000 vehicles were in the line.
Funeral services for unaccompanied veterans such as Walker aren't unusual at the cemetery, but most are attended by only a handful of people.
Walker, who served in the Air Force from September 1964 to September 1968, died in November.
Fort Hood 3rd Air Support Operations Group Col. Charles Drouillard was able to get together a group to accompany Walker.
"We are lucky to get enough guys together part of the Air Froce contingent and honor our fellow veteran," Drouillard said.
"My wife actually saw it on a Facebook post and thought we should honor him because we read he had no family or friends in the area," Drouillard said.
He was not surprised by how many came out to honor Walker.
"It's a testament to the bond that we share of having served whether it be Army, Air Force, Navy, Marine Corp, Coast Guard it doesn't matter. We all served we all share that common bond and it shows you just how strong that bond is," Drouillard said.