Teenage runner nearly dies from flu; being fit helped save her life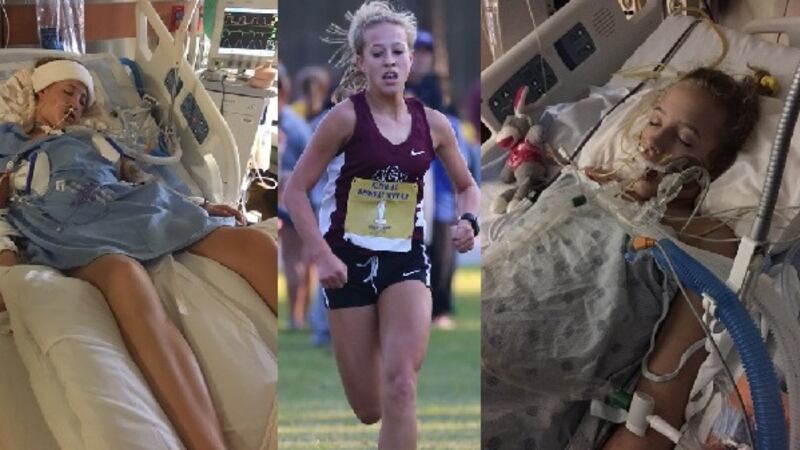 Published: Apr. 24, 2017 at 10:35 PM CDT
After being in a coma for 40 days, a Central Texas teenager has survived a case of the flu which almost turned deadly.
Elizabeth Schiller, 15, of College Station is attributing her survival to healthy living, her competitive spirit, and the staff at McLane Children's Hospital in Temple.
Schiller runs track and cross country for A&M Consolidated High School, and says being fit and eating healthy helped her beat the virus which nearly killed her.
"If I was a couch potato, I probably wouldn't be where I'm at now," she said.
Schiller contracted influenza B in February, the same month nine Texas schools were shut down because of outbreaks of the virus.
"Some children do just fine with it, other children, because of the strain that they get, can get a whole lot sicker," said Dr. Sowmya Kallur, pediatric intensivist at McLane Children's Hospital.
Elizabeth's doctor said she sees at least one to two cases like Schiller's each year.Teenage runner nearly dies from flu; being fit helped save her life
"Children don't always get their flu vaccine and then they tend to get this pneumonia which turns into worsening symptoms and causes them to stop breathing," said Kallur.
Schiller's mother said Elizabeth did get vaccinated with the flu shot this year, and she'd never had the flu before.
"This is her first time to ever have flu, so we had really no clue of knowing what the worst was," said Lindsey Schiller.
Elizabeth started exhibiting classic signs of the flu including chest pains, but after her symptoms started worsening they took her to the emergency room at Baylor Scott & White Medical Center in College Station, hours later she was flown by helicopter to McLane Children's.
"They told us it would get worse before it got better, we didn't know how worse," said Mrs. Schiller.
Doctors decided to intubate Elizabeth and put her into a medically induced coma to keep her body from being over stressed.
She was given a tracheotomy and had two chest tubes on her right side and three on her left side to drain fluid outside her lungs, and she had two surgeries to help clean her lungs out.
Her mom fell asleep to the sound of ventilators every night.
"I got used to it," she said. "It sounds like a Johnny Popper tractor."
They woke up Elizabeth on day 40, and 16 days later she was able to leave the hospital with a trach tube in her throat to help remove fluid and mucus.
She didn't remember anything when she woke up, all she knew is she wanted to get back to running, she even scared staffers when she tried to run in the halls of the hospital.
She said she's ready to get back to her normal life.
"I am ready to soak in a bath tub and have my own bed and some privacy 'cuz I've been living in a fish bowl," she said.
Elizabeth had her family by her side and hospital staff cheering her on as she walked out the hospital doors Friday.
"I'm so blessed to be going home finally," she said.
"We're now on day 56 and it's been a journey, but they've pretty much done everything thinkable to get her to where she is," said Mrs. Schiller.
Her mom said in addition to her daughter's competitive spirit and the extra measures taken by medial staff, God got them through it.
"You do all that you can as parents, but you just face the challenges that are in front of you, and He'll lead, and here we are," said Mrs. Schiller.
Elizabeth will continue her recovery closer to home.
She hopes she will be healthy enough to make it to prom next month, and she can't wait to start running again.
Kallur said Elizabeth's case has been a valuable learning experience.
"It's taught both the family and our team a lot about medical care and how to treat people with the flu," said Kallur.
"It's rare enough that it's not known publicly very well that flu can cause such severe symptoms, but in the medical community, especially in the pediatric community, this is the reason we push flu vaccines like we do, because we see this type of disease process and we can see how badly it can get."
Kallur recommends everyone in a home who can be vaccinated, should get vaccinated, and to watch for symptoms; if someone is working hard to breath or not quite acting like themselves, go to the doctor.
"I think that Elizabeth was very lucky in that her symptoms were caught in a reasonable time and we were able to treat her," said Kallur.