Church hosts barbecue for families of jail inmates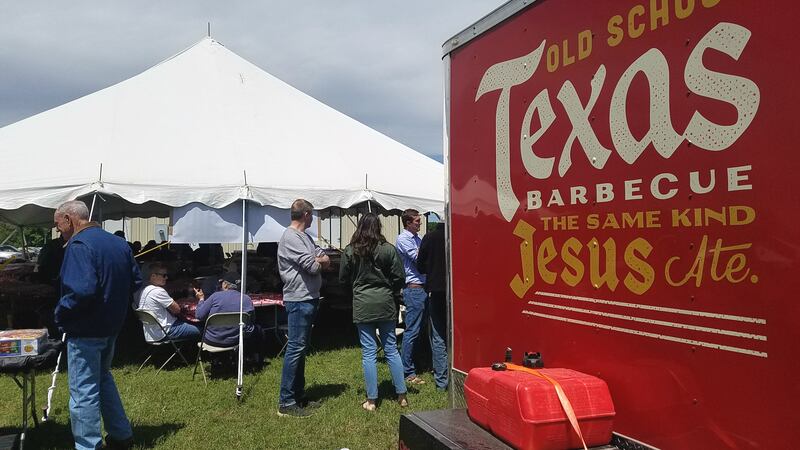 Published: Apr. 14, 2018 at 11:43 PM CDT
It's not the typical place for a barbecue, but visitors of inmates of McLennan County Jail are enjoying the food and fellowship.
"It's actually gathering Waco together," says Daquan Manzano who came to visit his girlfriend.
He accepts a paper plate piled high with food from the Guess Family Barbecue truck parked outside the Shepherd Mullens Visitation Center.
Matthew Anderson of Holy Spirit Episcopal Church came up with the idea of hosting an event more than a year ago after a basketball buddy of his was put in jail.
"I learned a lot about what it's like to have someone that you care about inside of jail, and how hard that can be, and how much stigma and shame goes along with that," says Anderson.
He wanted to cater to families of the incarcerated who are often overlooked and also give them the chance to meet with the officers who may have put their loved one behind bars.
"We want them to realize that we're normal people- to just be around and fellowship with them so they can understand that we're here as part of the community," says Jail Administrator Ricky Armstrong.
"We're not here to punish people- we're just here to do our jobs," he says.
Anderson admits it was a risky move to put the two parties together, but wanted both sides to take time to recognize the humanity in one another.
"We weren't sure how it was going to go. These are two groups that have good reasons to be opposed to each other," he says.
Under the white tent equipped with tables, chairs and games of checkers, it seems to be going well.
More than two hundred visitors, cops and volunteers bond over plates of smoked meat, beans and cole slaw.
"I think it's a good idea- you can get a better feeling and way of looking at an officer," says Jay Clark.
He is waiting to hear that his name has been added to the visitation list of a friend he would like to see inside the jailhouse.
"Everybody has a job, and you can't blame people or that person for doing their job," adds Manzano.
He works at a prison and also understands the challenges of working within the correctional system.
"You can't really blame that person. Just like you have to go to work everyday- same with him," says Manzano.
Attendance isn't as high as organizers expected. They planned for hundreds more visitors, but recent stormy weather and a drop in temperatures may have kept some home.
There are still discussions about continuing the event annually over the next five years and building out the prison ministry at the church.
"From this we've gotten a lot of requests from inmates for services such as Bibles," says Anderson.
"We just got a request yesterday from an inmate for glasses."
As Holy Spirit Episcopal reaches out to those behind bars, they plan to continue working to help the loved ones the incarcerated have left behind.
"I hope that people recognize that someone recognizes the burdens that they have- that they're not alone. We recognize that it's a hard thing to have a loved one in jail," adds Anderson.
The free meals they've arranged seem to be a great start.
It's a bite of comfort while some wait years for their loved one to walk from behind the gates and finally take their seat at the table.