Waco: "Don't Blow It" campaign aims to keep storm drains clear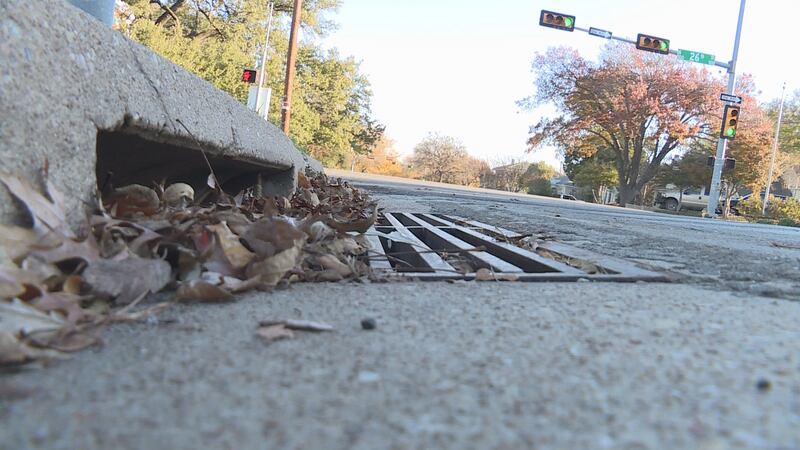 Published: Dec. 11, 2017 at 8:46 AM CST
The City of Waco is looking for neighbors help in its "Don't Blow It" campaign, which aims to unclog storm drains.
All neighbors have to do is keep their lawns clear of leaves and yard waste.
Anthony Betters in the city's Public Works Department said that yard waste eventually ends up in the street and washed down the drains.
The debris pollutes the quality of the city's tap water.
It also causes algae in the Bosque and Brazos Rivers and Lake Waco where the city draws water from.
"One problem that we have with leaves clogging up the system is they can cause flooding," Betters said.
"If it causes flooding, it will cause us to utilize citizen's tax dollars to clean out the storm drain. That can have a huge impact to a homeowner."
The city offers free alternatives to help homeowners keep their yards and storm drains clear.
"The thing about leaves is that you can't put an address to a leaf," Betters said.
"If you can't put an address to it, it needs a collaborative effort. The city is definitely striving trying to do better."
Amy Dunbar, Waco's Solid Waste Manager said homeowners can order a green yard waste bin from the city for free. It's collected every other month.
She also said you can take as much as 2,000 pounds of bagged leaves to the Cobbs Recycling Center.
The city will also pick up, up to 20 bags of bagged leaves if you call solid waste services (254) 289-2612 and they will send a brush truck.
Mission Waco also accepts yard compost. Dunbar said the easiest way is to leave the leaves in the lawn.
"Speaking with the master naturalists in McLennan County, they say to mow them in," Dunbar said.
"We do that in our household, where you mow them in and leave the grass clippings and leaf bits in your yard because it's good for your yard."