Ex-BU frat president spared jail time after sexual assault plea reduced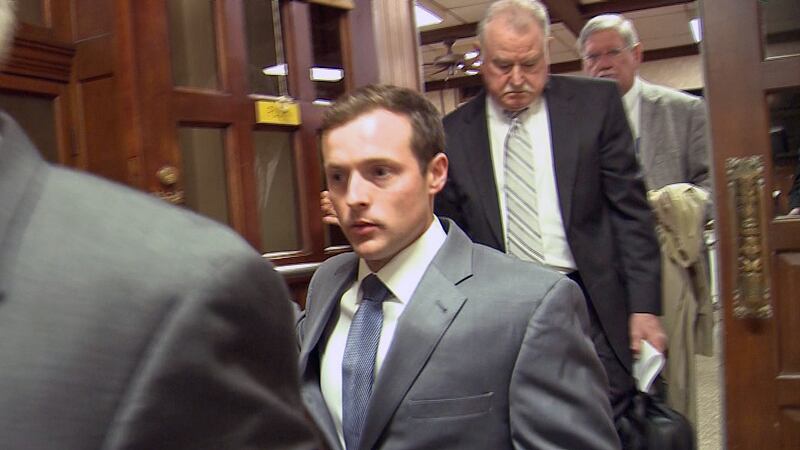 Published: Dec. 9, 2018 at 10:54 PM CST
A former Baylor University fraternity president originally indicted for sexual assault who pleaded no contest to a reduced charge of unlawful restraint was sentenced Monday and won't spend a day behind bars.
Judge Ralph Strother, in 19th District Court, accepted the state's plea agreement and sentenced Jacob Walter Anderson, 24, to three years on deferred probation, which if he completes will leave him without a criminal record.
Anderson, on Oct. 15, pleaded no contest to the charge, a third-degree felony, after Assistant District Attorney Hilary LaBorde and Anderson's defense counsel reached a plea agreement.
The Texas Penal Code shows a third-degree felony can be punishable by a prison term of from 2- to 10-years.
In May 2016, Anderson was indicted on four counts of sexual assault in connection with an alleged rape in February 2015 in which the victim was left lying outside unconscious.
As he prepared to read the final sentence, Strother spoke to the courtroom crowd about the case.
"Not much about this case is normal," Strother said from the bench.
Strother said he's received stacks of comments about the case and he considered the issue very carefully.
In her statement to the court, the victim, through tears, said she was devastated by Strother's decision "to let my rapist go free," she said.
The victim's attorney, Vic Feazell, said a petition in the case now has 85,000 signatures demanding jail time for Anderson
"By agreeing to this plea, Hillary LaBorde and the DA's office have allowed that rape is no longer a crime in Texas."
Neither LaBorde, nor Reyna, was in the courtroom on Monday morning, but LaBorde later issued a statement in which she said, "Given the claims made publicly, I understand why people are upset. However, all of the facts must be considered and there are many facts that the public does not have. In approving this agreement, Judge Strother had access to all the statements that have ever been made by all people involved and agreed that the plea agreement offered was appropriate in this case."
That was small consolation to the victim, however, who said through sobs, as she addressed the court, "Jacob Walter Anderson it must be horrible to be you."
"This victim was told there was enormous amounts of evidence and a conviction was almost sure. And now two and half years later after living through hell, having the trial delayed a week before it was to occur and then never rescheduled, the DA has decided not to bother even trying to get justice," the woman's family said in a statement.
The victim learned of the lesser plea via an email from LaBorde, which in part reads: "I've accepted an offer on Jacob Anderson. It's for probation on the charge of felony unlawful restraint not sexual assault – therefore, he will not have to register as a sex offender. I realize this is not the outcome we had hoped for or that I had originally offered, but I tried a very similar case to this one last month, and lost.
"In light of the similarities between the cases, it's my opinion it would be worse to try Anderson and lose and have the entire matter wiped from his criminal history than to accept this plea offer," LaBorde wrote.
As it is, if Anderson completes his probation without incident he'll be released from supervision and a conviction will not appear on his record, a local defense attorney said.
But if the matter is not expunged upon completion, he'll always have a record of arrest on a sexual assault charge.
The victim, on Monday, issued an impact statement in court which in part reads the reduced charge: "(is) a reminder that this rapist, Jacob Anderson had stolen something very valuable, in fact priceless from me...my virginity!
"I had saved myself for my wedding night and Jacob Anderson stole that from me!" she wrote.
Local attorney and former McLennan County DA Vic Feazell represented the family in the criminal matters and attorney Jim Dunnam is representing the family in civil matters, Feazell said.
"As a former DA, I never, ever have seen such a sweetheart deal for a defendant like this," Feazell said.
"It pays to be rich and white in McLennan County when you're charged with a crime."
The email LaBorde sent also included an explanation about why she thought the plea was the best deal: "In light of the similarities between the cases, it's my opinion it would be worse to try Anderson and lose and have the entire matter wiped from his criminal history than to accept this plea offer."
McLennan County District Attorney Abel Reyna later issued a statement in which he defended the plea deal.
"The McLennan County District Attorney's office is known throughout the state for our aggressive prosecution of sexual assault cases, to say otherwise is simply absurd," he said.
"Let us remind everyone that our oath is to seek justice. In pursuit of that ideal, we must evaluate each case alone on its own merit. Early in this case, law enforcement believed that the victim may have been drugged and this belief has been widely disseminated in the media; however, the evidence did not support that theory," he said.
"This office stands by the plea offered and believes we have achieved the best result possible with the evidence at hand," Reyna said.
Feazell filed a motion in late August that pointed out pleading to the lesser charge would remove the sexual assault charge, guarantee probation and not require Anderson to register as a sex offender, all of which came to pass.
The incident at issue Monday occurred early in the morning on Feb. 21, 2015, during a party at a house at 2629 South 3rd St.
The victim told investigators she was sipping a drink at a Phi Delta Theta fraternity party when "she became disoriented and very confused," a heavily redacted arrest warrant affidavit says.
The affidavit says Anderson led her outside to a secluded part of the property behind a tent in order to get some air, and then forced her to the ground.
Details of the sexual assault were redacted from the affidavit, which says the victim told investigators that at some point she was unable to breathe and lost consciousness.
She woke up outside, alone and lying face down in her own vomit, the affidavit said.
She was "able to stand up and walk out from that area and find help," the affidavit said.
The victim returned to the house and found a friend who took her to Baylor Scott & White Hillcrest Medical Center where she was examined there by a sexual assault nurse examiner who verified the rape, police said.
In February, 16 defendants were added to a lawsuit filed over the alleged rape.
The amended petition added additional members of the Phi Delta Theta Fraternity to a suit filed earlier in the month against the fraternity, the owner of the house in which the party was held and six fraternity members who served as officers at the time of the incident including Anderson.