Executed Texas killer's body exhumed; could be linked to 1981 murder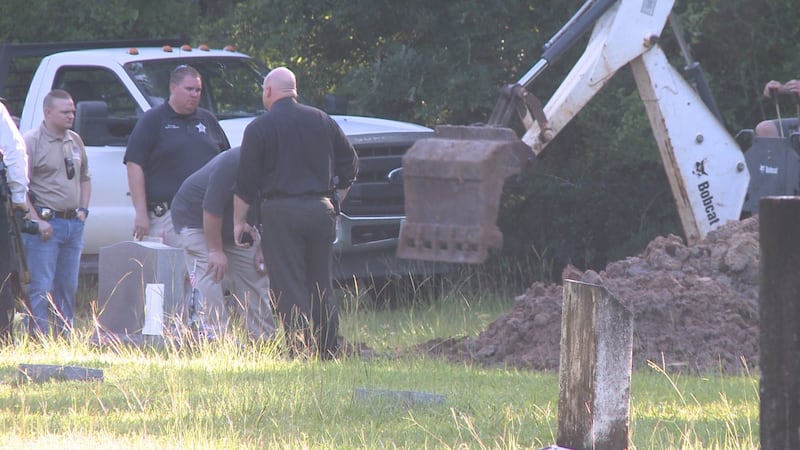 Published: Jun. 28, 2018 at 1:28 PM CDT
Investigators are one step closer to solving a murder mystery that has plagued Brazos County for nearly 40 years.
Wednesday, the body of the man investigators believe killed a local real estate agent was exhumed from his grave Huntsville.
DNA and ancestral results pinpointed James Otto Earhart as the likely killer in the brutal murder of Virginia Freeman in 1981 Brazos County.
Researchers only needed to recover a clay-covered bone from Earhart to retrieve a tissue sample.
"We're simply sampling some human tissue for the purpose of doing DNA," said Harrell Gill-King, University of North Texas Director of Laboratory of Forensic Anthropology and Human Identification.
Investigators want the sample so they can compare Earhart's DNA with DNA found under Freeman's fingernails.
"In this case, the bones are in good shape so there shouldn't be any problems," said Gill-King.
Lead investigator Kenny Elliot and Texas Ranger Joshua Ray say they are happy to have answers.
"We put everything we got into this case," said Ray. "We have spent a lot of time traveling across the country, multiple states in hotel rooms, late at night going over evidence that we've already gone through."
Both say the time and effort spent was worth it to bring closure to the Freeman family.
"Hopefully at some point, it brings some type of finality," said Ray. "Some type of closure for them but it takes time. Nothing can replace her."
And nothing can replace the exceptional role science played in solving this decades-old case.
"At the time of this homicide, there was no such thing as DNA," said Elliot. "It had not come about, and now just how far DNA has come, it's just absolutely amazing. DNA is my very best friend."
The team says Freeman's case may be just the tip of the iceberg for cold cases across the country.
"This is proof we're not done yet finding out what we can do with DNA," said Ray. "There is potential we can solve so many other cold cases."
Earhart was executed by lethal injection in 1999 for the murder of a 9-year-old Bryan girl.
His DNA was never collected while he was an inmate.