Family, friends of missing soldier hold protest outside Fort Hood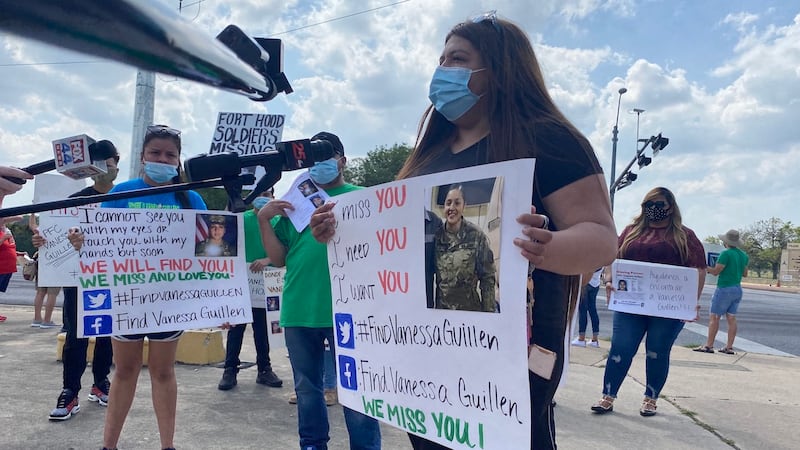 Published: May. 23, 2020 at 1:08 AM CDT
Family and friends of missing Fort Hood soldier Vanessa Guillen held a peaceful protest Friday afternoon near an entrance gate on post.
The dozens who came from across Texas to the Killeen-Fort Hood area were hoping to get answers in Vanessa's disappearance.
Vanessa's sisters, Lupe and Mayra, were joined by their parents at the protest.
The last time anyone has seen 20-year-old Vanessa Guillen: April 22.
"She's a brave young woman. I believe she's in there and she's suffering but she's still alive. I want her back like that," said Lupe Guillen. "I want her alive. I demand answers now, I want it now. We're here for her, we want her back."
In an update Thursday, Fort Hood says initially, 3rd Cavalry Regiment had more than 500 soldiers a day searching on foot in training areas, barracks and across the installation. More targeted searches are ongoing with smaller groups of soldiers.
With a month of no clues, Mayra Guillen says her family is hurting.
"Part of me is missing because me as the older sister, I've always took the lead and having them go the right path. Me not being able to prevent this from happening to Vanessa makes me feel a type of way I can't explain," Mayra Guillen said.
They feel someone knows something about Vanessa's disappearance.
"Say something. Don't be scared at this point," Mayra Guillen added.
Multiple agencies including the Texas Rangers, Bell and Coryell County Sheriff Departments, the Texas Department of Public Safety, Texas Game Wardens, the FBI as well as local area police departments are assisting in the investigation.