Family, friends press for changes after Central Texas teen dies in crash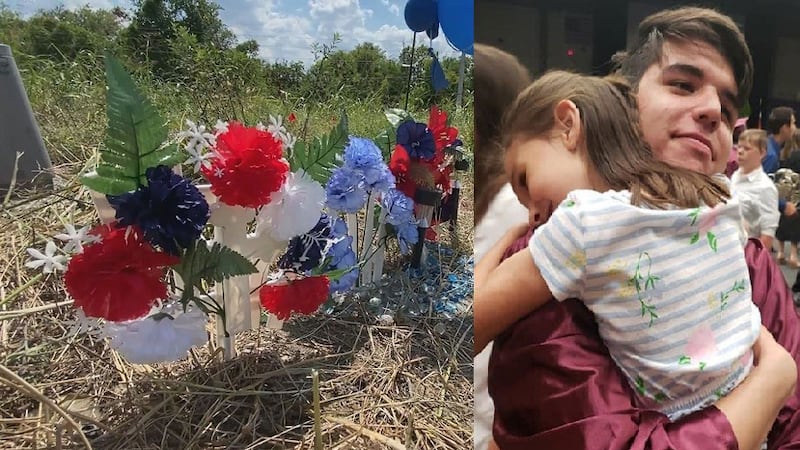 Published: Jun. 3, 2020 at 12:37 PM CDT
Family and friends of Raiden Garcia, 18, who died in a two-vehicle crash Sunday night at an intersection in Troy that has been the scene of more than two-dozen wrecks in the last two years, are calling for a fix to make the intersection safer.
"I will get justice for my son, that I will do," Garcia's mother, Christine Mercer said.
"I will not stop until this is fixed."
Garcia died at the scene of the two-vehicle crash at around 11 p.m. Sunday at the intersection of Loves Boulevard and South Central Avenue, which is the I-35 service road.
Garcia was driving a 2013 Dodge four-door sedan west on Loves when his car collided with a 2004 Infiniti SUV driven by Joan Rivera of Temple that was southbound on the service road authorities said.
A woman and two of the three children riding in Rivera's car were taken to a local hospital with what authorities said appeared to be non-life-threatening.
Troy police Chief Gary Smith says his heart sank after he arrived at the crash scene and learned who the victim was.
In October 2016 Mercer's daughter, Katlyn Nicole Fowler, 17, died in a fiery one-vehicle crash that also claimed the life of Jon Kevin Lock, 16, of Temple, and left another teenage girl injured.
Rescuers had to pull the vehicle in which the teenagers were riding from a roadside ditch where it came to rest after it veered off the road and slammed into a tree at around 8:30 p.m. Oct. 25, 2016 on old U.S. Highway 81 just north of Troy.
"We honestly prayed that it wasn't them. That we wouldn't have to visit this family again under these circumstances," Smith said.
Mercer was awakened by a knock at her door early Monday morning.
When she saw Smith, outside she realized her son wasn't in his bedroom, and knew Smith was likely there to tell her he was in an accident.
Her son had gone to West Texas with his girlfriend to pack up his belongings from his dorm room at his mechanical engineering school
He dropped her off Sunday night in Copperas Cove and called his mother to say he would be home soon.
"He said, 'I love you mom I'll see you in a minute.' I said 'I love you too Raiden.' But that was the last time we talked. He never made it home," Mercer recalled through tears.
"Raiden always said 'Mom I'm not Katlyn, you don't need to hover over me, I'm OK' and now he's gone too" Mercer said.
Mercer says others have reached out to her since the accident to share their own horror stories about the intersection.
"One woman emailed me last night and said her husband was in a wreck there riding his motorcycle and is now paralyzed" Mercer said
Smith says 28 accidents have occurred at the intersection since March 2018.
Mercer says changes need to be made to make the intersection safer.
"We're not just speaking up for Raiden, but for the police, for the community, everyone that has spoken up prior that hasn't been heard."
"No parent, no person should have to go through what I've been through," she said.
Within hours of the crash that claimed her daughter's life, she says, the speed limit was lowered and reflectors were installed on old U.S. Highway 81, and a local lawmaker is requesting quick action on changes at the intersection where her son died.
State Rep. Hugh Shine, R-Temple, accompanied Smith to the accident scene Monday morning.
"You've got an exit ramp coming off the interstate just down the road and most folks coming off that exit ramp are not slowing down," Shine said as he watched cars passing by after he returned to the crash scene Tuesday afternoon.
"I've asked the [Texas Department of Transportation] folks to send their traffic management team out here and let's get a three way stop at this intersection, as fast as we possibly can" Shine said.
He says he's also proposing flashing lights and warning signs to let drivers know the stop is coming.