Fort Hood commander learns leadership from former Presidents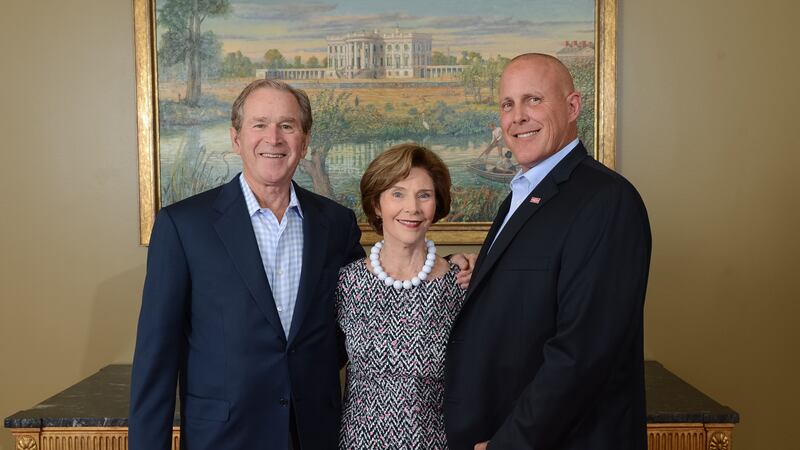 Published: Jul. 13, 2017 at 5:19 PM CDT
On the same day former Presidents George W. Bush and Bill Clinton met for a rare joint appearance in Dallas at the Bush Presidential Center to usher in a new graduating class of nationwide leaders, a retired colonel from Fort Hood is reflecting on what he learned as part of the prestigious program and how it's helped him serve military families worldwide since graduating 12 months ago.
"I knew about military leadership but I had spent 26 years in the army and I needed to see what the rest of our country was like after that time," Col. Tim Karcher said.
The Belton resident was part of the 2016 graduating class of a group called Presidential Leadership Scholars.
He was one of only 61 people selected nationwide to participate in the 6-month program, which teaches leadership by drawing on the resources of the George W. Bush Presidential Center, the Clinton Foundation, the George Bush Presidential Library Foundation, and the Lyndon Baines Johnson Foundation.
Karcher was selected not only for his 25 years of military service, but also for the job he's chosen to do since a 2009 injury in Iraq left him a double amputee.
"I work for a small non-profit organization called "No Greater Sacrifice" that provides college scholarship for kids of the fallen and severely wounded. To honor not only the service member's sacrifice but their family who is right there with them," Karcher said, from his office in downtown Temple.
It's a sacrifice the former commander at Fort Hood knows about all too well.
In June 2009, while on patrol in northeastern Baghdad as a battalion commander with the First Cav., Karcher lost both legs above the knees after an explosively formed penetrator ripped through the passenger side of his vehicle.
"It was a loud explosion. I thought I had two broken legs," Karcher said. "When I looked down I realized I didn't have legs."
Karcher spent the next several months fighting for his life.
"It was a rough summer. All my internal organs shut down at different times during the summer," Karcher said. "I was on a feeding tube for like 7 weeks and I went from 225 pounds down to 105 pounds. So I got a great weight loss program."
Following nearly 2 years of recovery and 4 years in staff positions, the soldier retired at Fort Hood after a quarter-century of service.
But he says while the injury took his physical ability to serve, it couldn't take his desire to help his brothers and sisters in uniform..
Karcher stepped into the role of director of outreach development and strategic planning for the D.C.-based nonprofit, seeking to provide debt-free college educations for military members and their families.
At the urging of some friends, Karcher applied to be part of only the second class of select leaders from around the United States.
"What it gave me was an opportunity to really get to know our country better," Karcher said. "I'd spent 26 years defending it and I didn't' really understand it near as well as I really should have. And my fellow participants in the program helped me understand it."
Karcher spent 6 months traveling to each of the presidential centers, visiting with key administration officials, debating topics with his peers and even spent time with the presidents themselves.
"We'd go through the various centers and learn about aspects of that president's administration and probably the toughest decisions or problems that they faced during their administration and how they dealt with it as leaders, " Karcher said.
Each face-to-face visit with a president came with a surprise to Karcher.
With George W. Bush, it was what wasn't the focus.
"I would have thought we would have studied the surge because I would have thought that was the most difficult decision he had to make. But, when you get to know President Bush, that wasn't the most difficult decision he had to make because he is at his core, a fighter."
"We instead studied the financial crisis of 2007-2008 and the fascinating piece of that was the courage it took him to go against his values. To go against his beliefs that a free-market economy would always prevail."
Karcher said when his class met with President Clinton the focus was on studying the Balanced Budget Act.
"Seeing the way President Clinton was able to work across party lines to get that passed was to me, fascinating."
But Karcher said his most memorable encounter with a former world leader came in a more informal way.
"Mrs. Barbara Bush was sitting next to me and I said something to her and she slapped me on the leg and she said 'oh something's not right there' and she patted my leg and she realized there was hard plastic underneath my pants," Karcher said.
"So during a break she called me over to where she and President Bush were sitting and she said 'George, this boy, and I love being called a boy at 50 years old," Karcher laughed. "She said 'this boy has prosthetic legs, both of them.' He was smiling from ear to ear and she said 'George always considered winning the Gulf War and passing the Americans with Disabilities Act, his two greatest accomplishments in office."
Karcher says all the leaders, despite political differences, taught the graduates that disagreement can be had with respect.
"Having polite and intellectual exchange on the topics that really challenge our nation," Karcher said. "And no one walking away angry at one another and instead walking away enlightened by the other's opinion and their perspectives."
Karcher says the networking he did with fellow participants of the program has helped him grow his nonprofit over the last year in ways he never dreamed.
"We've given out 85 scholarships since we were formed in 2008 and committed somewhere over 7 million dollars to their education," Karcher said. "If everything works out right, we'll award over 40 this year."
Karcher said he feels lucky to have been selected as part of the Presidential Leadership Scholars and has a simple word of advice for this week's graduating class.
"The thing I noticed about all my cohorts is they were all committed to making our society better," he said. "I have no doubt this class is the same way and they're gonna do wonderful things."