Killeen: Soldiers home from deployments surprise children at schools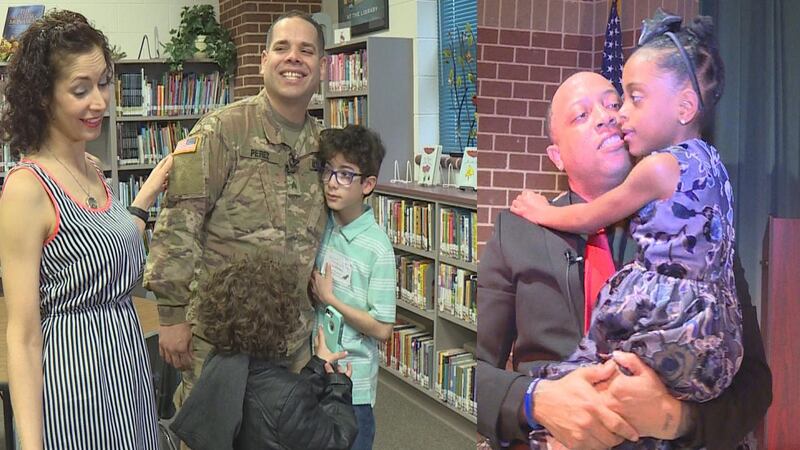 Published: Feb. 21, 2019 at 10:35 PM CST
It was the surprise of a lifetime for three Central Texas children when they were reunited with their father after being separated for months due to deployment.
For Sgt. Jonnathan Perez Olivieri, Thursday morning was months in the making. Through the hugs and tears, he was able to see both of his boys again.
"I missed a lot of things about them, but we're together now," Perez Olivieri said.
Perez Olivieri had been deployed for 270 days, missing out on those important moments. The first surprise happened at Trimmier Elementary in Killeen.
Hours later, he was able to surprise his second son at Audie Murphy Middle School.
"This is the…when they hug you like this when you go to deployment it feels really painful because it's goodbye. It's awesome when you come back and they hug you like this," he said.
A hug he won't soon forget.
But, the surprises didn't end there.
Another Fort Hood family was reunited Thursday night during a 'Sweetheart' dance at Haynes Elementary.
CWO Marcus Barnes surprised his 7-year-old girl. It was a moment he described with one word.
"Complete. Makes everything complete. She's my only one. She's all I have," Barnes said.
Barnes spent the last nine months deployed in Europe.
"So now that your dad is here, what are you going to tell your dad?" News 10's Brandon Hamilton asked.
"Thank you for coming with me," Kiersten Barnes answered.
Little does she know, her dad is now home for a while.
Both fathers say they are just happy to be back home and looking forward to doing the simple things with their children again.