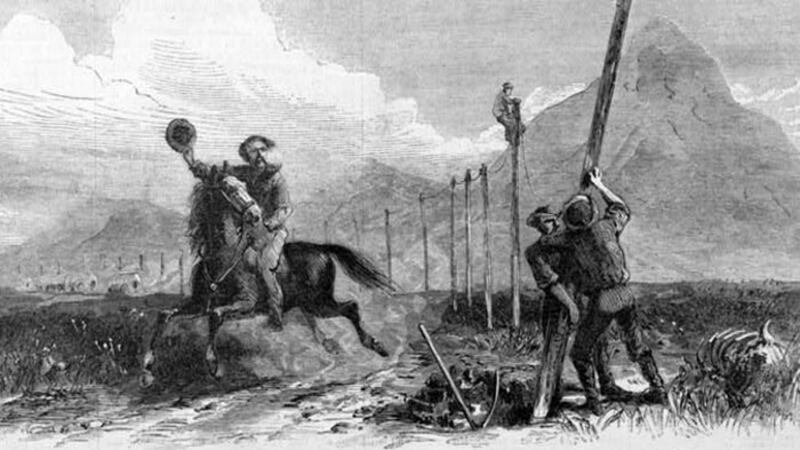 Published: Apr. 2, 2018 at 7:11 PM CDT
Good morning, it's Tuesday, April 3, the 93rd day of 2018. There are 272 days left in the year. We'll start the day in the upper 50s with clouds and a chance of sprinkles in the morning and showers and thunderstorms in the afternoon as temperatures rise into the upper 70s. Overnight the rain will move out and temperatures will fall into the lower 40s.
On April 3, 1860—158 years ago today—the Central Overland California & Pike's Peak Express Company, better known as the Pony Express, began carrying mail between St. Joseph, Mo. and Sacramento, Calif. For $5 per ½ ounce, the express could deliver mail from coast to coast in about 10 days, although the price later dropped to $1 per ½ ounce. The service was doomed almost from the beginning, however. About 10 weeks after the Pony Express started, Congress passed a bill directing the Secretary of the Treasury to subsidize construction of a transcontinental telegraph line, which was completed in late October 1861. The Pony Express became history a month later.
Today's Highlight in Local History:
On April 3, 1997, Lake Waco triple murder defendant David Wayne Spence was executed, 15 years after the deaths of three teenagers whose bodies were found on July 13, 1982 in Speegleville Park.
On April 3, 2012, Baylor's Lady Bears defeated Notre Dame 80-61 to win their second national NCAA championship, and in the process became the first team—men's or women's—to complete a season with 40 wins.
On April 3, 2012, 17 confirmed tornadoes touched down as a storm tracked from southwest to northeast from Johnson County across the Dallas-Fort Worth area. The heaviest damage was in Lancaster. There were no fatalities, but some injuries were reported.
Today's Highlight in History:
On April 3, 1968, civil rights leader Martin Luther King Jr. delivered what turned out to be his final speech, telling a rally of striking sanitation workers in Memphis, Tennessee, that "I've been to the mountaintop" and "seen the Promised Land. I may not get there with you. But I want you to know tonight that we, as a people, will get to the Promised Land!" (About 20 hours later, King was felled by an assassin's bullet at the Lorraine Motel.)
In 1776, George Washington received an honorary Doctor of Laws degree from Harvard College.
In 1882, outlaw Jesse James was shot to death in St. Joseph, Missouri, by Robert Ford, a member of James' gang.
In 1936, Bruno Hauptmann was electrocuted in Trenton, New Jersey, for the kidnap-murder of Charles Lindbergh Jr.
In 1942, during World War II, Japanese forces began their final assault on Bataan against American and Filipino troops who surrendered six days later; the capitulation was followed by the notorious Bataan Death March.
In 1946, Lt. Gen. Masaharu Homma, the Japanese commander held responsible for the Bataan Death March, was executed by firing squad outside Manila.
In 1948, President Harry S. Truman signed the Marshall Plan, designed to help European allies rebuild after World War II and resist communism.
In 1965, the United States launched the SNAP-10A nuclear power system into Earth orbit; it was the first nuclear reactor sent into space.
In 1978, at the Academy Awards, Woody Allen's "Annie Hall" was named best picture of 1977; its co-star, Diane Keaton, won best actress while Richard Dreyfuss was honored as best actor for "The Goodbye Girl."
In 1985, the landmark Hollywood Brown Derby restaurant closed after 56 years in business.
In 1996, Unabomber Theodore Kaczynski was arrested at his remote Montana cabin. An Air Force jetliner carrying Commerce Secretary Ron Brown and American business executives crashed in Croatia, killing all 35 people aboard.
In 2003, Atlantic magazine editor Michael Kelly, 46, became the first American journalist to be killed while covering the Iraq war.
NATO allies meeting in Bucharest, Romania, gave President George W. Bush strong support for a missile defense system in Europe and urged Moscow to drop its angry opposition to the program. Model Naomi Campbell was arrested at London Heathrow Airport after getting into an altercation with police during a dispute about lost luggage. (Campbell was later sentenced to 200 hours of community service and fined 2,300 pounds.) Ohio State defeated Massachusetts, 92-85, for the National Invitation Tournament title.
The White House announced President Barack Obama would return 5 percent of his salary each month to the Treasury in a show of solidarity with federal workers smarting from government-wide spending cuts. Palestinian militants launched several rockets into southern Israel and Israeli aircraft struck targets in the Gaza Strip in the heaviest exchange of fire between the sides since a cease-fire ended a major flare-up the previous year. Oscar-winning screenwriter and award-winning novelist Ruth Prawer Jhabvala, 85, died in New York.
A suicide bombing aboard a subway train in St. Petersburg, Russia, left 16 people dead and wounded more than 50; authorities identified the bomber as a 22-year old Kyrgyz-born Russian national. A divided Senate Judiciary Committee panel voted 11-9 along party lines to favorably recommend Supreme Court nominee Neil Gorsuch to the full Senate. The NHL announced it would not participate in the 2018 Winter Olympics in South Korea. North Carolina scored the last eight points for a 71-65 win over Gonzaga and an NCAA title.
Actress-singer Doris Day is 96. Conservationist Dame Jane Goodall is 84. Actor William Gaunt is 81. Songwriter Jeff Barry is 80. Actor Eric Braeden is 77. Actress Marsha Mason is 76. Singer Wayne Newton is 76. Singer Tony Orlando is 74. Comedy writer Pat Proft is 71. Folk-rock singer Richard Thompson is 69. Country musician Curtis Stone (Highway 101) is 68. Blues singer-guitarist John Mooney is 63. Rock musician Mick Mars (Motley Crue) is 62. Actor Alec Baldwin is 60. Actor David Hyde Pierce is 59. Rock singer John Thomas Griffith (Cowboy Mouth) is 58. Comedian-actor Eddie Murphy is 57. Rock singer-musician Mike Ness (Social Distortion) is 56. Rock singer Sebastian Bach is 50. Rock musician James MacDonough is 48. Olympic gold medal ski racer Picabo Street is 47. Actress Jennie Garth is 46. Actor Jamie Bamber is 45. Actor Adam Scott is 45. Christian rock musician Drew Shirley (Switchfoot) is 44. Comedian Aries Spears is 43. Actor Matthew Goode is 40. Actress Cobie Smulders is 36. Rock-pop singer Leona Lewis is 33. Actress Amanda Bynes is 32. Actress-comedian Rachel Bloom is 31. Actress Hayley Kiyoko is 27.
"Our firmest convictions are apt to be the most suspect, they mark our limitations and our bounds. Life is a petty thing unless it is moved by the indomitable urge to extend its boundaries." - Jose Ortega y Gasset, Spanish philosopher (1883-1955).