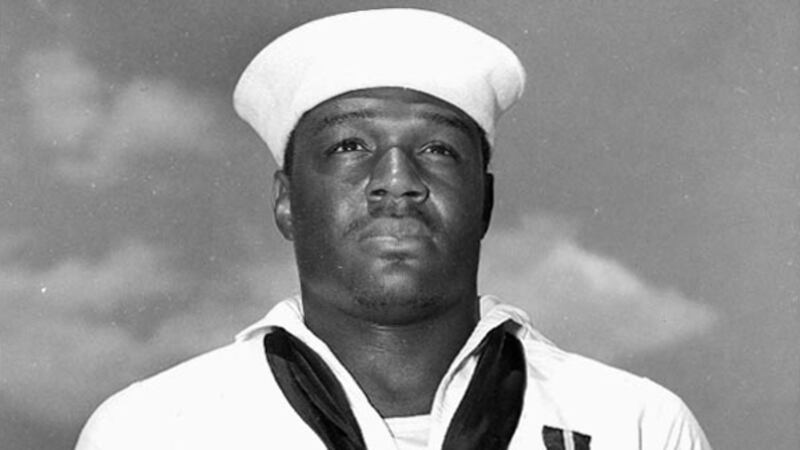 Published: Oct. 11, 2018 at 4:33 PM CDT
Good morning, it's Friday, Oct. 12, the 285th day of 2018. There are 80 days left in the year. Temperatures will be in the upper 50s at the start of the day and we're expecting afternoon highs in the upper 70s before they fall into the mid-60s overnight. It should be mostly cloudy and there's a slight chance of a shower during the day and overnight.
On October 12, 1919—99 years ago today--Pearl Harbor hero Doris Miller was born in Waco. Miller was the U.S. Navy Mess Mate who manned a gun on the USS West Virginia during the Japanese attack on Pearl Harbor on Dec. 7, 1941, downing as many as five enemy planes, according to some reports, although Miller himself later told officials he thought he hit just one. Miller was awarded the Navy Cross for his gallantry, although some supporters have continued to work to try to convince the Navy to award Miller the Congressional Medal of Honor. Miller died on Nov. 24, 1943 during the battle of the Gilbert Islands, when his ship was torpedoed and sunk in the Pacific Ocean.
Today's Highlight in History:
On Oct. 12, 1973, President Richard Nixon nominated House minority leader Gerald R. Ford of Michigan to succeed Spiro T. Agnew as vice president.
In 1492 (according to the Old Style calendar), Christopher Columbus' expedition arrived in the present-day Bahamas.
In 1792, the first recorded U.S. celebration of Columbus Day was held to mark the tricentennial of Christopher Columbus' landing.
In 1870, General Robert E. Lee died in Lexington, Va., at age 63.
In 1942, during World War II, American naval forces defeated the Japanese in the Battle of Cape Esperance. Attorney General Francis Biddle announced during a Columbus Day celebration at Carnegie Hall in New York that Italian nationals in the United States would no longer be considered enemy aliens.
In 1971, the rock opera "Jesus Christ Superstar" opened at the Mark Hellinger Theatre on Broadway.
In 1984, British Prime Minister Margaret Thatcher escaped an attempt on her life when an Irish Republican Army bomb exploded at a hotel in Brighton, England, killing five people.
In 1986, the superpower meeting in Reykjavik, Iceland, ended in stalemate, with President Ronald Reagan and Soviet leader Mikhail S. Gorbachev unable to agree on arms control or a date for a full-fledged summit in the United States.
In 1997, singer John Denver was killed in the crash of his privately built aircraft in Monterey Bay, California; he was 53.
In 2000, 17 sailors were killed in a suicide bomb attack on the destroyer USS Cole in Yemen.
In 2001, NBC announced that an assistant to anchorman Tom Brokaw had contracted the skin form of anthrax after opening a "threatening" letter to her boss containing powder.
In 2002, bombs blamed on al-Qaida-linked militants destroyed a nightclub on the Indonesian island of Bali, killing 202 people, including 88 Australians and seven Americans.
In 2007, Former Vice President Al Gore and the U.N.'s Intergovernmental Panel on Climate Change won the Nobel Peace Prize for sounding the alarm over global warming.
Global finance ministers meeting in Washington kept searching for ways to tackle the unfolding financial crisis; in Paris, nations in Europe's single-currency zone agreed to temporarily guarantee bank refinancing and pledged to prevent bank failures. North Korea said it would resume dismantling its main nuclear facilities, hours after the United States removed the communist country from a list of states that sponsored terrorism. A Soyuz spacecraft carrying Richard Garriott, the sixth paying space traveler, along with another American and a Russian crew member lifted off from Kazakhstan for the international space station. The Arizona Cardinals became the first team in NFL history to block a punt to score the winning TD in overtime in their 30-24 victory over the Dallas Cowboys.
Cyclone Phailin struck the east coast of India, destroying hundreds of thousands of homes and causing hundreds of millions of dollars in crop damage; some four dozen people are believed to have died. Belgian authorities nabbed alleged pirate kingpin Mohamed Abdi Hassan on his arrival in Brussels (he'd been lured from Somalia with promises of work on a documentary about piracy). Anibal Sanchez and four Detroit Tigers relievers came within two outs of the first combined no-hitter in postseason history, striking out 17 to beat the Boston Red Sox 1-0 in the AL championship series opener. The St. Louis Cardinals defeated the Los Angeles Dodgers 1-0 for a 2-0 lead in the NL championship series.
The Trump administration said it would "immediately" halt payments to insurers under the Obama-era health care law. President Donald Trump lashed out at hurricane-devastated Puerto Rico, saying the federal government can't keep sending help "forever" and suggesting that the U.S. territory was to blame for its financial struggles.
Actress Antonia Rey is 91. Former Sen. Jake Garn, R-Utah, is 86. Singer Sam Moore (formerly of Sam and Dave) is 83. Broadcast journalist Chris Wallace is 71. Actress-singer Susan Anton is 68. Pop/rock singer/songwriter Jane Siberry is 63. Actor Hiroyuki Sanada is 58. Actor Carlos Bernard is 56. Jazz musician Chris Botti is 56. Rhythm-and-blues singer Claude McKnight (Take 6) is 56. Rock singer Bob Schneider is 53. Actor Hugh Jackman is 50. Actor Adam Rich is 50. Rhythm-and-blues singer Garfield Bright (Shai) is 49. Country musician Martie Maguire (Courtyard Hounds, The Dixie Chicks) is 49. Actor Kirk Cameron is 48. Olympic gold medal skier Bode Miller is 41. Rock singer Jordan Pundik (New Found Glory) is 39. Actor Brian J. Smith is 37. Actor Tyler Blackburn is 32. Actor Marcus T. Paulk is 32. Actor Josh Hutcherson is 26.
"Everyone's quick to blame the alien." - Aeschylus (ES'-kuh-luhs), Greek poet and dramatist (524 B.C.?-456 B.C.?).