Haunted couch has drawn visitors to Waco store for past decade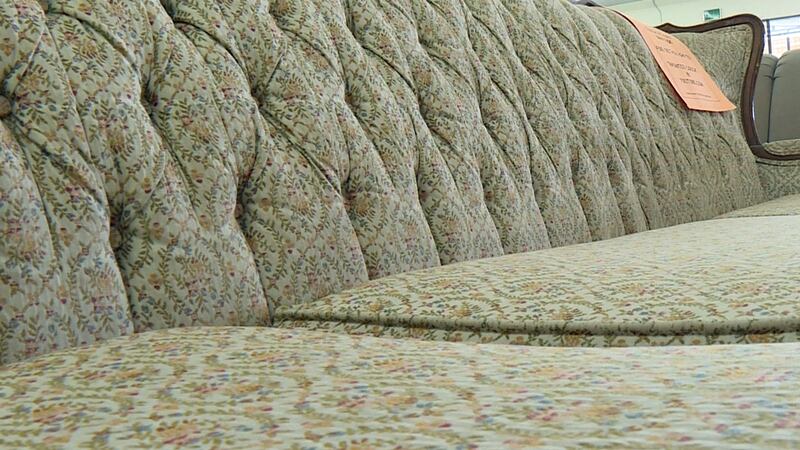 Published: Jul. 6, 2017 at 7:04 PM CDT
An old couch in Waco that some say has a sinister past has remained at a local consignment store for ten years.
Colton Burch who co-owns the Consignment Furniture Showroom at 7524 Bosque Boulevard, said the couch was dropped off by a spooked customer a decade ago.
"Everybody up here was basically afraid of it, and I did have a weird feeling when you sit down on it," said Burch.
In 2007, KWTX followed the story when the couch's previous owner reported strange occurrences happening.
It was said a strange sulfur smell was coming from inside his home, kitchen cabinet doors were opening on their own, and cellphone signals cut out as one got close to the sofa.
The alleged paranormal activity continued at the consignment store.
Burch said customer information was erased from the computer system with no explanation.
"I don't know if it was a computer glitch, or if it was the sofa," he said.
The couch was later relocated to another area of the store, but two similar accidents happened to former store employees.
"One of the employees got in a minor car accident, and then we also had another employee who was in a minor fender bender the night after touching or moving the couch," Burch said.
After all these years the couch continues to draw visitors to the store who are curious to get a closer look or brave enough to take a seat.
"A lot of people don't want to have anything to do with it, especially when you show them the blood stain under the cushion," said Burch.
The store's owners said ghost hunters tested and confirmed the stain was blood.
They also said a hole in the back of the couch could be from a bullet, but no one knows the full history of the sofa.
Judy Gindrhet does not believe the couch is actually haunted.
"Nothing scares me. My faith is the Lord and not a ghost or the devil," Gindrhet said.
"I know and I'm very sure that that's the work of Satan," she said.
While many have tried to buy the couch in the last decade, Burch said it's not for sale.
One person did however make a $3,000 offer.