Hometown artist lands major comic book cover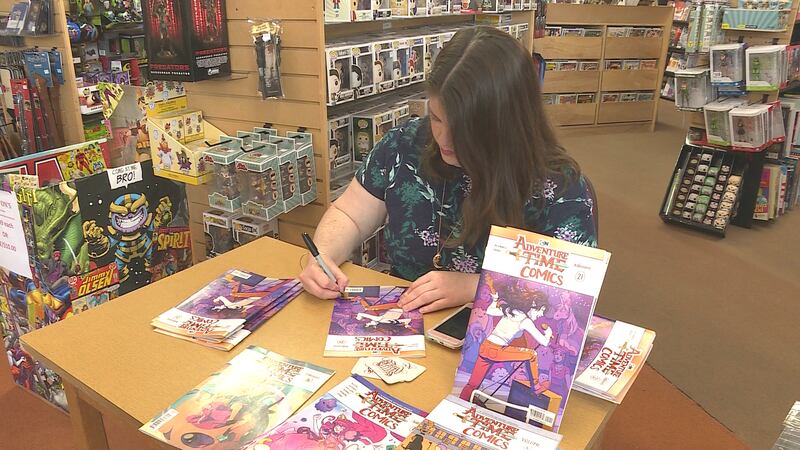 Published: Apr. 1, 2018 at 9:18 AM CDT
An artist born and raised in Waco recently landed the cover of a popular comic book series.
"I've been drawing since I was a little kid- basically since I was able to pick up a pencil," says Bethany Sellers.
By day, the Baylor graduate does graphic design for an insurance company in Austin.
But by night, she's a freelancer with an array of sketches and fan art.
"Comics are fun to do because it allows you to combine writing and illustration into one medium," says Sellers.
She posted samples of her work online and got a call from one of the editors at Boom Comics- the publisher of "Adventure Time".
She got the opportunity to write and illustrate a short story that was featured in the sixteenth edition.
"This series is interesting. Each issue has three or four short stories from different artists and writers," says Sellers.
"It's a bunch of different artists in different styles. It's cool to see how different artists interpret the characters and what they bring to the table."
Then she was offered the cover of the twenty-first issue- which was just released March 28.
She's signing copies at Bankston's Comics in Waco before she returns to Austin where she'll continue creating.
"It's definitely work," she says.
"Sometimes it's a struggle- sometimes it's not, but it's always a fun process."
She has a couple of pieces of advice for budding artists.
"Having an online presence will definitely get you more work and more recognition," she says.
"And practice, practice, practice! Keep practicing what you love and people who love what you're doing will find you."
Sellers says in the future she hopes to do more comic book covers and possibly work in animation. You can pick up her work at Bankston's on S. Valley Mills Drive.