Joint raids on area massage parlors lead to 13 arrests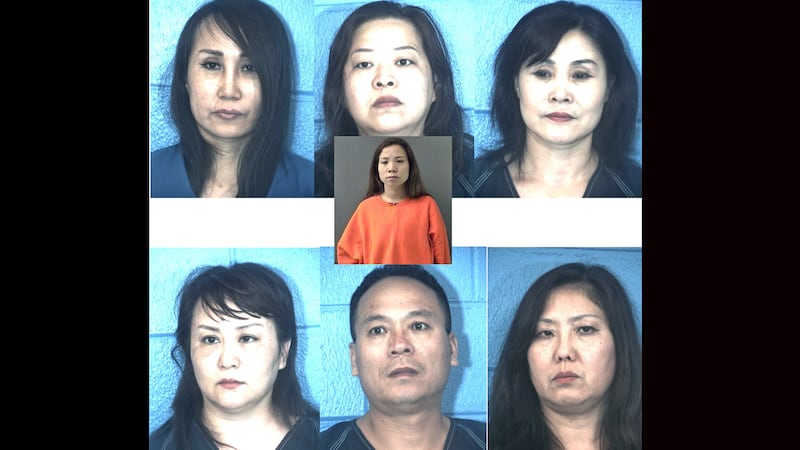 Published: May. 22, 2018 at 3:02 PM CDT
Thirteen people were arrested in joint raids on massage parlors in Temple, Killeen, Harker Heights, Georgetown and Round Rock after a seven-month human trafficking investigation, Texas Attorney General Ken Paxton announced Tuesday.
The investigation that led to the arrests started after Georgetown police and the Attorney General's Office received complaints about illegal activity at a Georgetown massage parlor, Paxton said.
The investigation broadened to include prostitution and organized criminal activity at other massage parlors and spas in Central Texas.
In Temple, authorities raided Massage at 918B South 31st St., A+ Spa at 1407 H South 31st St. and Massage Bodywork Reflexology at 2810 Oakdale Dr.
In Killeen authorities raided China Massage at 2904 Trimmier Rd. Suite 18, Rose Chinese Massage at 501 West Elms Rd. Suite 12 and Royal Asian Massage at 1206 West Jasper Dr. Suite F.
In Harker Heights authorities raided Q Massage at 108 East FM 2410 Suite H.
Warrants were also served at New Shanghai Spa at 1915 South Austin Ave. Suite 107 in Georgetown; Shanghai Spa at 2201 Double Creek Dr. in Round Rock; Shanghai Spa at 3000 Joe DiMaggio Dr. in Round Rock; Shanghai Spa at 1305 South Mays in Round Rock and at two residences in Round Rock.
Guiqui Li, Lizhen Song, Yuexia Sun, and Zhihua Cui were arrested by police in Georgetown and Round Rock on prostitution charges.
Georgetown and Round Rock police also arrested Xiaolin Yang, Yingbo Xu, and Jianhong Li on aggravated promotion of prostitution charges.
The Bell County Organized Crime Unit coordinated raids on massage parlors in Temple, Killeen and Harker Heights that led to the arrests of Yajuan Song and Yan Huang, who were charged with prostitution; Yuhan Zhang, who was charged with aggravated promotion of prostitution; and Xiao Xin Zhang, Qian Xinghua and Axia Sun, who face massage therapy owner violations.
The multi-agency effort led by the Georgetown and Round Rock police departments also included the Cedar Park Police Department, Houston Police's Vice Unit and Human Trafficking Task Force, Killeen Police Department, Harker Heights Police Department, Temple Police Department, Bryan Police Department, U.S. Immigration and Customs Enforcement and the U.S. State Department.