KWTX launches virtual 4-week Food For Families campaign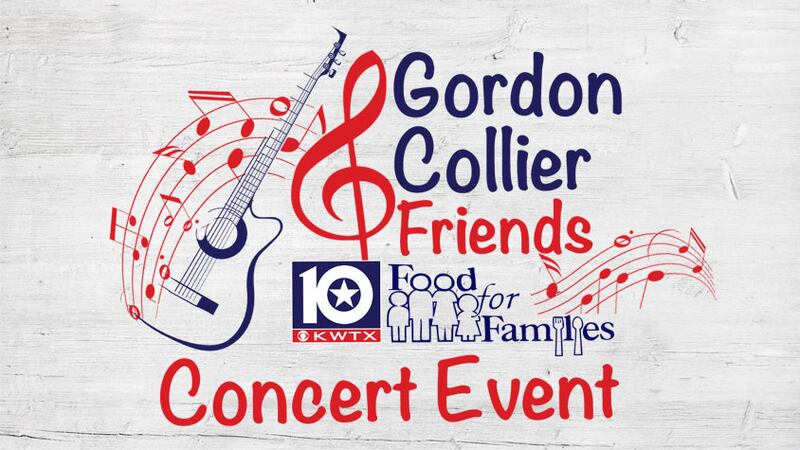 Published: Apr. 16, 2020 at 4:05 PM CDT
KWTX is launching a four-week
beginning with a televised concert on Saturday to help Central Texas pantries meet the sudden and unexpected demand for help amid the COVID-19 pandemic.
The one-hour concert from 10:30 p.m. to 11:35 p.m. on Saturday, "Gordon Collier and Friends, Stronger Together," will air live on KWTX News 10 and stream live on KWTX.COM, the KWTX App and the KWTX Facebook page, featuring News 10 anchor Gordon Collier and his popular band along with the talents of several other popular local performers.
"This all started with the idea of a televised concert to provide some much-needed relief from the daily news of growing coronavirus cases and mounting deaths. Now it's a little country music with a big cause that is near and dear to my heart," Collier said. "We are all stronger together."
During the concert viewers will be asked to visit KWTX.COM or the KWTX App where they will be guided to a secure PayPal site where they can make monetary donations to the food pantries in their communities through a dropdown menu.
All donations not specifically earmarked for a single pantry will be divided equally among the 19 participating pantries, and all designated funds will be distributed by Caritas of Waco when the campaign concludes on May 16.
Every November for the past 30 years, Food For Families, the largest one-day food drive in the state, has helped fill shelves in pantries throughout Central Texas ahead of the busy holiday season, but the need now is even greater because of business closings, layoffs and furloughs resulting from efforts to slow the spread of the virus.
"Many of our partnering pantries distribute your November Food For Family donations throughout the year." KWTX Vice President and General Manager Josh Young said. "Now more than ever many Central Texans who have never needed the assistance of a pantry are reaching out for help, and we do not want to leave any family hungry during this crucial time."
Every dollar donated from April 18 to May 16 will equal 1.5 pounds of food.
"We know we need to ask for your help in a new way that will protect the health and safety of our community while still fulfilling this desperate need," Young said.
---
(KWTX)--The coronavirus pandemic has led to a spike in the demand for help from food pantries here and around the country.
In some places, people arrive hours before pantries open and the line of cars may stretch for miles before food distribution begins.

But while demand is up as much as 60% in some places, food donations have dropped significantly.

Katie Fitzgerald, the chief operating officer of Feeding America, a nationwide association of food banks and pantries, says the simultaneous increase in need and decline in donations has created a "perfect storm."
---