Killeen: Tent city residents packing up, some with nowhere to go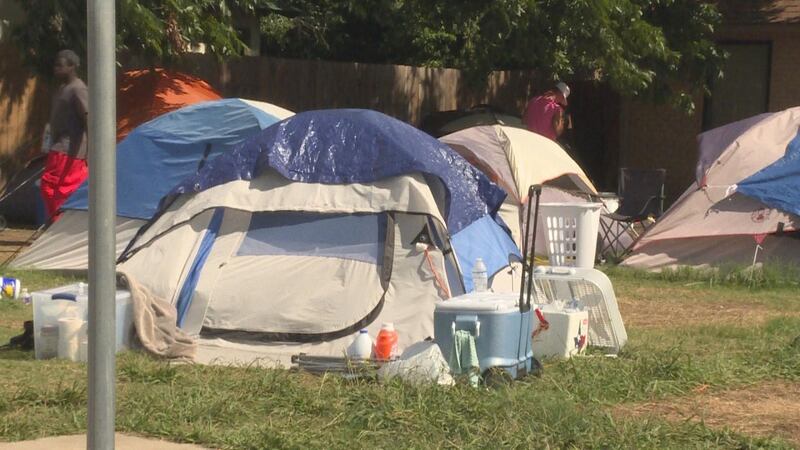 Published: Jul. 12, 2019 at 10:11 PM CDT
With the clocking ticking until tent city residents have to be gone from a Killeen homeless shelter, a surreal moment has kicked in.
"We need help, soon. We need help. We have people with medical conditions. Whether you have a medical condition or not, we all need help. We have nowhere to go," said Isaiah Young Jr.
Young Jr. was among the many who heard the news this week that Friends in Crisis shelter would be reopening on Aug. 9 after being closed for nearly two months.
It was news that everyone had hoped for. But, that news also meant current residents of the now-tent city have to be gone by Monday.
Where will they go until the shelter opens again? For some, their only place is the streets.
"Where I go from here, I have no idea. The streets are available for us, but not where we want to be. We don't want to be harassed by the police by being out because they know we're going to be out and stragglers everywhere," Young Jr. said.
While some have found other shelters across the area to make a temporary home, most at the current tent city fear what may come on the streets.
William Minor, 75, says he's tired.
"Man, living on the streets is living in hell. You got watch your back, look around. You hear something crack, you got to look. Living on the streets there is a whole lot undesirable people the streets too," he said.
In video sent to KWTX, residents of tent city make a plea to the community for help. It's a plea that some in Central Texas hope to answer.
Soldier 4theLord and Gary Smiley say they are willing to provide a space in the interim -- they just need help in securing necessities such as a Porta Potty and running water.
Smiley has been out in recent days providing food to the homeless.
"We want to work to with the city in clean up, cut up, move whatever we need to get an area for them," Soldier 4theLord said.
He says anyone interested in helping can contact his non-profit, Soldiers In Need Foundation.
Families in Crisis say they are working to provide options for the homeless.