Local company runs at full throttle amid 'corona cleanup crisis'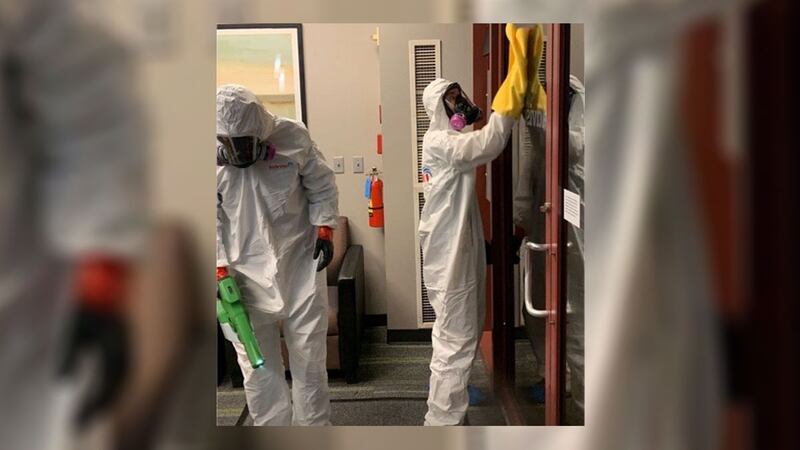 Published: Mar. 24, 2020 at 7:29 PM CDT
If Central Texans see workers around town wearing hazmat suits and respirators, officials at one local company say—"don't be afraid."
"No one should be alarmed if they see our teams and our personnel in biohazard suits," said Kyle Rowlee, the owner of the Restoration 1 franchise in Waco.
"It doesn't mean that we're in contaminated areas, it just means that we're taking the extra precautions within our teams to provide protection for both our staff as well as the public."
Headquartered in Waco, Restoration 1, a 24-hour water mitigation company, which also specializes in mold remediation, fire and smoke, carpet cleaning and biohazard situations, operates locations locally and across the U.S.
Rowlee says, in Central Texas, workers been running "full-throttle" amid what he calls a "corona cleanup crisis."
"'We have a lot of commercial calls coming in for high-risk environments--public places," said Rowlee.
"So our risk management teams out in the field are helping those clients across the area get back to normal."
Their teams, made up of licensed technicians who are Institute of Inspection, Cleaning and Restoration bio-certified, tackle cleaning residential, commercial and high-risk environments the same way, Rowlee says, but right now the high-risk environments are taking priority.
"We try to stay away from words like COVID -19, we're just doing a lot of preventative cleans or even positive cases, and so we want to educate the public that bio-certified technicians like ourselves here at Restoration 1 are taking the proper steps both with the proper personal protection equipment, procedures, and having risk management teams in place to ensure that whether it's your business or your home, it's getting treated properly."
He explains the sanitation and disinfection process.
"So procedures are: hard surfaces get basically a sanitation applied to them, high touch point areas, door handles, doors, registers, sink handles, whether it's restaurants, public areas, or even inside your home, we use that processes first, let it dwell for about 20 minutes," said Rowlee.
"Then we come back through and use the disinfectant process with a UBL fogger to get a lot of those areas that we can't physically hand-wipe."
Rowlee says the company has been hired to clean places where there's been positive cases of COVID-19.
"From a liability standpoint, nobody should be able to say that they're 100 percent killing this virus," he said. "We're taking the stance...our EPA products are about 97 percent against that."
The bulk of their calls, he says, have been high-risk environments including malls, restaurants, hospitals and office buildings.
"Right now about 95% of our calls and stuff that we're currently cleaning are public places like that," said Rowlee.
"We also are offering the residential cleaning, but our main focus right now is those commercial spaces because when everyone is able to get back out in the public after the shelter in place, then they feel safe about going out in those areas and they feel like it's been cleaned properly."
He said they've been monitoring the virus for almost four weeks, giving them the opportunity to prepare for this.
"We have enough chemical on-hand and proper personal protection equipment to really focus and hit the ground running," said Rowlee.
"I just encourage the public to take those steps, listen to the shelter in place, and be able to give companies like myself the opportunity to get stuff cleaned and get ready for the public to come back and get ready for the economy to pick up and boom like it was before."