Family looking for good Samaritan who helped after truck runs over Corvette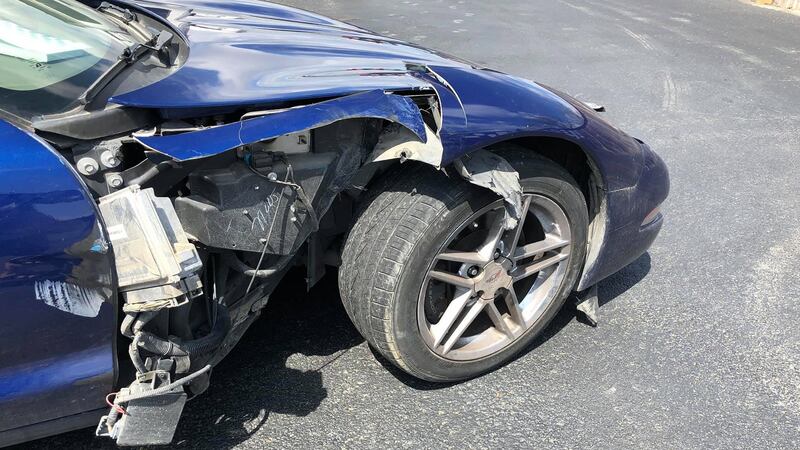 Published: Apr. 12, 2019 at 10:45 PM CDT
A Central Texas family is searching for a good Samaritan who came to help after an accident involving their Corvette and an 18-wheeler in Temple.
Gerald Helmandollar was on cloud nine last Thursday morning. He had just picked up his new blue Corvette from Waco and was passing through Temple on N. General Bruce Drive.
"I was on the feeder road, I turned on Adams. I was in my left hand lane and all of a sudden a truck ran over the top of me," he said.
After the accident, he called his wife, Cynthia Helmandollar, to tell her what happened. In the scary moments that followed, he says a complete stranger -- described as young man possibly in his early 20s -- came to help.
"A good Samaritan actually pulled up, I think he was in a Jeep. I said 'Did you see what happened? Yep. Do you want me to go after him,' he said. I said, sure. He went after him and the truck driver actually came back," Gerald Helmandollar said.
According to Temple police, they were called to West Central Avenue and N. General Bruce Drive around 10:52 a.m. The driver of the 18-wheeler received a moving violation citation for an improper turn.
The Helmandollars believe that citation wouldn't have happened if it wasn't for the good Samaritan.
"It is appreciative. If you hadn't done it, i would have been sitting there. I couldn't take off running after the guy, you done it for me. You'll never know how i appreciate that. You don't know the feeling to see somebody drive off after they've run over you," Gerald Helmandollar said.
So, for the good Samaritan out there --- if you are watching – there is a family that wants to just say thank you.
"If you're the 'Jeep guy,' call us, come see us, I want to hug your neck, we want to buy you a steak dinner. We hope that you inspire other people to do things just like you did," Cynthia Helmandollar said.