Family marks 1st birthday of local boy who in death helped save 3 lives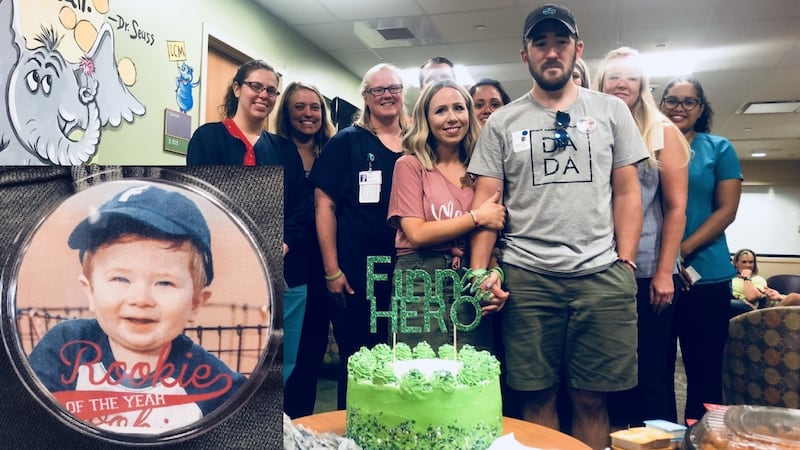 Published: Aug. 23, 2019 at 12:42 AM CDT
A baby whose tragic death last month resulted in three people's lives being saved, would have turned one-year-old Thursday.
For months, the parents of Finn Pope had been planning a "Rookie of the Year" baseball-themed party at their home in China Spring.
However, their son's unexpected death forced a change in plans, and Taylor and Austin Pope decided to have Finn's first birthday party at Baylor Scott & White McLane Children's Medical Center in Temple to thank the doctors and nurses who tried to save him.
"No matter how difficult it is for us to come back here and to relive some of the worst moments of our life, it's worth it if they know the impact that they made on us," said Taylor Pope.
Like a typical infant, Finn had just said his first word, "Dada," and was learning to walk, then out of nowhere, on the night on July 23, he had a seizure they later learned was the first of two ruptured brain aneurysms he would suffer.
"(After attempts to calm him due to multiple crying spells)...his body just kind of jolted and went limp," said Taylor Pope.
It was something the first-time parents could never imagine or prepare for, especially with a baby like Finn.
"We would say it multiple times a day like he is so blessed, he is so perfect, he'd never been sick a day in his life," said Taylor Pope. "The fact that something happened that was totally out of my control, when I try to control everything, is really hard for me to grasp."
"No way in a million years you could have told us that we would be here," she said.
After a week-long hospital stay, on July 29 Finn was officially declared deceased.
Although his life couldn't be saved, he stayed alive long enough to save three people's lives through organ donation.
"It's not an easy choice to think about your perfect baby that was whole five days prior, think about them being cut apart," said Taylor Pope.
However, Finn's father says it wasn't their choice...it was Finn's.
"Just being around him, you could tell how good and happy he was and it's something he would have done, so when we thought about it, it was a no-brainer," said Austin Pope.
Nurse Shelby Poehls was so deeply touched by Finn and his family she was picking up extra shifts at the hospital at the time, and now wears an organ donation pin at work in Finn's honor.
"Finn is one of the reasons I do what I do," said Poehls. "Finn is a hero, and he is able to live on."
His heart, liver and kidneys were donated to two other babies and a woman in her 40s so they could live, so they could still have their birthdays with their families.
"Even though it's his first birthday and he doesn't get to celebrate it, someone does, and the two that he saved, they were under a-year-old," said Poehls. "Knowing this, it provides...almost happiness and relief and comfort knowing two others do get to celebrate their first birthday with being here."
Less than a month after his death, the Pope's and their extended family brought cake, food, and custom Finn organ donor bracelets to the hospital to celebrate what would have been Finn's first birthday with Poehls and the rest of the staff in the PICU who tried tirelessly to get him there.
"They were vigilant, 24/7, non-stop," said Austin Pope. "They treated our little boy like it was their little boy, and they gave him every chance."
Some of the nurses who bonded strongly with the family recruited a 21-member softball team, made up of hospital staff, to play in a softball tournament happening in Finn's honor next month.
"Obviously 21 people can't play, but he's going to have a great cheer team!" said Poehls.
The event on Saturday, Sept. 7 at Wallace Park in Hillsboro, has grown into more than a softball tournament; there will also be a cornhole tournament, bounce houses, live music, raffles and more.
The proceeds from "Finn the Hero's First Fundraiser" will help with the Pope's medical costs and families of other organ donors.
The family wants to make it an annual event and plans to start a foundation in Finn's name.
They also want to do an act of kindness every Aug. 22--Finn's birthday--from now on.
"From the minute that we had Finn, we knew our lives would be forever changed," said Taylor Pope. "I don't think we realized just how changed and just how big of an impact he would make on us or the world, but we knew he was special."
Earlier Thursday morning, the family had a special birthday celebration at Finn's graveside doing the things that made him happy; they blew bubbles, played his favorite movie soundtrack "Sing," and released balloons.
Although they miss Finn beyond words and want him with them on his birthday, the Pope's believe this is all part of God's greater plan, and say they're finding comfort knowing he's celebrating in a place where he's whole, once again.
"(If they could talk to Finn they would tell him) That we love him, that we're so proud of him, that we hope he's having the best birthday party ever--better than what mommy could plan--and that we'll see him again," said Taylor Pope.
The family has started the process to connect with the three people who are living with, and because of, Finn's organs.
"I can't even imagine what it will feel like to meet them and to know that they're here because of our baby boy," said Taylor Pope. "There's no getting over it, but there's a little bit of peace that can come from it."
The Pope's told KWTX they sent letters out to the transplant recipients Tuesday, and that it's very important to them and hopefully they'll reciprocate.
"Fill some of the void that's gone," said Austin Pope. "Through them, he's still alive."