Local girl, 7, father, grandmother diagnosed with COVID-19 after ski trip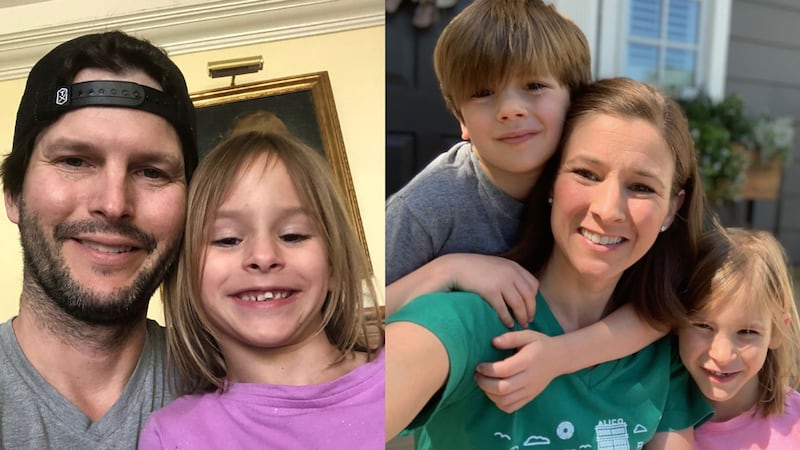 Published: Mar. 25, 2020 at 7:06 PM CDT
A 7-year-old Waco girl, her father and her grandmother are self-quarantined at her grandmother's home after a family ski trip over spring break.
Caroline Griffis, her father Jud, 40, and her grandmother Marlene Griffis, who's in her 70s, are staying in Marlene's home while her twin sister JoJo, brother Rhett, 5, and mother Haley are self-isolating in the family's home across the street.
They're among the first of the 28 McLennan County residents confirmed to have the new coronavirus.
"We have been dropping like flies," Haley said Wednesday.
"I'm still in shock but just taking it one day at a time."
The family left Waco on March 6 for Crested Butte, Colo., choosing to drive rather than fly to give Haley, who has congestive heart failure, time to adjust to the change in elevation.
The COVID-19 threat didn't start making major headlines in the U.S. until after they returned home on March 11.
Within days of the family's return, Haley was reading reports of positive cases from the same area where they'd gone to ski.
"By the time we got back things were really getting crazy and everyone was starting to get worried," Haley said.
(As of Wednesday, 40 cases of the virus were reported in Gunnison County, Colo., where Crested Butte is situated. Colorado was reporting more than 900 cases and 11 deaths.)
Jud and his mother both woke up in the middle of the night on March 15 with fevers.
"Jud said 'I'm really not feeling well' and I said 'well your mom is not feeling well, either,'" Haley said.
Haley placed a call to her doctor who directed the family to a drive-up test clinic through Ascension Providence in Waco.
The two tested positive, and Jud moved into his mother's home.
Caroline joined them this week after also testing positive for the virus.
Haley calls her daughter's diagnosis shocking.
She says she discovered Caroline had a fever because she was religiously checking her temperature; the girl had no symptoms at all.
"The only reason I had any idea something was wrong with my daughter was because we had all been exposed to two people who tested positive and we were taking our temperatures twice a day and I noticed hers was 99.9," she said.
"She could have gone to school if schools had been in session.
Technically 99.9 is not a fever and I would not even have known to check it."
"It's really scary, especially with kids."
All three are now recovering.
Jud and his mother are fever-free after 10 days, but both still have nagging coughs and body aches. Jud has had the toughest time with the virus.
Haley says she's thankful for the support she's received from her family, friends and neighbors.
She's speaking out in hopes of underscoring the importance of social distancing.
"I suffer from congestive heart failure and this virus would be incredibly scary for me and I know lots of friends and family that are undergoing treatments for very serious health issues, and I just want to encourage people to stay home," she said.
"It's the only way we can really stop spreading this."
---
DENVER (AP)--Ski resorts across the West that were shut down amid coronavirus fears are grappling with an economic blow at a time they would normally be welcoming hordes of spring break revelers.

March is usually one of the busiest months for Colorado resorts, which tallied a record 13.8 million skier visits last winter.

But on Tuesday, the chair lifts at Vail swayed silently in the breeze, and the resort's typically bustling base village was all but empty.

Industry leaders say many resorts generate about a quarter of their revenue from March through the end of the season.
---