Local police use Halloween prank to warn of decorating public property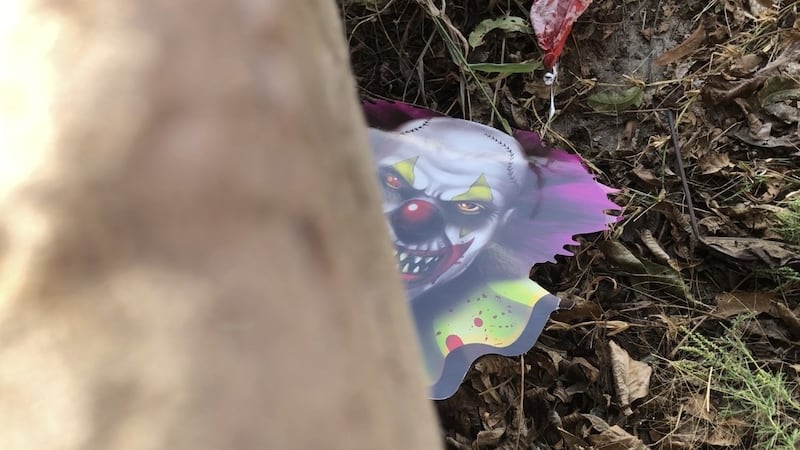 Published: Oct. 9, 2019 at 9:38 PM CDT
Spooky and spirited, but illegal.
A West police officer gets a fright--and a laugh--as he comes across a Halloween display on patrol; problem is, it was on public property.
"We don't want to be 'the Grinch who stole Halloween', but we do want you to be mindful of what you're doing," said Darryl Barton, Chief of Police for the City of West.
Barton says one of his officers snapped a photo Friday while patrolling W. Elm St. and Reagan St.
"Officer Mayfield came in, showed me the picture on his cell phone of the red balloon over the culvert, and when you look closely you could see the clown," said Barton.
Mayfield's photo was of a cardboard cutout of the clown Pennywise from the horror movie IT taped to a water drain with the infamous red balloon floating out of it.
"My first reaction was laughing, I thought, you know, well this is silly, humorous," said Barton. "But--that's something that if they don't clean it up, we're going to have to clean it up, and if nature takes its course and cleans it itself, it could cause problems."
Problems like clogging water drains and sewers that could lead to flooding, so putting up Pennywise, may not have been very wise.
"People need to be reminded that something that's on public property or somebody else's property--it's not open game for Halloween decorations, or any decorations for that matter," said Barton.
Barton says people should have fun with Halloween, but on their own property.
"As fun as that was or as humorous as that was, my advice would be stay clear of public property, let's don't start decorating all the curbs and that kind of stuff so we can keep that free for drainage and not upset the ecosystem that we have in place here," he said.
City officials in Waco in Hewitt told KWTX they haven't had these issues 'pop-up' yet, but agree, from leaves to clown cut-outs, clogging utility lines is no joke and can create problems that, if serious enough, can become criminal.
"Only rain in the drain," said Larry Holze, City of Waco spokesperson.
West PD doesn't know who did it and has no intention of opening a case in this situation, but Barton says they may have to go that route if it becomes an on-going issue.
"We don't want somebody to go and repeat that over and over or make it even bigger," said Barton.
Depending on the severity of the situation, possible penalties include littering, criminal mischief, and criminal trespassing, officials said.