More correctional officers needed for local jail takeover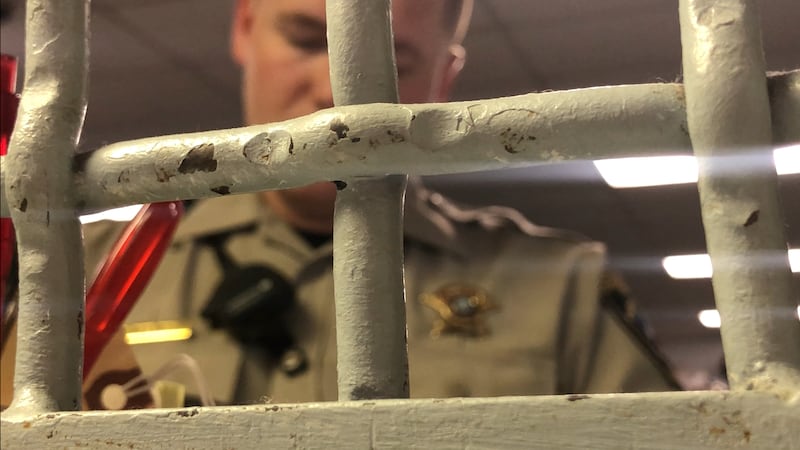 Published: Jul. 12, 2019 at 11:21 PM CDT
The McLennan County Sheriff's Office is in need of correctional officers ahead of taking over the neighboring private jail in the Fall.
The Sheriff's office wants to hire an extra 100 correctional officers to work at the Jack Harwell Detention Center by Oct. 1--that's when the contract between the county and La Salle Corrections expires.
"It's going to take a lot of work," said Capt. Ricky Armstrong, Jail Administrator. "We're just ready to get over there and start seeing what it's going to take to run it."
Armstrong said they did a job study on Harwell to determine how many officers they needed and are presenting it to county commissioners as they go into budget talks.
"We're looking forward to it, I think it's going to be a good thing for the county, for the Sheriff's Office, and I also think we're going to save the county quite a bit of money," said Sheriff Parnell McNamara. "We're almost doubling the number of inmates that we have."
Currently, the county jail has around 1,000 inmates and Harwell has around 700, about half of which are federal.
"If we get to house the federal inmates in the facility that's already there, with that revenue and our budget, we should save somewhere between $500,000 and $1.5 million by operating it ourselves."
The move comes after a series of failed state inspections (three in seven months) by Harwell and contract hikes (last year La Salle's contract spiked by $2 million).
Technically, La Salle ended the contract, sending the county a letter of non-renewal in the Spring.
"In negotiations with La Salle, they agreed that if we wanted our facility back, then they would send us a letter stating they didn't want to renew the contract," said Armstrong. "It's just cleaner that way."
Cleaner and less expensive, Sheriff's officials say.
"It's cheaper for the county to run the whole damn thing," said Chief Deputy David Kilcrease. "We can pay our employees more than they pay their employees and we can run it better than they can."
The county jail hasn't failed inspection by the Texas Commission on Jail Standards since 2008.
"We're pretty strict on what we do and how we do it," said Armstrong. "We try to stay in compliance."
Part of the state inspection process is the physical working of the jail; Armstrong says they'll only have to do some painting and minor maintenance.
"Walking through the facility, everything looks good, it's operational, everything's operating now, there's no major mechanical issues that we're aware of at this time," said Armstrong.
The biggest challenge so far, Armstrong says, is hiring and the 'unknowns.'
"The employees at Jack Harwell, the unknown of if they're going to work for us, they're all upset, and just the unknown, the uncertainty is scary for people," said Armstrong. "Now, for us, it's just making sure we have enough people."
To do that, MCSO's jail division is hosting a hiring event July 15 from 9am-12pm at Workforce Solutions for the Heart of Texas, 1416 S. New Rd., where on-site interviews will be conducted for people who fill out applications prior to the event.
Applicants should be 18 or older with a high school diploma or GED, have a calm temper, and be good with people.
"To hire 100 correctional officers in a short time is tough," said Armstrong. "We hope to start hiring people in August to be fully staffed by October."
Armstrong is hoping many of hires will come from the pool of correctional officers currently working at Harwell.
"We've offered the officers that currently work there jobs," said Armstrong. "We've had, approximately, between 30 and 50 officers come over and say they're interested, and we're going to hire all those that we can."
McNamara is confident his command staff at the jail will get the job done and help the Harwell 'straighten up.'
"We're going to do everything we can to minimize problems at that jail, and there's been some in the past, over and over, we're gonna do the best we can to eliminate those and run the jail properly and we know how to do that," said McNamara. "We have administrative staff that has been at the jail for 25-30 years, so they know what they're doing, they know how to run the jail, they know how it should be run."
The Sheriff's office is working on a new organizational structure for the takeover including the promotion of two people, one to head each jail, who will report to Armstrong.
With the addition of Harwell, Armstrong says he sees endless opportunities for the county and its inmates.
"I'm really looking forward to opening up some more programs because we're out of space in this facility," said Armstrong. "It's got a lot of classrooms."
He hopes to use Harwell's nine classrooms to provide more reintegration opportunities for inmates through programs like parenting classes and teaching vocational skills.
"I'm looking forward to the space and being able to move people around and have these classes," said Armstrong.
They're also looking forward to hiring the staff to make those programs possible.
McNamara says working at the jail is a good stepping stone for other positions in the field.
"If you want to go into law enforcement, now is a good time," said McNamara. "We want you on the Posse!"