Moshiem: A ghost town that lives on in residents' memories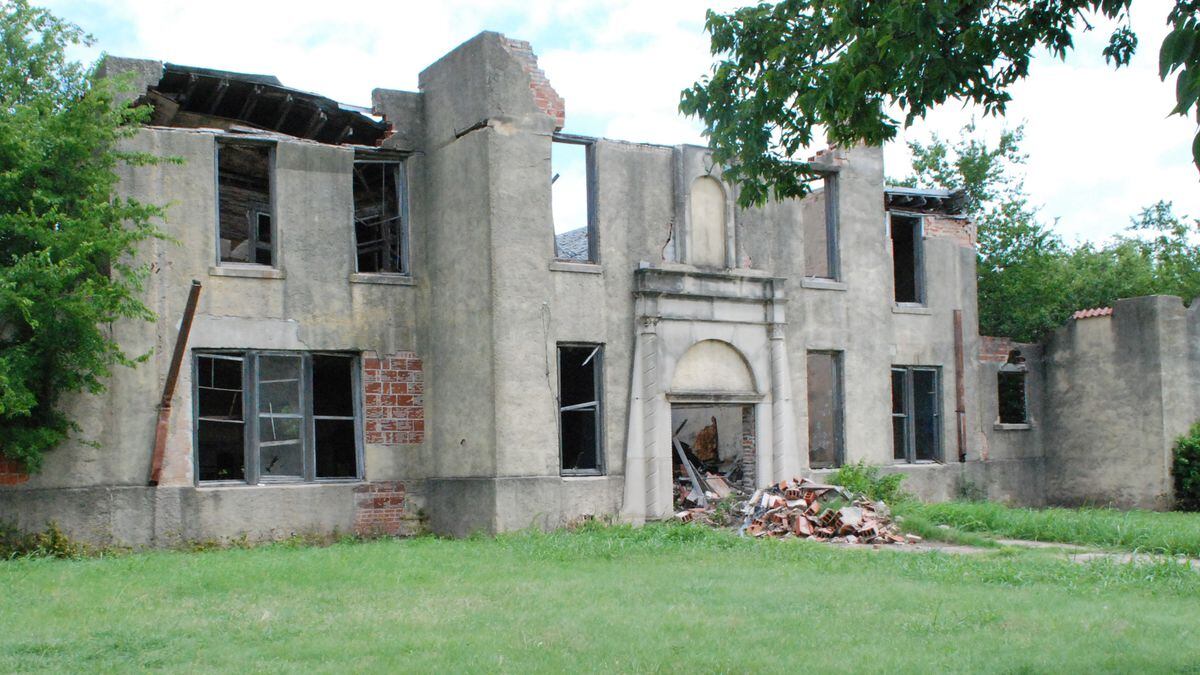 Published: Jul. 6, 2017 at 5:04 PM CDT
Except for a deteriorating old school building and a couple of well-kept country churches, there's not much left in Moshiem, unless you count the vivid memories of residents who either stayed around over the years or came back here to live.
"Old Moshiem was a great place to grow up," Ken Sanders said, while propped up in an easy chair in his den recovering from knee surgery.
Sanders is 66, he grew up out in the country around Moshiem, attended school there until the 8th grade and moved back after he retired from the National Football League.
He played defensive end; eight years for Detroit and two years for Minnesota.
Today the gentleman farmer and his wife live in a home in Mosheim that sits on a piece of property he used to walk across when he was a kid on his way to class.
And as he told that story, Gary Phillip knocked on the back door, the very guy with whom Sanders used to walk to school.
Phillip, 68, was a year ahead of Sanders at school, but they were best buddies.
"I used to slap him and then run 'cause he couldn't catch me," Sanders said.
The two attended the Moshiem School, built in 1923, and at the time considered one of the finest school buildings in the state with an innovative design that was extremely practical for a small school district like this one was.
"We could have ridden the bus, but we walked every day," Phillip said.
"Right across this field right here, and we'd beat the bus to school by 30 minutes every day," muddy boots and all.
In its heyday Moshiem was a bustling little community in southwest Bosque County with a doctor, a pharmacy, a general store, a couple of filling stations and a cotton gin, said Herman Gray, 72, a native who never really got farther away from Moshiem than Waco.
He retired from Time Manufacturing after more than 43 years and now lives in Clifton.
Historians say they believe the town, which first was named Live Oak, after a nearby creek, was settled by Jonathan Darby sometime in the 1850s.
The Texas State Historical Association says Jeff Howard opened a general store there in 1886.
When Howard applied to open a post office the next year the U.S. Post Office agreed, but re-named the town Mosheim, although nobody seems to know why.
The other puzzle is what the name means: apparently it's a surname, likely Norwegian, and very uncommon in use, but no source reviewed could provide a meaning.
Population grew from 50 to 171 by 1904 and to 200 around 1940, but alas the community was destined to dry up.
Moshiem just didn't have the things that made communities grow at the turn of the 20th Century; no water source, no rail roads, no major highways, and by the late 1960s those issues took their toll.
The school started shipping students to other districts and by 1970 it was closed.
The situation caused a rift in the small community because some families wanted their students to go to Clifton schools and others preferred Valley Mills.
The solution, Gray said, was split the students among several districts so some went to Valley Mills, some to Clifton and some to Turnersville, which closed itself a few years later.
Gray said he was moved to Valley Mills at the end of his 8th grade year.
"It was me and a girl, two of us, that started 9th grade there the next year," Gray said.
Gray said the year they closed the high school there were two freshmen, four sophomores, four or five juniors and three seniors on the rolls.
All the kids in the lower grades stayed at Moshiem, but not too long after they were farmed out, too and the grand old school went dormant.
They say when a town loses its school, it loses its identity.
Farm-to-Market roads 217 and 215 intersect at Moshiem and there's never been any benefit from tourism, so one by one the stores failed as population dwindled, the post office closed in 1976 and by 1980 it all was gone, except for the declining remnants of the old school and the two pristine country churches.
Today the mission-style building is but a ghost of its former self, the stucco peeling off the façade to reveal the red clay bricks underneath, the windows shattered, the doors off their hinges and the roof collapsed.
But the stories Gray, Phillip, and Sanders told about growing up in this tiny town made it seem like time fell back to the 1950s.
The school never had any debt because the townsfolk gathered the funds they needed before work began and paid the bill in cash.
Also there a reason why the building had a roof line that mimics the Alamo.
In the years approaching the Texas Centennial, 1936, the state offered schools money if they would incorporate an Alamo-style design into school buildings, and Moshiem builders did just that.
"The school had hardwood floors that popped and creaked when you walked and you couldn't sneak up on anybody," Gray said.
All the classrooms were on the first floor, grades 1 through 8 on the east side and 9 through 12 on the west.
The whole second floor was an auditorium.
Gray said he thinks the quality of education at Moshiem was better than average at the time.
"We knew everybody," he said, "the classes were small and we got lots of individual attention from our teachers."
Gray said each lower school classroom actually was made up of two grades and students had the same teacher two years in a row.
"And you could eves drop when the teacher was talking to the other class and pick up some things to use next year," he said.
"They didn't teach to a test back then, they taught you to learn and retain."
There was no formal dining hall, but there were meals at the school.
"Some of the farmer's wives would come to school and fix meals," Gray said.
"They were just ladies from the community who came to school to fix lunch so they cooked just like they did at home," Sanders said.
"It was great," they agreed.
The kitchen ladies had their favorites, too, "cause one of them would always give me an extra desert," Sanders said.
"The teachers would let us leave during school and walk over to the gas station where we'd get candy or whatever we wanted," Sanders said.
Sanders also went to Valley Mills at the end of his 8th grade year and for the first time stepped onto a football field.
Moshiem, the Mohawks, didn't have a football team but Sanders played basketball there, and, by his own admission, played donkey basketball at least once.
The Mohawks, both boys and girls, were respected basketball teams and the girls, in 1953, played in the state tournament at the brand new Heart O' Texas Coliseum, in Waco.
"Coach (M.T.) Rice was coaching and getting selected to play there was a really big deal back then," Dorothy Palmer, who played on that team, said.
"Everybody said we were so good because at Moshiem there was nothing to do but play basketball," Palmer said.
"The gym was always open, even Sundays, and there were always basketballs in there," Palmer said.
She graduated and left Moshiem headed for a professional career, but by age 28 had married, had a family, had moved back to Moshiem and started to college.
"I couldn't go right out of school because we couldn't afford it, but I decided if I was going to do it, it had to be now," Palmer said.
So, as a full time mom, she started at MCC, then on to University of Mary Hardin Baylor where she finally earned her degree and she started doing what she'd dreamed of all her life: coaching … at Valley Mills.
She was there 10 years.
"And now I'm back on my 93 acres and I'm not leaving," she said.
Palmer has teammates stretched across the country, on the west coast and in Atlanta, "but we stay in touch because we were close; still are."
Sanders went on to Howard Payne College where after his senior year was selected in the third round of the 1972 NFL draft by the Detroit Lions and where in 1989 he was inducted into the school's sports hall of fame.
All four found success in spite of a rough start.
"Growing up in Moshiem we were poor, but those were some good days" Sanders said.
"We were all just poor country kids that didn't have anything, but we were happy and we just didn't know any better," Gray said.
"We grew up in the right time and at the right place," Palmer said.
But Phillip put it best: "We got to experience things in our lives that nobody can ever experience again since 9-11, and that's sad."
So today Moshiem may be a ghost town, but if one believes what the old timers say, the ghosts are good ones.