NICU nurse works with doctor who cared for her as NICU patient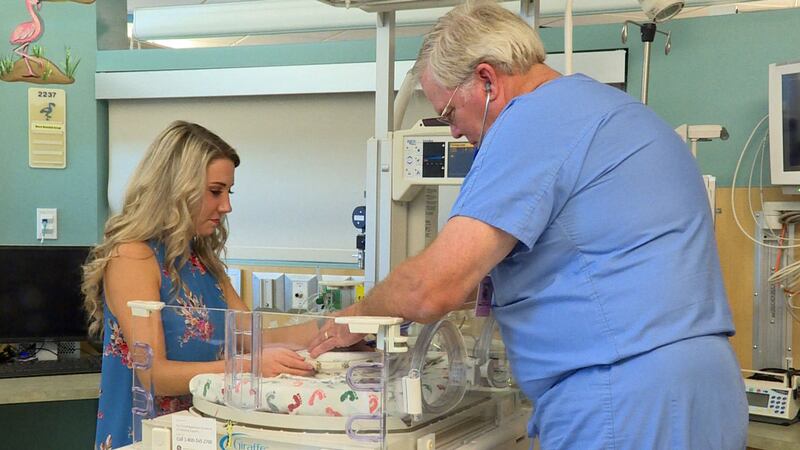 Published: Sep. 13, 2018 at 7:34 PM CDT
A nurse in the Neonatal Intensive Care Unit at Baylor Scott & White Hillcrest Medical Center in Waco is working alongside the same doctor who cared for her after she was born prematurely.
Neonatologist Dr. Darrell Wheeler helped save Tiffany Hlavenka's life 24 years ago after she was born at 30 weeks, weighing just 3 pounds and suffering from a rare condition.
She had excess amounts of fluid buildup throughout her body.
"She was extremely ill when she was born. It's one of the few children that I've taken care of in Waco that would've never made it had there not been intensive care unit and a neonatologist present at the bedside," Wheeler said.
Twenty-three years later Hlavenka joined the staff as a NICU nurse.
"I can't put into words what it means to work beside somebody that saved my life," Hlavenka said.
"It's definitely very near and dear to my heart, that I get the opportunity to work not only with him, but also to help save other kiddos lives and give hope to parents."
Hlavenka said Wheeler will always be more than a co-worker.
"He's definitely a role model for me and the drive to be able to work here and be a NICU nurse and hopefully a nurse practitioner one day," Hlavenka said.
Wheeler and the NICU's staff have watched Hlavenka grow through the years and Hlavenka's family hasn't forgotten them, either.
Family members deliver flowers to the NICU on Hlavenka's birthday every year.
"So I've continued bringing flowers and plan to continue bringing flowers just as my token of appreciation to the NICU staff," Hlavenka said.