New sheriff's vehicle honoring fallen officers headed to latest funeral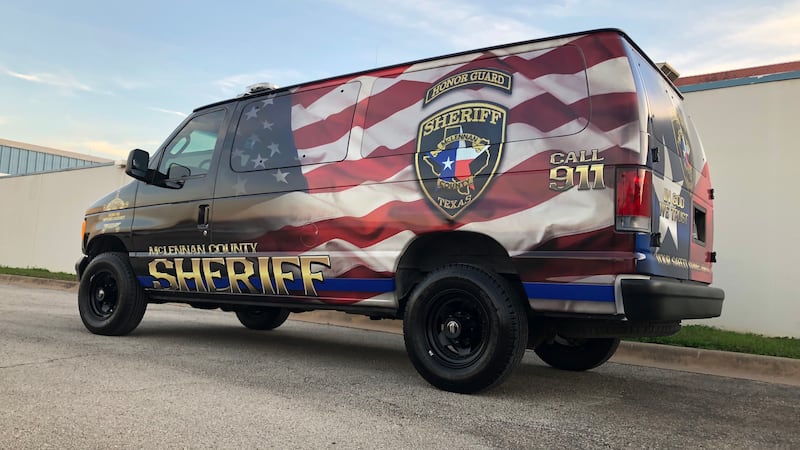 Published: Dec. 12, 2017 at 1:29 AM CST
Local law enforcement agencies are making plans to honor another Texas officer recently killed in the line of duty.
The McLennan County Sheriff's Office is sending several of its Honor Guard members in their newly designed Honor Guard vehicle to San Antonio Wednesday to attend the funeral of San Marcos Police Officer Kenneth Copeland, who was killed by a suspect who opened fire during an attempted domestic violence arrest on Dec. 4.
"It's really sad when you think about these low-down pieces of trash gunning down our officers," said McLennan County Sheriff Parnell McNamara. "It's tough times we live in."
McNamara said some of his employees knew Copeland personally.
"Anytime it happens to someone that you know, you just feel closer to the situation," said McNamara. "Doesn't make the other murders any less, but when you know somebody, it makes it exceptionally tough."
Copeland is the third law enforcement officer to be killed in the state within one month; The Texas Department of Public Safety lost Trooper Damon Allen on Thanksgiving when he was murdered during a traffic stop after losing Senor Trooper Thomas Nipper earlier in the month following a traffic crash.
Law enforcement agencies from around the country, state, and Central Texas have been busy paying their respects.
"It never gets any easier to take, it seems like with every funeral it gets a little bit harder," said McNamara.
To help further honor these fallen heroes, one of McNamara's employees, Kim King, an investigator at the jail, designed artwork to transform an old prisoner transport van into the department's new Honor Guard vehicle to attend special services for law enforcement across the state.
The vehicle is wrapped on one side with an American flag, the other has a police flag with a blue line through it to symbolize fallen officers.
"It's absolutely beautiful," McNamara said about the design.
The vehicle is setup to carry the 6-8 person honor guard and their equipment to-and-from events.
Seats and lights had to be installed to convert the van for its new purpose.
Honor Guards from other area agencies including the Robinson Police Department will also be attending Wednesday's service.