Services scheduled for women, 3 schoolgirls killed in Highway 6 crash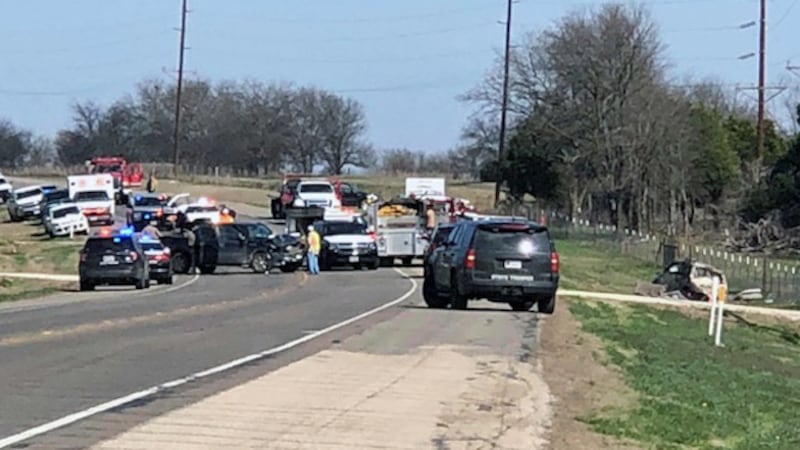 Published: Mar. 5, 2018 at 9:29 AM CST
Services have been scheduled for two women and three schoolgirls who died in a two-vehicle crash Monday morning on State Highway 6 as the women took the girls to school.
Rachel Hallmark, 13, Brianna Hallmark, 9, and their cousin Jalyn Murphree, 8, all of Clifton, died in the crash along with their grandmother, LaVera Mae Hallmark, 66, and Jalyn Murphree's mother, Janith Murphee, 48, also of Clifton.
Visitation for all five is from 2 p.m. to 4 p.m. Sunday at the First Baptist Church at 302 Avenue C in Valley Mills.
The funeral service for LaVera Mae Hallmark, Janith Raydean Hallmark Murphee and her daughter Jalyn Dale Murphee will be at 11 a.m. Tuesday at Erath Garden of Memories at 6811 South Highway 377 near Stephenville.
The funeral service for Brianna Lynn Hallmark and her sister Rachel Michelle Hallmark is at 2 p.m. Tuesday at Mt. Zion Cemetery near Lingleville.
Foss Funeral Home in Valley Mills is handling all of the services.
The five victims were riding in a 1999 Nissan Passenger van driven by Janith Murphee that was southbound on Highway 6 just before 7:30 a.m. Monday.
The driver attempted to make a U-turn and steered into the path of a southbound 2014 Ford pickup that was traveling behind the van, Department of Public Safety Sgt. David Roberts said.
The two women and two of the girls died at the scene.
The third girl died at Goodall Witcher Hospital in Clifton.
The girls attended Valley Mills schools and were on their way to school at the time of the accident.
"We spent four hours talking about how we were going to tell the elementary students," Superintendent Mike Kelly said Monday.
"I mean, how do you tell second and third graders that one of their friends has passed away?" he said.
"There's no good way."
The district sent letters to parents Monday advising them of the deadly accident.
"Students and staff may react to this tragedy in different ways, expressing their feelings in response to the loss of one of our school community members, some more intensely than others," Kelly wrote.
"Crisis counselors are currently providing support for students and will remain on campus as long as they are needed. We encourage you to also talk with your child as it is important for students to express their feelings to trusted adults and loved ones."
The Region 12 Education Service Center, which sent counselors to the school Monday, said it has had to deal with 13 student deaths in the region since December.
The driver of the pickup, Steven Penney, 39, was taken to Goodall Witcher with what Roberts described as non-incapacitating injuries.
No charges have been filed.
An account has been opened at the First National Bank of Clifton for those who want to help the family with funeral expenses.
Checks payable to Ronnie Hallmark may be mailed to First National Bank, PO Box 73, Clifton, TX 76634.