Harvey weakens, persistent rainfall continues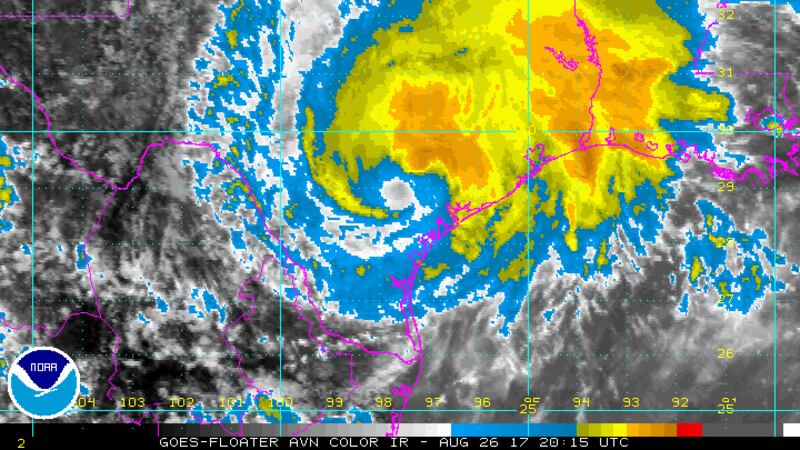 Published: Aug. 22, 2017 at 3:27 PM CDT
Harvey continues to weaken with the center of circulation over land near Victoria, Texas as of Saturday morning. The system will begin to stall out over Southeast Texas through the weekend, keeping widespread moderate to heavy rainfall in place for Central Texas. Flooding will remain the biggest concern for areas south of Hwy 84 and east of I-35.
Hurricane Harvey made landfall near Rockport, Texas around 10 PM Friday evening. Although Harvey is inland, the threats from the storm will continue for days. Speaking about Harvey, Texas Gov. Greg Abbott said Friday that Harvey "is going to be a very major disaster."
At landfall as a Category 4, Harvey had maximum sustained winds of 130 miles per hour and gusts as high as 155 miles per hour and was moving to the northwest at 7 miles per hour.
Category 4 storms, with winds of 130 to 156 miles per hour, are capable of causing catastrophic damage, ripping the roofs and even exterior walls off houses, downing trees and power poles and causing power outages that could last for months.
Although Harvey is inland, forecasters continue to label it a "life-threatening storm."
Early damage reports indicate the roof of a senior living center may have collapsed in Rockport, with rescuers unable to get inside.
Other reports indicate a partial collapse at a school in Rockport.
A mobile home park may have also sustained damage in Rockport, and at least one family became trapped in their home after a tree collapsed on it.
CBS News reports about 15 firefighters were left stranded at the Rockport Volunteer Fire Department. An official with the department says they were waiting for conditions to improve before going out into the storm.
In Port Aransas, large cargo ships have broken from their moorings, cause serious damage there.
At around 12:15 a.m. Saturday morning more than 65,000 people were without power in the region according to an outage map by AEP Texas.
There is no way to begin to estimate the level of damage this storm will cause.
The Federal Emergency Management Agency Friday urged residents to charge cellphones and to download the agency's phone app, follow the agency on Twitter at FEMA region 6 or follow FEMA on Facebook.
Six federal Urban Search and Rescue task forces have been staged in San Antonio in preparation.
Other support personnel as well as National Flood Insurance program officials have been stationed in other areas of Texas.
The agency has set up support bases near Seguin and other areas closer to the projected hurricane path to store supplies including more than 96,000 liters of water, 306,000 meals and 4,500 tarps and blankets.
Coastal residents who stayed were advised to shelter in place rather than try to escape the storm.
Abbott earlier urged residents across a wide swath of the Texas coast from Corpus to Christi to evacuate, particularly those living in low-lying areas.
The resulting flooding, one expert said, could be "the depths of which we've never seen."
Abbott said the state is not only preparing to shelter evacuees, but also to launch search and rescue efforts as soon as the storm has passed.
"We will be there to help as many people as we possibly can," he said.
Abbott has requested a presidential disaster declaration ahead of landfall.
"Granting this request will provide Texans the additional resources needed to protect themselves, their property and rebuild their lives if necessary after Hurricane Harvey," he said.
"I spoke with President Trump yesterday and am confident that he will move quickly to grant this request and provide the people of Texas with everything they need to recover from this storm."
The National Hurricane Center's official five-day forecast Friday has Harvey slamming the central Texas coast, stalling and letting loose with lots of rain.
Then forecasters project the weakened but still tropical storm is likely to go back into the Gulf of Mexico, gain some strength and hit Houston next week.
Jeff Masters, Weather Underground's meteorology director, said this could cause a collision of high water with nowhere to go.
Harvey is projected to drop as much as 3 feet of rain in some places over the next several days.
But a second landfall near Houston means more storm surge coming from the Gulf.
Storm surge is an abnormal rise of water above the normal tide, generated by a storm.
Gov. Greg Abbott is scheduled to receive a briefing on Hurricane Harvey and its impact on Texas.
He will then hold a press conference following that briefing at the State Operations Center
The briefing was scheduled to begin at 11:30 a.m., followed by the press conference at 12:30 p.m.
Local flash flood watches were issued Friday as Hurricane Harvey continued to pick up steam off the Texas coast.
Harvey was a Category 2 storm Friday morning, but was on the cusp of strengthening into a major Category 3 storm.
The National Hurricane Center's latest advisory as of 10 a.m. Friday place the storm about 115 miles southeast of Corpus Christi, moving 10 miles per hour toward the northwest.
Sustained winds were holding at 110 miles per hour, just shy of the benchmark for a Category 3 storm.
Forecasters say the storm is expected to reach that mark before making landfall late Friday or early Saturday.
The National Hurricane Center warned that conditions are deteriorating as Harvey strengthens.
A flash flood watch is in effect from Saturday morning through Monday morning for Bells, Falls, Milam and Robertson Counties where rainfall amounts of 2 to more than 6 inches are likely.
Heavy rainfall is possible across parts of Central Texas through the weekend as the outer bands of Hurricane Harvey begin to impact the region, the weather service says.
Heavy rainfall south of a line from Goldthwaite to Waco to Palestine could cause flash flooding.
Winds with gusts as high as 35 miles per hour are possible.
Thunderstorm chances will shift to southeast of a Comanche to Sherman line Monday, the weather service says, and will be mainly along and east of I-35/I-35W Tuesday through Thursday.
More counties along the Texas Gulf coast are ordering mandatory evacuations as Hurricane Harvey becomes a growing menace to the area.
Nueces County officials have ordered evacuations of all low-lying areas, including Padre Island, Flour Bluff and North Beach.
Nearby up the coast, officials in low-lying Refugio have ordered its 7,500 residents to move inland, and officials in Jackson County have done likewise with its 15,000 residents.
Earlier Thursday, the predicted storm surge of 6 feet to 10 feet prompted Calhoun County officials to order the 22,000 residents of the low-lying coastal county to move inland, as have San Patricio County officials with its 68,000 residents.
A storm surge is an abnormal rise of water above the normal tide, generated by a storm.
Brazoria County officials have ordered the evacuation of the Gulf side of the Intracoastal Waterway, including the coastal communities of Treasure Island, Surfside Beach and Quintana.
Matagorda County officials have ordered the Gulf side of Farm Roads 521 and 2611 and Texas 35 Business evacuated, including Palacios, Matagorda, Collegeport, Chinquapin and Sargent.
The coastal towns of Aransas Pass and Port Aransas also have been ordered evacuated, and voluntary evacuations have been advised for Corpus Christi, Victoria County and the Bolivar Peninsula, which was devastated in 2008.
As Texans leave the coast, one option is changing lane directions on parts of highways to allow more cars on the road and get them out of impacted areas quicker.
A spokeswoman for the Texas Department of Transportation says contraflow orders would come from local officials.
None is in place yet.
John Barton, a former deputy executive director of the Texas Department of Transportation, predicted state officials will use contraflow before the storm hits, but said timing, and determining where to use it, are the key factors.
Storms change paths and if contraflow starts too early, supplies needed to support impacted areas can't get in.
Barton, now a civil engineering professor at Texas A&M University, says, "You have to wait as long as you can before you make the call."
Barton said the state learned valuable lessons from the chaos of the Hurricane Rita evacuation in 2005 and is better prepared for contraflow now.
He says, "Rita was our learning experience." He also noted the storm came a month after Hurricane Katrina devastated New Orleans.
A children's hospital in a South Texas coastal city is airlifting critically ill, mostly premature infants to a North Texas children's hospital as Hurricane Harvey closes in.
The Driscoll Children's Hospital in Corpus Christi was flying at least 10 babies from its neonatal intensive care unit to Cook Children's Hospital in Fort Worth.
A Cook spokeswoman said all of the babies were expected to arrive by early Friday.
Cook transport director Debbie Boudreaux said Driscoll was moving the infants inland for fear that power outages might disable their ventilators.
Patients from other Gulf Coast hospitals may also be moved inland ahead of landfall, but no official announcement has yet been made about plans to do so.
Hurricane Harvey is "a grave risk to the folks in Texas," National Weather Service director Louis Uccellini told The Associated Press Thursday.
Meteorologists expect "at least a Category 3" storm with winds of 111 miles per hour or higher, he said.
"It's a very dangerous storm…a "potentially impactful storm" that will last over several days and produce large rains from Texas into Louisiana, he said.
Uccellini says Harvey is a risk to people with extremely heavy rainfall that causes inland flooding lasting through the middle of next week, a large storm surge and high winds.
A storm surge is an abnormal rise of water above the normal tide, generated by a storm.
The latest National Hurricane Center advisory says Harvey is expected to be a major hurricane at landfall, producing a life-threatening storm surge, rainfall and wind hazards.
Flash Flood Watches have been issued for parts of Central Texas for the upcoming weekend. Bell, Falls, Milam, and Robertson counties all have the potential for 2" to 6"+ of rainfall! Low-lying and flood-prone areas should be monitored through the weekend.
Storm surge flooding could reach heights of 6 to 12 feet above ground level at the coast between the north entrance of the Padre Island National Seashore and Sargent.
Devastating and life-threatening flooding is expected along the middle and upper Texas coast.
Gov. Greg Abbott activated about 700 members of the state National Guard ahead of landfall.
Military helicopters were on standby in Austin and San Antonio in preparation for search and rescues and emergency evacuations.
The coastal cities of Port Aransas and Aransas Pass issued evacuation orders Thursday as Tropical Storm Harvey reached hurricane strength.
Together, the towns are home to about 12,000 people.
Aransas Pass police warned residents that rescuers may not be able to reach them during the storm.
All ferry operations are running The Texas Department of Transportation said Thursday afternoon, but that could change as the storm surge exceeds five feet.
"At this time, it is now likely the ferries in Port Aransas will run through late Friday morning, conditions permitting," TxDOT said.
Brazoria County officials ordered the evacuation of the Gulf side of the Intracoastal Waterway, including the coastal communities of Treasure Island, Surfside Beach and Quintana.
Matagorda County officials have ordered the Gulf side of Farm Roads 521 and 2611 and Texas 35 Business evacuated, including Palacios, Matagorda, Collegeport, Chinquapin and Sargent.
Nueces County officials ordered evacuations of all low-lying areas, including Padre Island, Flour Bluff and North Beach.
Officials in low-lying Refugio ordered its 7,500 residents to move inland, and officials in Jackson County did the same with its 15,000 residents.
Calhoun County officials ordered the 22,000 residents of the low-lying coastal county to move inland.
San Patricio County officials ordered 68,000 residents to do the same.
A hurricane warning was issued Thursday for an area from Port Mansfield to Matagorda.
A tropical storm warning is in effect from north of Matagorda to High Island and south of Port Mansfield to the Mouth of the Rio Grande.
The hurricane warning issued along Texas' coast spans a region that's home to roughly 1.4 million people.
Of the people in 16 counties under a hurricane warning, about 325,000 of them are in Corpus Christi.
Another 12 million people are under a tropical storm warning, including San Antonio and Houston.
Numerous cities have been bringing in sandbags, extra water and other items ahead of the storm.
Gov. Greg Abbott Wednesday ordered the State Operations Center to elevate its readiness level and is making state resources available for preparation and possible rescue and recovery actions amid forecasts a tropical storm will make landfall along the Texas Gulf Coast.
(Sean Bellafiore and Brian Germ, KWTX Meteorologists contributed to this story)
---
(KWTX)—In Central Texas, rain is the primary concern with Harvey. Rainfall totals will vary across the area with cities and towns in Bosque, Mills, Hamilton, Hill, and San Saba Counties receiving the least amount of rain fall (between 1"-3"+ of rain).
McLennan, Coryell, Limestone, Freestone, and Lampasas Counties should expected 3"-5"+ of rain through Monday with wind gusts between 30 and 40 MPH.
The hardest hit areas of Central Texas will likely be in Bell, Falls, Milam, Robertson, and Leon Counties where 4"-8"+ of rain will be possible through early next week. Winds in these counties may also gusts near 40 MPH at times.
If you live in a flood prone area, take the day today to make sure you're prepared for the amount of rain we may see this weekend. Power outages in Central Texas are possible, but are not highly likely. Take caution if venturing outside Saturday and Sunday as standing water may be on many local roads and some low water crossings may be flooded. Do NOT drive through flooded roadways this weekend. As little as 6" of moving water can sweep a car off the road.
(Sean Bellafiore)
---