Retired Fort Hood commander Robert Shoemaker dies at 93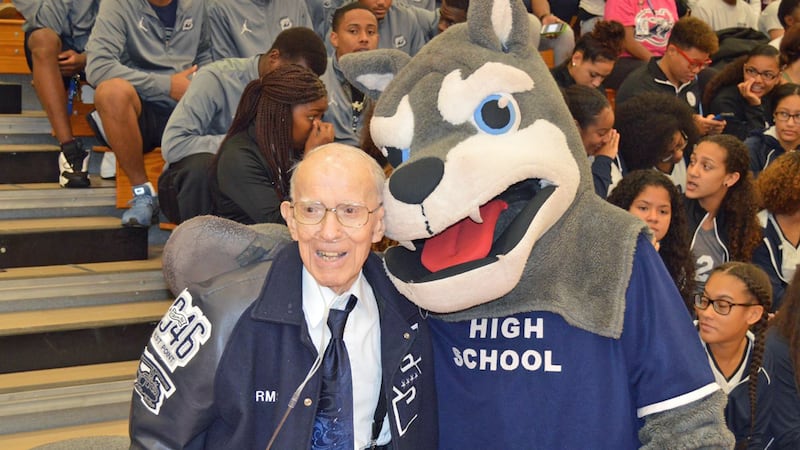 Published: Jun. 22, 2017 at 9:58 AM CDT
Retired Fort Hood commander Robert Shoemaker, for whom Killeen's Shoemaker High School is named, died just before midnight Wednesday at Seton Medical Center Harker Heights.
He was 93.
A funeral service will be held at 1 p.m. on June 28 at the Killeen Conference and Civic Center.
Shoemaker will be laid to rest with full military honors at the Central Texas State Veterans Cemetery in KIlleen.
"We join the entire Central Texas community and our Army in mourning the loss of a great general, dynamic leader, philanthropist, and friend. General Shoemaker was an accomplished III Corps and Forces Command commander, a pillar of the community, and an inspiration to us all. We will truly miss him," said Lt. Gen. Paul E. Funk II, III Corps and Fort Hood commanding general.
Acting Secretary of the Army Robert Speer expressed condolences to Shoemaker's family in a statement Thursday.
"The Army and our nation lost a decorated leader, mentor, advocate and friend. We should never forget his leadership during one of the most difficult times in our nation's history," he said.
U.S. Rep. John Carter, R-Round Rock, whose district includes the sprawling Army post Shoemaker commanded, said he was saddened to learn of the retired general's death.
"I am honored to have had the opportunity to get to know Gen. Shoemaker and call him my friend. My family, my staff, and I send our prayers to his family and loved ones at this time. He was a giant in our community, and he will be sorely missed," Carter said.
Shoemaker, who graduated from West Point, spent 36 years in the Army.
He was assigned to Fort Hood in 1970 and ultimately took command of the 1st Cavalry Division and III Corps.
In 1977 he was assigned to Forces Command as deputy commander.
He received the West Point Distinguished Graduate Award in 2004 and was inducted into the Army Aviation Hall of Fame in 1983.
Shoemaker, who was born on Feb. 18, 1924 in Almont, Mich., graduated from West Point in 1946, was commissioned in the infantry and underwent parachute and glider training at Fort Benning, Ga.
He went on to serve in Germany and Korea.
He earned his aviator's wings in 1960 and played a role in the design and testing of attack helicopter tactics.
After three tours of duty in Vietnam he was named assistant division commander of the 1st Cavalry Division in 1969.
After retiring in 1982, Shoemaker served for eight years as a Bell County commissioner, working to develop the working relationship between the military and civilian officials.
He headed a task force formed after the Army announced it was moving 12,000 soldiers from Fort Polk, La., to Fort Hood, and was a key supporter of efforts to establish a four-year university campus in Killeen, which led to the creation of Texas A&M University-Central Texas.
He served as president of the Heart of Texas Council of the Boy Scouts of America and president of the Fort Hood chapter of the United Way.
In recognition of his contributions, the Killeen ISD named one of its newest high schools in his honor in 2000.
Shoemaker was an almost daily visitor to the school.
In 2013 he endowed the Wolf-Warrior Scholarship to help Shoemaker students pursue four-year degrees through Central Texas College and Texas A&M-Central Texas.
"We have lost a great patriot, mentor and friend. Our thoughts and prayers remain with the Shoemaker family and friends," Killeen Superintendent of Schools Dr. John M. Craft said in a statement.
As a dedicated soldier, husband, community member and American, he positively influenced countless others. Gen. Shoemaker will remain an individual of the highest character we hope our students will work hard to emulate," he said.
Shoemaker is survived by his wife of nearly 70 years, Tuke.