Victim of shooting outside local restaurant dies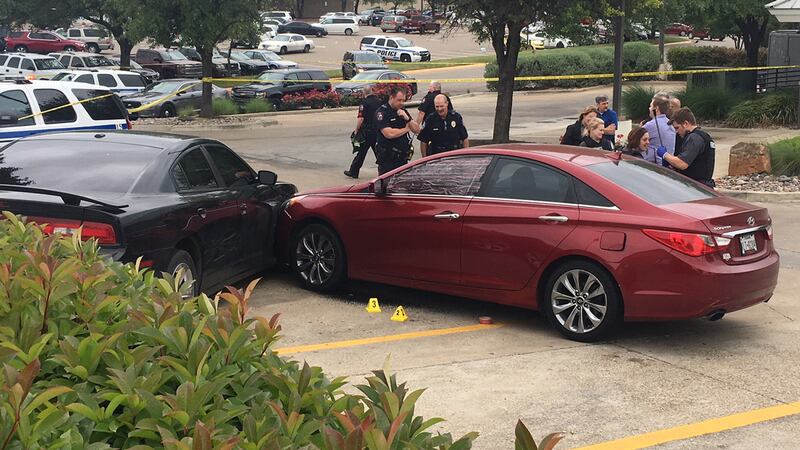 Published: May. 1, 2018 at 11:50 AM CDT
Justin Wayne Bibles, 32, of Waco, who was shot as he sat in a car late Tuesday morning outside of the Red Lobster restaurant adjacent to Waco's Richland Mall, died just after 5:30 p.m. Tuesday at a local hospital, police Sgt. W. Patrick Swanton said.
Officers and paramedics responded to what initially was reported as an accident at the restaurant at 5925 West Waco Drive.
They found Bibles sitting in his car, which lurched forward after the shooting and collided with another vehicle in the parking lot.
Swanton said it appears a man got out of a white pickup truck with large wheels, shot the victim, and then got back into the truck where another man was waiting.
The two fled the scene, he said.
Roy Gowan, who works at the mall, said he knew Bibles.
"He's an important person to a lot of people and you know this kid this kid definitely tears a lot of hearts apart I just hope that everything gets better and things get better for the city because it's not looking good right now we need to come together," he said.
The restaurant remained open, but customers were coming and going through a side door.
Arturo Sabido was eating in the restaurant at the time of the shooting.
"I found out because they were talking about somebody got shot in the parking lot…I was surprised at something you don't expect or anything, but those things happened," he said.
The employee of one store in the mall said customers were being kept inside because of the incident.
Swanton, however, said it appears at this point that the victim was targeted and that there's no threat to the general public.
Investigators are asking anyone with information about the shooting to call Waco police at (254) 750-7500.
In March 2016 a shooting in the parking lot outside of BJ's Restaurant & Brewhouse next door to Red Lobster, left a former high school football player injured.
Deondrae Jashawn Degrate was shot twice in the lower back at around 9:45 p.m. on March 9, 2016, after walking out of the restaurant to meet someone in the parking lot.
After he was shot, Degrate went back inside the restaurant to get help.
He was taken to Baylor Scott & White Hillcrest Medical Center.
The shooting stemmed from what police said at the time was an illegal marijuana sale that was originally supposed to have taken place at a West Waco apartment.
The two suspects who intended to buy the marijuana displayed handguns and one of them shot Degrate, who "became the victim of an attempt to steal the drugs," Swanton said.
Eric Brooks, who was arrested the day after the shooting for an unrelated offense, was charged with the shooting.
Brooks was indicted in May 2016 for aggravated robbery and aggravated assault and on March 1 was sentenced to prison after pleading guilty to the charges.
(Editor's note: Waco police say the victim is listed in their system as both Justin Wayne Bible and Justin Wayne Bibles)