Shrine Temple 'Fixer Upper' stars just bought has colorful past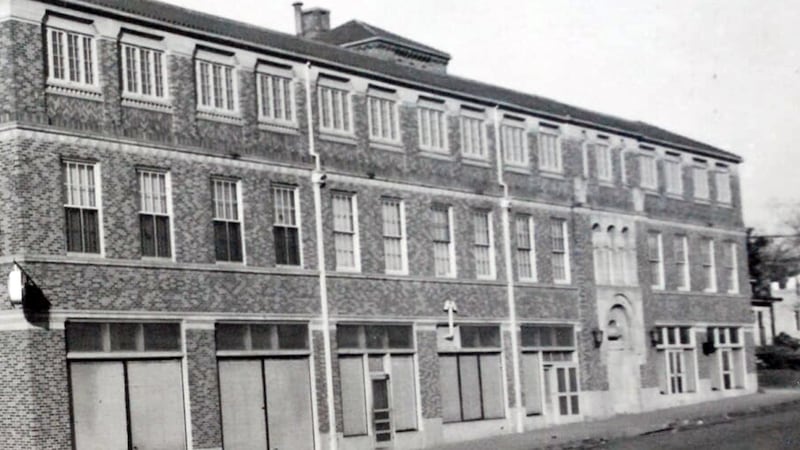 Published: Nov. 14, 2018 at 7:43 PM CST
The 90-year-old Grand Shrine Temple building in downtown Waco that Chip and Joanna Gaines' Magnolia Vacations Rentals bought this week has a colorful and well-documented history.
Magnolia closed on the deal Tuesday.
The building between Washington and Columbus avenues on North 7th Street, served as a home for the nobles of the Karem Shrine from 1928 to 1995, when the benevolent order moved its headquarters to Farm-to-Market 185, between State Highway 6 and China Spring.
The fraternity sold the building to McLennan County for just short of $400,000 and the amount Magnolia paid for it is about three times that at more than $1 million for the temple building and an adjacent parking lot.
It's a grand, old, brick and mortar, three-story building that stands behind the old Greyhound Bus Station facing North 7th Street with an elaborate entrance noted by several nationwide groups that study and appreciate stone artwork.
The web group Waymarks.com says "The Karem Shrine, building erected in 1928; Its entry foyer has decorative symbols of Freemasons and Shriners, including scimitars, double eagles and the Masonic compass and square."
The original doors, and perhaps even the stone carved abutments that clothe the top and sides of the opening, have been promised to the new temple and will be removed and re-erected at the new campus, Andy Haggard, Karem Shrine's recorder, said.
"I'll take as much as they'll give me and we'll move them," he said.
The temple building's first floor always was intended to house offices and shops, which it still does, and the second and third floors were dedicated to the function of operating Karem Temple.
The second floor primarily, where the Karem Shrine Band practiced and stored instruments, the Karem Rat Patrol had its office and gathering space, also included the Karem business office and the Potentate's office suite.
But down in the corner, overlooking Washington Avenue and the McLennan County Courthouse and lawn, and now McLane Stadium, is the cafeteria.
It was open for lunch six days a week and anybody could stop in for a bite.
In fact, the southeast corner used to be open to the environment rather than glassed in, a second-story, open-air, covered patio where diners could enjoy a meal, Jay Baker, a Karem Shriner said
"People who worked downtown came here every day and visitors and people who were at the court house came for lunch, 75-cents," he said.
Baker, Haggard, Noble James R. Pless and current Potentate Noble Larry Johnson served as guides when KWTX toured the old building last week.
Baker is a fount of knowledge about the temple building and Karem, itself.
He's served the temple as recorder, himself, the only member of the temple's leadership council, Shriners call it the Divan, who gets paid.
He's the noble who keeps up with virtually everything: membership records, public information, membership recruitment, supervising the office staff, serving as spokesman for the Temple and, basically, knowing what everything is, what its used for and where its stored.
At its heyday the membership totaled just a few more than 4,000, then nobles organized a new temple in East Texas and the Waco fraternity transferred some 550 nobles there.
Today, Haggard said, there are a few more than 700 members on the rolls at the Waco temple.
To become a member of the group, and membership is open only to men, the prospect must first be a Mason, or a member of several associated Masonic bodies, and must take an oath "in the name of the Arabic and Islamic god of Allah" that: "I do hereby, upon this Bible, and on the mysterious legend of the Koran, and its dedication to the Mohammedan faith, promise and swear and vow … that I will never reveal any secret part or portion whatsoever of the ceremonies … and now upon this sacred book, by the sincerity of a Moslem's oath I here register this irrevocable vow … in willful violation whereof may I incur the fearful penalty of having my eyeballs pierced to the center with a three-edged blade, my feet flayed and I be forced to walk the hot sands upon the sterile shores of the Red Sea until the flaming sun shall strike me with livid plague, and may Allah, the god of Arab, Moslem and Mohammedan, the god of our fathers, support me to the entire fulfillment of the same. Amen. Amen. Amen."
Unlike all other Masonic oaths and obligations, the Shiner's vow is simply an act of initiation and is no longer treated or thought of as sacred or secret, Shrine doctrine dictates.
Doctor and actor wanted fun and fellowship
The group, formally known as A.A.O.N.M.S., or Ancient Arabic Order of Nobles of the Mystic Shrine, had its beginnings in 1870 in Manhattan, where there already were several thousand Masons living and lots of them regularly lunched at the Knickerbocker Cottage where a special second-floor table was set aside for them.
"There, the idea of a new fraternity for Masons stressing fun and fellowship was discussed.
"Walter M. Fleming, M.D., and William J. Florence took the idea seriously enough to act upon it," a Shrine history says.
Florence was a world-renowned actor who, while on tour in Marseille, attended a party at the invitation of an Arabian diplomat where entertainment included an elaborately staged musical comedy, at the end of which the guests became members of a secret society.
"Florence took copious notes and (did) drawings at his initial viewing and on two other occasions, once in Algiers and once in Cairo.
"Then when he returned to New York in 1870, he showed his material to Fleming," according to the history.
Fleming used the collected data to create a ritual, emblems and costumes and on June 16, 1870, Florence and Fleming were initiated, presumably by each other because none other existed.
A year later, on June Aug. 13, 1870, 11 new prospects were initiated," the history says.
Shriners established their first temple, named Mecca Temple, at the New York City Masonic Hall on Sept. 26, 1872 and Fleming served as the first Potentate.
In 1875, there were only 43 Shriners but by 1878 there were 425 members in 13 temples in eight states, and by 1888, there were 7,210 members in 48 temples in the United States and Canada.
The Imperial Session held in Washington, D.C. in 1900, noted there were 55,000 members and 82 Temples and by 1938 there were some 340,000 members in the United States.
Shrine membership has included some notables
Over the years some powerful and influential American men have been nobles, like Franklin D. Roosevelt, Buzz Aldrin, Clark Gable, John Wayne, Harry S. Truman, Harry Houdini, George M. Cohan, Ernest Borgnine, Ronald Reagan, Red Skelton, John Phillip Sousa, Earl Warren, Mel Blanc, Col. Harlan Sanders, Gen. Douglas MacArthur, Hubert Humphrey, Glen Ford and Douglas Fairbanks; all were notable Shriners.
Only men are considered for membership in the Shrine, but there are two associated groups that are only for women who are related to Shriners by blood or marriage.
"The Ladies' Oriental Shrine and the Daughters of the Nile both support the Shriners Hospitals and promote sociability, and membership in either organization is open to any woman 18 years of age and older who is related to a Shriner or Master Mason by birth, marriage," the Shrine manual says.
"The Ladies Oriental Shrine of North America was founded in 1903 in Wheeling, West Virginia, and the Daughters of the Nile was founded in 1913 in Seattle, Washington."
Among the noted members of the Daughters of the Nile was First Lady Florence Harding, wife of Warren G. Harding.
Local club organized nearly 100 years ago
In Waco, on Jan. 9, 1919, a group of 50 Shriners gathered at the Raleigh Hotel Ballroom and officially organized the Waco Shrine Club, which, of course, needed a suitable name – Arabic name.
By chance, one of the Shriners there, who was of Syrian ancestry, was named Karem M. Shabook.
The Shriner's first name, Karem, Arabic for "merciful" or "generous" fit perfectly into the new temple's theme and the petition was approved and dated June 11, 1919.
Karem's history says: "Divan robes, regalia and 1,000 Karem Fezzes, were displayed in the windows of Sanger Brothers and Goldstein-Migel Co. on Austin Avenue.
"The morning paper on July 4th proclaimed 'Shriners take Waco'.
"The Charter Class contained 200 Novices, and they were treated to the mysteries of the Hot Sands followed by a banquet served at tables set up along North 8th Street between Austin and Washington Avenues in Waco.
"At the January stated meeting in 1927, a contract for our first home was let, for a cost of $151,000, and the 'Corner Stone Laying' ceremony was held on April 20, 1928," the history says.
November 1935 was a main event as the Karem Temple hosted a two-day All-State Ceremonial, including a downtown parade that stretched for miles.
The Temple's says more than 2,500 nobles attended sessions at both the downtown Temple and at the Cotton Palace Coliseum.
That event was the birthplace of the Texas Shrine Association and Karem Potentate, Rolla Greig, was elected the first President.
In 1936 a big dinner party was held at the new attractive Bus Terminal Café at a cost of 45 cents a plate.
In 1947, President Harry Truman was presented a Gold Membership Card for Karem, and in 1948, Karem held its first Shrine Circus.
In 1989, Noble James W. 'Buddy' Hunt, Past Potentate, donated 15 acres along the Bosque River, on the north shores of Lake Waco, to Karem for a proposed recreational facility.
On the temple's 75th anniversary, Noble Jake Roberts "led a strong delegation back to Indianapolis, the birth place of Karem, for the Imperial Session, and during this 75th year, we broke ground for our new building on the grounds donated by Noble Hunt.
"It was (with) great sadness that we left our grand and beautiful mosque, which had been our home for 75 years, but in February 1996, we moved into our new building near the North Bosque River and Farm to Market Road 185." Karem's history says.
Shriners aren't just about fun, though
When most people think of Shriners they think of clowns, bands, motorcycle and mini-car drill teams, elaborate parade units and, generally, fun, which is really what the group is about, having fun.
But then, there's a serious side, too, and for Shriners, it's all about handicapped and burned children.
"Never does a Shriner stand so tall, as when he stoops to help a child," Shriners say.
The group began work on its first hospital for crippled children in 1922 in Shreveport, La., and its first patient to be admitted was a little girl with a clubfoot, who had learned to walk on the top of her foot rather than the sole.
More than a million children have been treated at one of the 22 Shriners Hospitals for Children throughout the United States, and in Canada and Mexico.
"Shriners Hospitals for Children rely on the generous donations of Shriners, corporations and the general public to carry out our mission and improve the lives of children every day," the group's webpage says.
The Texas State Historical Commission says: "In 1962 the Shriners allocated $10 million to establish three institutes for the care and rehabilitation of burned children, related research, and the training of medical personnel."
Today there are five hospitals that focus on burn care, among them Sacramento, Calif. stands alone as the Shriner's Hospital that offers the widest range of medical service for physically challenged or injured children, including burn care, orthopedics, pediatric surgery, spinal cord injury treatment and delicate surgeries on children who suffer from cleft lip or cleft palate.
The oldest and longest-serving Shriners Burns Institute unit is in Galveston, which, according to TSHS records, "began operation in a seven-bed ward in John Sealy Hospital, the teaching hospital for UTMB (University of Texas Medical Branch), on November 1, 1963."
Other burn centers include Boston, Cincinnati and Pasadena, where children also can be treated for cleft lip and palate.
When the Shriners of North America, meeting in Toronto in August 1962, voted to financially support the project, they did so because at the time, thermal injuries were a principal cause of death or disability among children and there was no facility in the world dedicated to addressing the ever-growing problem.
The group chose Galveston as the first location because of a close relationship with UTMB-Galveston and because of the prestige of Truman G. Blocker, Jr., M.D., then chairman of the Department of Surgery at UTMB, and the impressive burn protocols he and his colleagues had developed, TSHS says.
For a time, the burn unit occupied seven beds at John Sealy Hospital, but by 1966 had built a 30-bed hospital, which has grown far past that now.
And for everybody, here's the up side: "The Shriners of North America sustain the institutes financially; no payment is required from patients for any of the services provided."
It's that way at all Shriner's hospitals.
History says the physicians and scientists at Shriners Burns Institute in Galveston have made enormous strides in the field of burn therapy, like developing special splints and pressure garments to reduce disability and disfigurement.
Studies done at the Galveston unit led the Texas legislature, in 1972, to enact the country's first law requiring children's sleepwear to be flame retardant.
Today the hospital, staffed by about 260 employees, is a world leader in the field, averaging performing more than 525 acute burn surgeries and 1,042 reconstructive surgeries each year, Jennifer Anderson, Public Relations Specialist for the Galveston unit said.
"Over the past five years we have averaged 311 new patients referred to us for specialty burn care each year," she said.
Shriners Hospitals for Children-Galveston also provides care for children with other skin conditions, such as Stevens Johnson Syndrome, Toxic Epidermal Necrolysis; and Congenital Anomalies such as Hairy Nevus, Hemangiomas, Ear Microtia and Port Wine Stain.
Galveston Shriners Hospital also, treats wounds from other traumatic injury and other conditions of soft tissue.
Anderson said though the majority of their patients come from Texas, they also treat patients from Oklahoma, Louisiana, Florida, Mississippi, Nebraska, Kansas, and Minnesota, as well as children from Central and South America and have received patients from Asia, Africa and Europe.
"The ways our system delivers burn care continues to evolve," said Dr. David Herndon, former Chief of Staff and current Director of Research.
"Seeking the most effective methods to close burn wounds while reducing pain and decreasing hospital stays is a consistent goal of our burn care providers," he said.
The team is examining new FDA-approved products that improve the rate of wound healing for burn victims, and researchers are engaged in a basic science project with a national corporation, regenerating tissue using stem cells from fat.
"We are also involved in studies looking at new wound cover agents for partial thickness burn injuries," Herndon said.
Shriners Hospitals for Children – Galveston continues to be a leader in utilization of cadaver skin and widely expanded autologous skin in treatment of massive burns, he said.
Shriners Hospitals for Children – Galveston fulfills the mission of Shriners Hospitals for Children by providing exceptional, specialized, family-centered care to our patients from the US and around the world; by conducting research, including involvement in multi-centered studies and with UTMB, to improve outcomes for burn survivors; and by providing education through critical care, plastic surgery and research fellowships.
"What we are seeing now, statistically, is essentially a reversal from the past," Dr. Herndon said.
"Instead of 100 per cent mortality or zero survival after burns of 50 percent TBSA (total body surface area), now 50 percent of children with as much as 95 percent TBSA survive their injury," Herndon said in an article published in University of Texas Medical Branch at Galveston's Academic Enterprise magazine in the Spring of 2016.
Sale of the Temple is a win-win
For the county's part in the sale, McLennan County Judge Scott Felton is tickled to death, first because the county loses responsibility for the properties, maintenance, and the like, and, the two properties go back on the tax rolls.
For Magnolia's part, no one has yet decided what it will do with the properties, but several options are being considered, Magnolia planner John Marsciano says.
But the bottom line for Karem's Shriners is: "we cannot dwell on the past, but remember with fondness our history and look forward only to the future with determination to make Karem Shrine a better place to meet, work and play and be ever mindful of our goals, the support of our hospitals for children that they may also look into the future, to a life where they can walk, run and play again.
"With the leadership that our Shrine has had in the past and that it will have in the future, there is much more history to write."
I lived a lot of this first-hand because I knew a lot of Karem Shriners, many of them quite influential in the 1950s and 60s in Waco, and went to school with a lot of their kids. Lyle Skinner, for example, was band director, taught orchestra and English at Waco High School from 1932 to 1965 and taught both of my older brothers in Band Then from 1959 to 1963, I took percussion lessons from him every Tuesday and Thursday at the WHS Band Hall, about a block away from the Karem Temple, where for about that long he was Master of the Karem Shrine Band. Almost every year the band competed in state contests while Skinner was swinging the baton, they competed for honors and they were named 1st Place more than they weren't. I guess he saw some musical talent in me, because he invited me to play with the big boys at Karem Band in rehearsals. When I walked back through the temple building last week, I found the old Band Hall and It brought back a rush of memories. In 1962, my father, L. Neil Gately, was one of the Shriners at the international convention in Toronto, he participated in the birth of the Galveston burn unit and, for several years, served on the hospital's board. I was in Toronto that summer, too, but had no idea what was going on in the sessions, I just wanted to see, and hear, the bands. I spent some time at the Galveston Burn Unit because my dad attended 10 board meetings-a-year there and I saw some of the things doctors were doing at the hospital and met some of the young patients, some of them my age at the time, and those are things a person never forgets. (Paul J. Gately)