Six Central Texas men nabbed in online child predator sting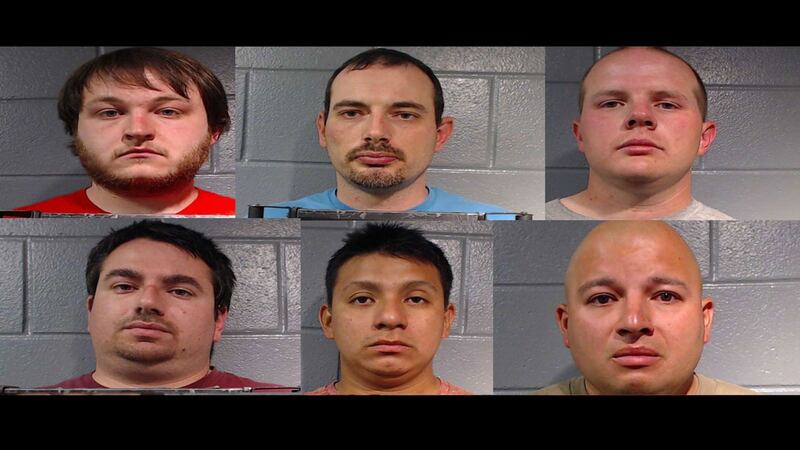 Published: Apr. 29, 2016 at 3:16 PM CDT
Copperas Cove police have arrested six men as part of an ongoing child predator sting conducted with the help of the Texas Attorney General's Child Exploitation Unit.
Jonathan Fitch Douglass, 21, of Killeen, Daniel Jeronimo-Dominguez, 29, of Killeen, Robert Lee Biddinger, 36, of Killeen, Nathan Arthur Kaufman, 27, of College Station and Juan Torres-Cortes, 30, of Kempner, were arrested Thursday.
Brock Alan Monson, 22, of China Spring, was arrested Tuesday and remained in the Coryell County Jail Friday in lieu of $175,000 bond, charged with four counts of possession of child pornography and one count of online solicitation of a child sexual conduct, online jail records showed.
Douglass was ordered held on a $10,000 bond Thursday charged with online solicitation of a minor-sexual conduct.
Jeronimo-Dominguez, Biddinger, Kaufman, and Juan Torres-Cortes all were charged with online solicitation of a minor-sexual conduct and their bonds were set at $10,000 each but none of them was listed on the Coryell County Jail roster on Friday.
An affidavit in the solicitation case says an undercover agent from the Texas Attorney General's office, while conducting an investigation using internet websites, was contacted by suspects who said he wanted to perform deviate sexual intercourse with whom he believed was a 15-year-old girl.
"I am grateful for the individuals working in our Child Exploitation Unit and the dedicated law enforcement officials they work with to bring individuals like these to justice," Texas Attorney General Ken Paxton said.
The sting operation targeted child predators who utilize the Internet to sexually solicit and then travel with the intent of committing sex crimes against a minor.