Temple: Son of fallen local police officer follows in father's footsteps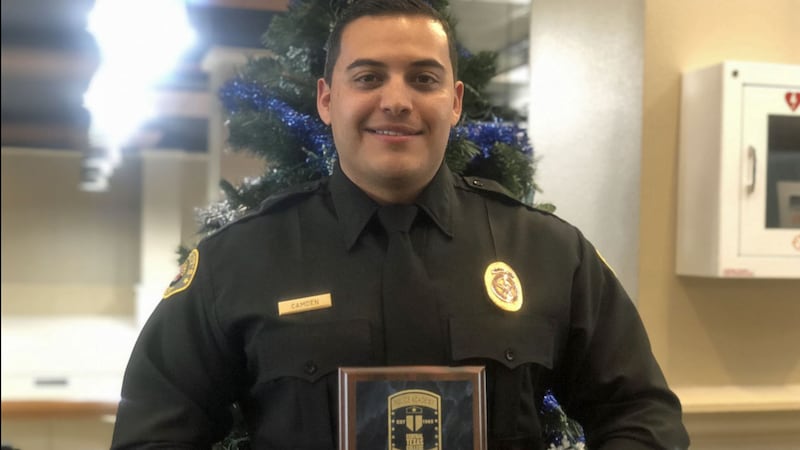 Published: Dec. 6, 2019 at 4:29 PM CST
A Central Texas man who was 12 when his father, a Temple police officer, was killed in an accident while providing a motorcycle escort to a funeral procession, was among a group of new law enforcement officers sworn in Friday after graduating from the Central Texas College Police Academy in Killeen.
Christopher Camden is now a Bell County sheriff's deputy.
He won the award for the top gun in his class.
"It's just a career field that's in the line of my family and I figured I'd carry on the legacy," he said Friday.
Both his uncle and his father were law enforcement officers and he says he has special memories of his father's line of work, including "The long motorcycle rides we would take."
"I have one of his motorcycles and it's still in my garage. It's one of my most prized possessions," he said.
Temple police Officer David Camden died in September 2007 of injuries received while providing off-duty funeral escort after his motorcycle crashed into a car that had turned out of the motorcade and into his path.
Camden joined the Temple Police Department in 1996 after serving as a reserve officer in Belton from 1991 to 1994 and serving in the Texas National Guard from 1989 to 1993.
He was commissioned as a Temple officer in 1997.
Christopher says he was inspired by "How he carried himself and how so many people loved him."
"I kind of wanted that same feeling whenever I grew up."
He said he hopes to set the same example for his children that his father and uncle set for him.
"They always kept everybody laughing and everybody knew them by the smiles," he said.
"That's the same characteristic I plan on carrying so my kids can look on it and see how positive I was."