Ten snared in 7-hour local prostitution sting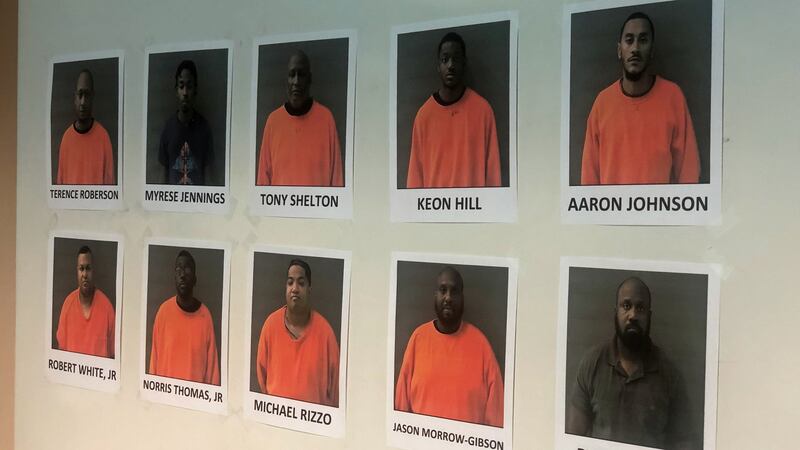 Published: Nov. 2, 2018 at 1:45 PM CDT
Bell County deputies made 10-arrests in a seven-hour sting aimed at cracking down on local sex trafficking.
The suspects include a now former Waco ISD educator, a U.S. Postal Service employee, two soldiers and six retired military personnel, authorities said.
One of the suspects was found to be in possession of a firearm and another in possession of counterfeit cash, authorities said.
The suspects were identified as Aaron Johnson, Robert White, Jr., Derick O'Rea, Tony Shelton, Myrese Jennings, Keon Hill, Terence Roberson, Jason Morrow-Gibson, Michael Rizzo and Norris Thomas, Jr.
Tony Shelton had worked since January as a tutor at G.W. Carver Middle School.
He was fired Friday afternoon.
"As a district, we hold all of our employees to a high moral standard. When we learned of Mr. Shelton's arrest, he was immediately terminated and is no longer a Waco ISD employee," district spokesman Kyle Debeer said.
Investigators placed ads for female prostitutes and transsexuals on social media sites "known to attract people interested in buying sex," Sheriff's Maj. T.J. Cruz said.
Deputies then waited for sex buyers to make contact and arranged through text messages to meet in person to pay for sex.
"As sheriff, my goal is to focus our efforts on sex buyers who are seeking to take advantage of trafficking victims," Bell County Sheriff Eddy Lange said.
"We are putting these predators on notice our Bell County community will not tolerate their behavior."
b>Sting was modeled on similar area operations
Law enforcement agencies in Central Texas over the past several months have conducted a number of sting operations involving the sex trade and it turns out the effort has grown from a common source.
"I actually was surprised that this operation did that well," Cruz said Friday.
"We got 10. The program works."
The program Cruz mentioned is one developed in McLennan County and it has resulted in the arrest of dozens of people engaged in the sex trade.
McLennan County Sheriff Parnell McNamara and his deputies, over recent months, have initiated a series of undercover operations aimed at snaring both providers and consumers in the sex trade.
"Sheriff McNamara sent people down to Bell County and they taught us how they set their operations up.
The exchange of information is such that it can incorporate local issues on the same design, Cruz said.
"We modified the program very slightly to take in to account procedures we use in Bell County but otherwise, it's what we learned.
"Then we assisted Travis County and Bryan and College Station police in how we set up operations," Cruz said.
It happens all the time, said Bryan police Officer Kelley McKethan, public information officer for the department.
"Some of our officers went up there and learned what they're doing, then brought that back to us," McKeathan said.
"We like to know what our partners are doing," she said, for things that work and things that don't.
"We're expanding now to work with the Texas Attorney General's Office to apply those procedures to cases that involve sex crimes involving children, the exploitation of children or other human trafficking," Bell County Chief Deputy Chuck Cox said.