Texas Food Truck Showdown to attract thousands to Waco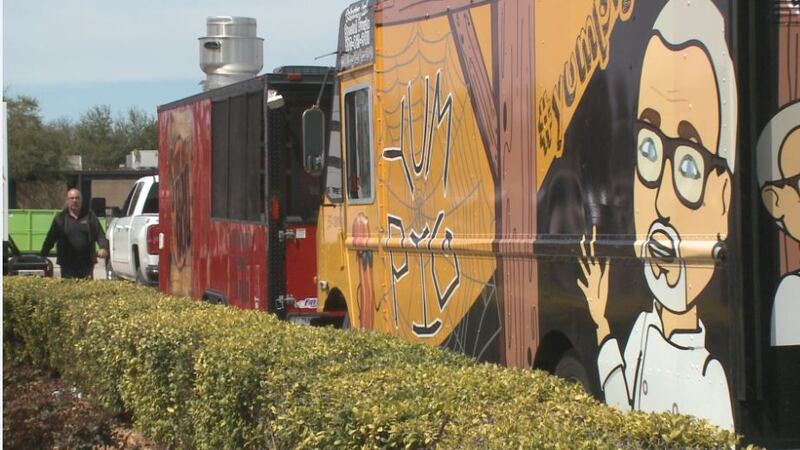 Published: Mar. 15, 2019 at 6:20 PM CDT
The Texas Food Truck Showdown in Waco on Saturday is expected to feature more than 40 trucks and draw tens of thousands to 3rd and Austin.
The Showdown not only features food from all over the Southwest but a competition that will award vendors and cooks a number of prizes.
Rick Moritz says his Catered Delight truck, from Ennis, will offer his special dish of "fried bread, pulled pork, homemade coleslaw, candied bacon and a touch of chives and our homemade barbecue sauce."
Mike Sugg of BigKat Burgers brought his truck to Waco from Fort Worth along with his co-owners and says he is excited to participate in their first competition with a special hamburger, "It's essentially two grilled cheese's in place of the buns and we have our hand ground 6 ounce patty and we finish that with some provolone cheese and the stuff we made called jalapeño bacon jam that's to die for."
Scott Liner brought his YUM PIG Truck from Oklahoma City on Friday.
He says it his second time in the Waco competition and will offer a special around his fries, "It's an orange juice pulled pork on our fries with homemade garlic cream sauce, shredded cheddar and top it off we make a hatch pepper bacon relish."
The Showdown will begin at 10am Saturday and end at 8pm Saturday night.
Be sure to stop by the KWTX News 10 trailer to say hello to our staff and take a shot at winning a prize or two.