Correctional officers fired after arrests, charged with assaulting inmate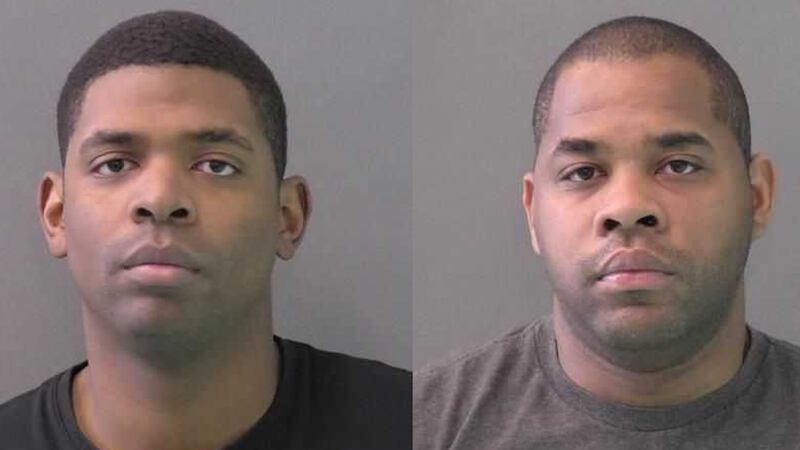 Published: Mar. 19, 2019 at 2:10 PM CDT
Two Bell County corrections officers beat a handcuffed inmate after moving the man to a padded cell with video surveillance because he had "become paranoid and unruly," arrest affidavits released Wednesday say.
The next day the Bell County Sheriff fired both men, a department spokesman confirmed Friday.
Jvareus Aquer Pratt, 23, was kicked and punched and then left handcuffed in the cell for about 45 minutes, the affidavit says.
"Pratt is clearly handcuffed behind his back leaving his head, stomach and torso area exposed and defenseless," the affidavits say.
Bell County corrections officers Kelvin Miller, 34, and Terrance Gardner, 28, have been charged with assault/bodily injury and violation of the civil rights of a person in custody following a Texas Rangers investigation.
Miller and Gardner were arrested Monday.
Both were released after posting $5,000 bonds.
Pratt has been jailed since Feb. 27 in lieu of $125,000 bond, charged with injury to a child and assault on a family/household member with a previous conviction stemming from an incident in which one of his girlfriend's was hit with a charger and another was burned with a curling iron.
The corrections officers responded to his cell at around 3:45 a.m. on March 14 after Pratt "relayed to the deputies that he did ingest methamphetamine and (had) become paranoid and unruly," the affidavits say.
"Pratt had barricaded himself inside his jail cell covering his window with clothing and linen from his bed," the affidavits say.
"The deputies could not see Pratt to check on his wellbeing (because) Pratt's cell was without cameras. In order to maintain order in the jail and for Pratt's safety the deputies attempted to restrain and move Pratt to a padded and videotaped jail cell."
Pratt, however, "resisted and escaped their grasp," the affidavits say.
He then "ran down the corridor and was caught," but as the guards attempted to restrain him, the affidavits say, he resisted, struck Miller in the mouth and kicked and fought with the officers.
A jail sergeant used a Taser to subdue Pratt, who was handcuffed and taken to the padded cell where Gardner and Miller began "to kick and punch Pratt with closed fists above the head and torso, all the while Pratt was restrained."
A jail sergeant told Rangers the intention was to remove the handcuffs and leave Pratt in the cell, "but the situation was escalated by some of the deputies," the affidavit says.
Video reviewed by the Rangers shows Miller entering the cell where he "appeared to kick Pratt with right foot around the head or chest area," the affidavit says.
"Deputy Miller then pounced on Pratt and (struck) him in the head and neck area with a closed fist," the affidavits say.
"Gardner appeared to punch Pratt with a left and right closed fist in the torso at least six to seven times."
Afterward the corrections officers left the cell, locked the door and left Pratt handcuffed for about 45 minutes, the affidavits say.
The affidavits released Wednesday document Pratt's injuries including three bruises under his right eye, a scratch on his left cheek, a laceration on his left year, large bruises on his left arm and shoulder, and ligature marks on his wrists from the handcuffs.
Pratt told Rangers investigators he did take drugs on March 14 "and claimed he felt like the guards were going to let about eight guys into his cell to gang rape him," the affidavits say.
Pratt said that was why he barricaded himself in the jail, the affidavits say.
The investigation was launched after Bell County Sheriff Eddy Lange met with the members of the family of a Bell County Jail inmate who "had concerns for the inmate's safety and wanted to report some possible wrongdoings by some of the correctional officers," Assistant Chief Deputy T.J. Cruz said in a press release Tuesday.
"That investigation turned up some disturbing events that warranted the notification of the Texas Rangers," Cruz said.
Pratt's relatives said they came forward after Pratt was beaten repeatedly early in the morning on March 14.
They said he had black eyes, a bruised face and head injuries after guards kicked and beat him.
Pratt's mother wants whoever is responsible to be punished.
"If you're a guard, you guard my son, but you don't beat on him," Jeanette Cooper said.
"I'm waiting for the Bell County justice system to start speaking up about how these guards are up here hurting these people, and they're turning around here and protecting them and that's because all of them have something to do with it."
"The Bell County Sheriff's Department is continuing an internal investigation," Cruz said.