UMHB scores with event honoring people with Down syndrome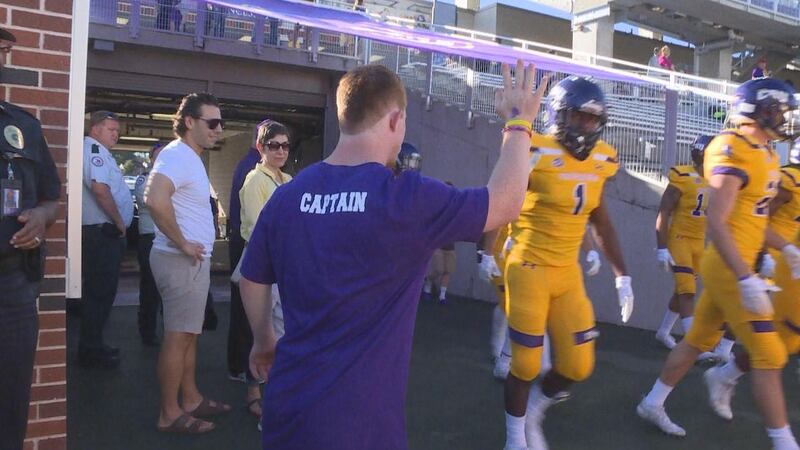 Published: Oct. 6, 2018 at 11:14 PM CDT
In honor of Down Syndrome Awareness Month, the University of Mary Hardin-Baylor held its second annual Touchdowns event.
From a pep rally featuring football players and cheerleaders, Saturday was a chance for those with Down syndrome and special needs to see their hometown team in person. It was also about changing lives and making lifetime memories.
"As parents we always strive for events like this for our children and other children like them," Scott Yearwood said. "We are all advocates as a parent. I think it's really cool that the school came together to put something on."
He was at the event with his two children, James and Tannor, who have Down syndrome.
The Touchdowns event started last year after the athletics department was challenged to come up with an idea to honor the special needs community and people with Down syndrome.
"We have cheerleaders with special needs, dancers with special needs. Really it's a way to raise awareness about special needs in the Bell County area and to bring those families to a UMHB game and love on them," said Sarah Harborth, Assistant Sports Information Director at UMHB.
As the marching band made their way to the field, Mark Difrancesca's daughter was filled with excitement.
"An event like this is really powerful for the community. It's not only just for the individual but for the people in the community so they can see that people with Down syndrome have something to give to society," Difrancesca said.
Officials said about 100 people participated in this year's event.
Participants were allowed on the field prior to the game as captains and got a chance to score a touchdown during halftime.