Hoverboard-riding BU grad's Air Force Career back on track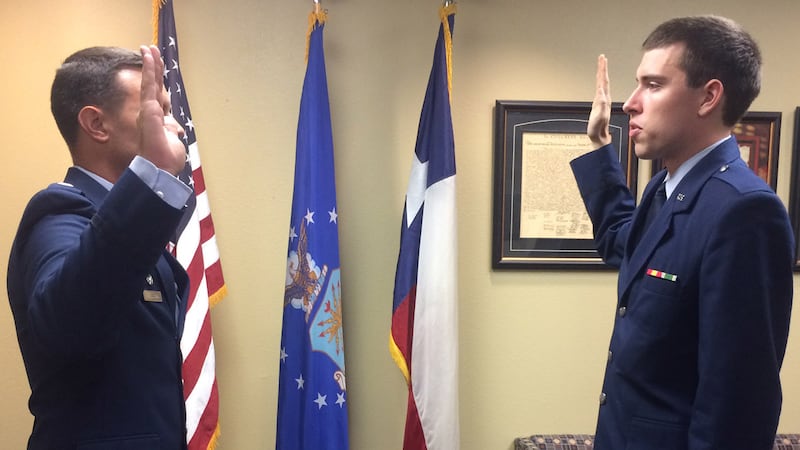 Published: Jun. 15, 2016 at 6:33 PM CDT
A Baylor graduate whose Air Force career was in jeopardy after he was seen riding a hoverboard without a helmet received his commission as a second lieutenant after all on Friday.
Chris Delzell, 23, of China Spring, passed a physical fitness test on Friday and then was commissioned as a second lieutenant.
"I hope to help the Air Force get ready for the war that we're fighting and the next war or any threat down the line to our country's freedom," he said.
The commissioning ceremony almost didn't happen.
Delzell graduated in May from Baylor University with a degree in computer engineering,
The four-and-a-half year Air Force ROTC student says he was expecting to report on June 30 to Eglin Air Force Base in Florida to "start building weapons for our country to fight the enemy."
But a week before finals last month an AFROTC captain spotted him riding his hoverboard to and from school without a helmet and wrote him up.
The report says Delzell used "poor judgment" and that while riding the hoverboard in the department's offices, he damaged Baylor property.
Delzell says he nicked a wall, leaving a one-inch gash that he immediately offered to pay to repair.
Delzell said that was informed of the investigation, he was stunned,
"I really thought that especially this last semester that I had done a great job," he said.
Lt. Col. Myers Gray, the commander of the Baylor Air Force ROTC program said Wednesday the investigation's findings were sent to Maxwell Air Force base in Alabama.
He declined comment Wednesday except to say that the investigation has been reopened.
"It's under investigation, the process is ongoing, I don't think you have all the facts and I can't comment anymore," he said.
Delzell's father, Dave, an Air Force veteran who flew F-15's, says he was the "proudest dad in the world" when his son graduated and he found out he was "going to serve his country at Eglin at a second lieutenant."
But, he said, "on May 2 we were informed that because he was seen riding a hoverboard without a helmet that it was all in jeopardy and he may be dismissed from the Air Force and now his whole future is up in the air."
Delzell's fathe had hired a veteran military attorney who says the charges are ludicrous and says they were prepared to fight the results of the investigation, which won't be necessary after the announcement Thursday that his son would receive his commission after all.