Waco: Nonprofits work together to help homeless residents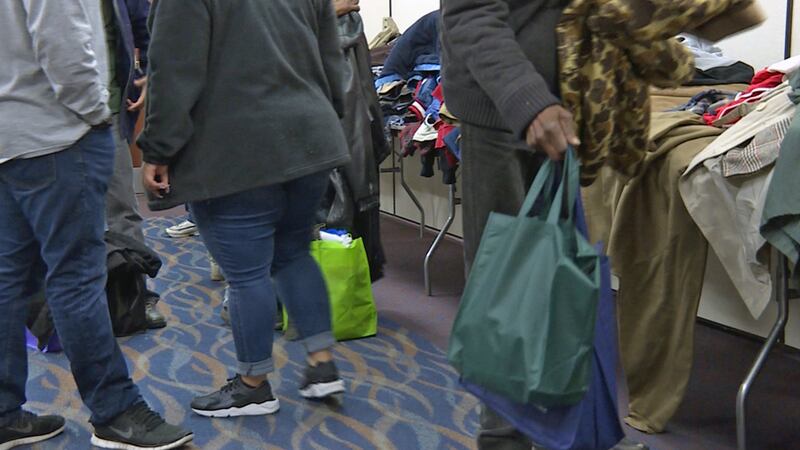 Published: Jan. 30, 2018 at 7:37 PM CST
Downtown Waco is booming, but some in the homeless community feel they're being pushed out of areas where they've always sought help.
"They see that a lot of tourism in Waco is great for Waco, and there's booming money and a lot of different places," says Mike Ormsby, a social worker for the Doris Miller VA and the Veterans Homeless Program.
"But some feel like they are little bit left behind," he says.
Those that may feel left by the wayside were invited to the Waco Convention Center Tuesday and shown that they still have a place in the community.
"Part of this event today is to show people that we recognize them for the value that they bring to our community," Ormsby said.
Several local nonprofits teamed up to host Project Homeless Connect, an annual event held to connect Waco's homeless to a variety of social services and resources.
Participants were also treated to free haircuts, dental checkups, health screenings and warm clothes.
"It's a one stop shop," says Stacey Steger, PATH Program supervisor.
"Instead of having to go on one side of town for social security and the other side for food stamps, they have everything that they need here."
Hayes, a shelter resident and father of four was able to snag a camel-colored coat and other resources.
"They only give you so much, but they do help," he says.
He complains of knee pain that he doesn't think will get treated during the complimentary health screenings, but he'll still make his way to the table for housing help.
He's anxious to put an end to his shelter stays where he can lay his head for a few nights but has to exit in the morning.
"I'm trying to go get a job and save money to get my own place," he says, "and do what I need to do be productive in life."
He hopes to join hundreds of homeless who have moved off the streets, contributing to the 48.7 percent decrease in homelessness in Waco over the past ten years, according to the U.S. Department of Housing and Urban Development.
However, the decline can't keep up with business growth in areas like downtown, where tourism is booming and panhandling doesn't blend well with the posh scene of new shops and restaurants. The homeless population can find it hard to feel welcome.
"One thing we hear from those that we serve is that it's already a challenge to have a really good sense of self-worth and feel like you're respected in a homeless situation," Ormsby said.
"Out there, there is competition for care and attention."
Local groups like PATH conduct outreach for the homeless by meeting them in camps, under bridges and in whichever part of town they may find themselves.
Steger hopes that they've gotten the message out today that there's always a place where people are willing to reach out and help.
"We're here for you," she says. "And we won't give up until your needs are met."