Waco: Pro-life supporters hold rally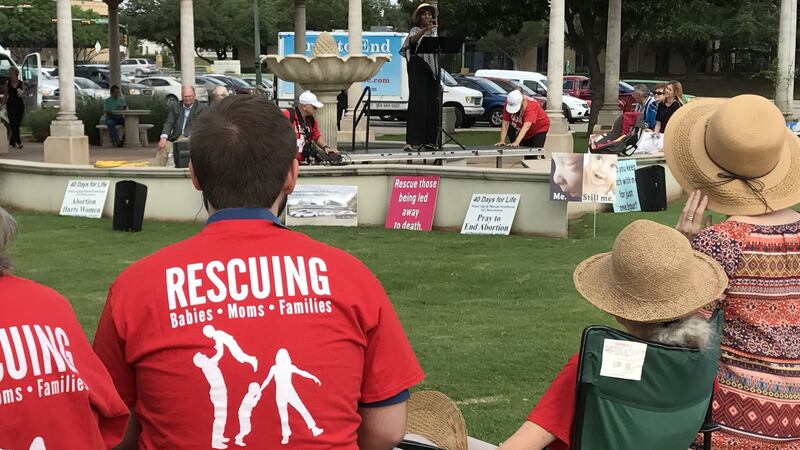 Published: Jun. 10, 2017 at 7:37 PM CDT
More than 75 pro-life supporters held a rally in downtown Waco Saturday morning protesting the recent renewal of abortion services in the city.
The event was organized by Pro-Life Waco.
Planned Parenthood began performing abortions in 1994, but ended providing services in 2013 after the enactment of Texas' controversial abortion restriction law, HB 2.
In June 2016 a U.S. Supreme Court ruling eliminated provisions of the bill which led to the path of renewing abortion services.
Planned Parenthood announced in May 2017 that abortion services were restored for women in the area at the organization's Ross Avenue location.
Pro-Life Waco director John Pisciotta said the announcement was heartbreaking, but that the organization will not give up rallying.
"We are going to respond and proclaim that we don't want this in Waco, and we are going to try to be out there to persuade every woman that abortion is not the right choice."
Pro-Life Waco announced at the rally its plans to partner with the national organization 40 Days for Life.
The organization's president Shawn Carney said the they hold prayer vigils outside of abortion clinics.
"Our hope and our prayer is that eventually Waco will be abortion free again. We've seen the businesses of abortion facilities be hurt. We've seen 86 abortion facilities close following 40 days for life campaigns," said Carney.
KWTX reached out to Planned Parenthood for comment, but have yet to hear from the organization.
Pisciotta said the group will continue to efforts to raise awareness of their beliefs.
"We will try to respond as positively, but vigorously, warmly, kindly but with great vigor to bring this to a close again," said Pisciotta.
"You will continue to see billboards, we have the life chain, you will continue to see us on the overpass on Interstate 35," he said.
Pisciotta said the 40 day prayer vigil will begin on September 27.