Chip and Joanna welcome Church Under the Bridge to the Silos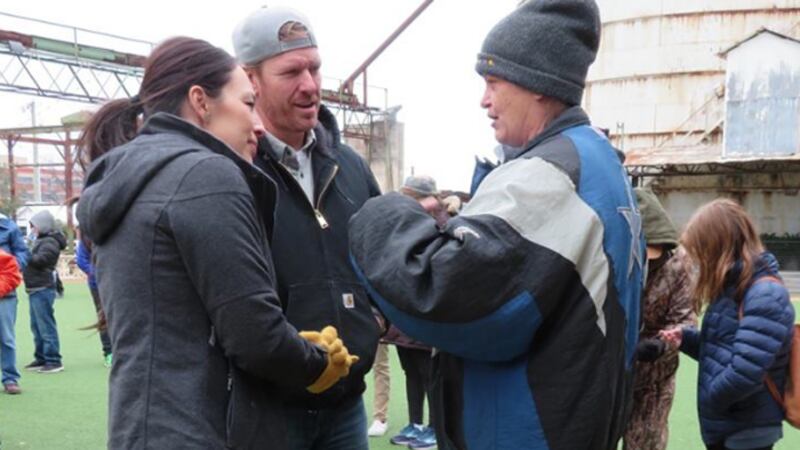 Published: Mar. 3, 2019 at 7:14 PM CST
"Fixer Upper" stars Chip and Joanna Gaines were among the faces in the crowd of hundreds of homeless worshippers on Sunday as the Church Under the Bridge held its first worship service at the Magnolia Market Silos in downtown Waco.
For 26 years, the homeless have gathered underneath an overpass by Baylor University to worship on Sunday mornings, but were left with no place to go as preparations started for the expansion of Interstate 35 through the city.
Mission Waco founder Jimmy Dorrell says Chip Gaines read a Waco Tribune-Herald article about the church's woes and immediately jumped in to help.
"He said he just knew that we all lived a life for the poor people," Dorrell said.
The group held an official march from the familiar overpass to the worldwide tourist magnet Sunday, having no idea that the couple who made the spot famous would be attending the service, sitting among the regular worshippers.
Dorrell said several members shared their testimony including one woman who left a life of prostitution to follow God.
"I was so glad they got to hear the stories of our people. They sat and listened. They seemed like they were comfortable and certainly weren't trying to get away in anyway."
Dorrell said the Gaines only came on stage to address the crowd after encouragement from Mission Waco staff.
"She thanked us for what we do in the community," Dorrell said about Joanna's comments.
"I was really pleased because they were really humble. They didn't come there to be seen. I even had to ask them to come up before the church and speak. They were very courteous and thankful."
"One of the things Chip really respects us for is the grocery store."
Dorrell said Chip has dropped in on the Mission Waco's Jubilee Market at North 15th Street and Colcord Avenue one more than one occasion.
The store gives residents in North Waco access to fresh, healthy foods in an area that was otherwise considered a food desert.
The planned expansion of I-35 could take from three to five years and as of now the group has entered into a year-to-year agreement with Magnolia to meet each Sunday morning at the Silos.
"We may get to the stay the whole time. We sure hope we do," Dorrell said.