Killeen: With closing of homeless shelter, some return to the streets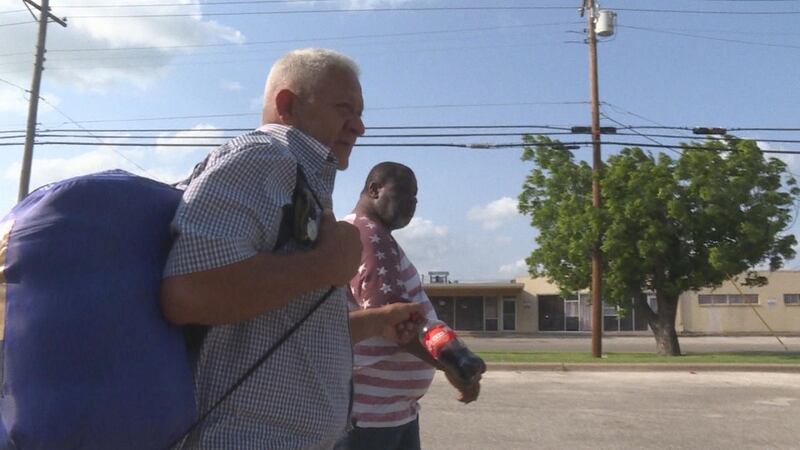 Published: May. 20, 2019 at 10:53 PM CDT
With the temporary closing of the Friends in Crisis shelter, some who depend on its services have had to resort to the only thing they know: back to living on the streets.
The shelter for many in the Killeen area was a place to restart their life, get a hot meal, take a shower and stay at night.
"When you're homeless without a little bit of help or somebody helping you back up, it's really hard to get back on your feet," Joe Salinas said.
Salinas lived at the shelter for almost two months. He says he had a home, car and family while living in the Dallas-Fort Worth area – then life hit.
He lost everything and was left living on the streets. Coming to Killeen, he says, was a chance for a new start.
"It's easy to look down on homeless people because I myself did it in years gone by. I never thought it would happen to me, but once it happens to you, your whole view on life changes," he said.
With the doors of the Friends in Crisis shelter closing Saturday because of financial problems, his life changed again. The shelter was being kept open by mostly private donations and small funding from Killeen's Community Development Block Grant.
Now, a place to shower and sleep was gone.
"I've been surviving by day labor…painting here, a little rock moving there, whatever I can," Salinas said.
Traveling in a pair, at times, Salinas says he stops in public places to find food and has used the bathrooms inside to clean himself.
"I've been coming to the library and I, you know, do a little spritzing in the sink and they allow me to," he said.
Officials say some of the clients are back with family. Others have been provided transportation to shelters in Central Texas. For those who've called the shelter home, they are hoping this closure is only temporary.
"I still sleep outside on the sidewalk. Somebody did give me a sleeping bag. Until then, I switch sides, I keep trying, I can't give up, I can't lie down and die," Salinas said.
The shelter, he says, was helping to obtain his goal of finding a permanent job and home.
As of Monday night, with a Facebook fundraiser and GoFundMe account, $3,713 has been raised. The goal is $200,000.
Information how you can help is posted on this page.